Perseverance pays off for Oliver

Mar 01, 2012 12:30AM ● Published by Joe Emanski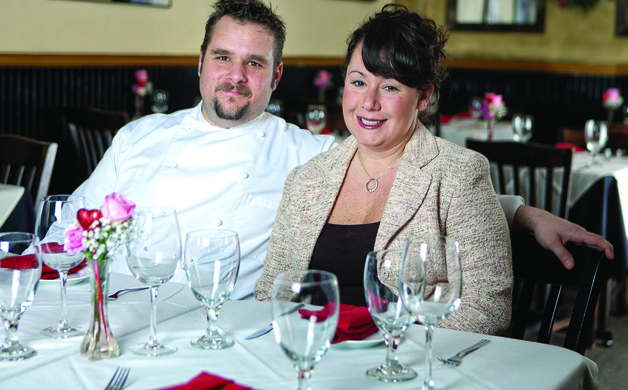 Husband and wife Matt and Danielle McElmoyl took over Oliver, a Bistro on Farnsworth Avenue in 2006 and have been operating it ever since. (Photo by Suzette J. Lucas.)

Lunch Tues – Sat. Dinner Tues – Sunday, BYOB , 3 courses for $35 Tues-Fri & Sunday Eves. Zagat Rated Read More
By Joe Emanski
It can be scary to be principled in the restaurant world. Matt and Danielle McElmoyl knew that Oliver had a loyal customer base when they considered taking over the Farnsworth Avenue soup and sandwich spot more than five years ago.
They also had confidence in their vision of what the restaurant—the full name is Oliver, a Bistro—could be. After they bought it from former owner Robert Bice in June 2006, they gave the place a new look, a new menu and a new schedule and set about the task of making Oliver their own. It took a few years, and there have been a few bumps along the way, but the McElmoyls' perseverance has paid off. In February, they had their best Valentine's Day dinner ever, one in a series of signs that their bold decision to remake the restaurant into a cozy fine-dining bistro was the right one.
Before the McElmoyls, Oliver had been best known for its brisk lunch business, which featured a wide variety of soups available in house and for takeout, and basic but tasty sandwiches like chicken salad on a croissant. It wasn't fancy, but it was Zagat rated all the same, and critics were in love with the place.
Today the restaurant remains a critical success and a fixture in the Zagat Guide, but not because Matt and Danielle stuck with a proven formula. In fact, you can say they all but started over.
"We created a whole 'nother Oliver," Danielle said.
Like many chefs, Matt, now 37, began his restaurant career tending bar. At work he would overhear line cooks at the restaurant where he worked talking about going to culinary school, or he would see them reading their books and cramming for tests. He began to get interested in a cooking career.
So he enrolled at the Academy of Culinary Arts at Atlantic Cape College, from which he graduated in 1996. While at culinary school, he got a gig as a line cook at the Renault Winery in Egg Harbor City, and later worked at Chef Vola's, a legendary and legendarily exclusive Italian restaurant in Atlantic City.
After school he moved to Boulder, Colo. with some friends. There he worked at Flagstaff House Restaurant, one of the top-rated restaurants in the Denver area at the time. After only eight months, though, he was homesick.
He returned to the area and was working at Brasserie Perrier, now closed but then one of Philadelphia's most prestigious restaurants, when Renault made him head chef of their gourmet resort restaurant. That was in 2000, just four years removed from his college days.
Matt took the job, but perhaps unusually, he began to worry that things had gone too fast. So he stepped away, going back to work the line for more of the top chefs in the area, what he calls "the old-world guys."
"I felt like I hadn't learned enough. I wanted to learn more classical French technique, working for some of the old-world guys," he said. "They got their starts working like dogs, they were really put through the ringer. I really have a respect for that, for how hard they worked."
Re-equipped for success, he began a new climb up the culinary ladder, becoming executive chef at Sails, a 500-seat restaurant in Somers Point, in 2003. There he met Danielle, a St. Joseph's University student who was a server, and the couple fell in love.
By 2005, he knew he was ready to take the plunge and go into business for himself.
"I always kind of had an idea [that I would own my own place]," he said. "I was working for other people so hard."
Newly married and with a baby on the way, they took over Oliver in 2006, with Matt in back as executive chef and Danielle running the front of the house. With help from Danielle's mother, an interior decorator, they freshened up the look of the place, shifting the vibe from eclectic luncheonette to warm BYOB. They bought a professional stove to replace the home model in the kitchen.
Interestingly, their original plan for Oliver was to keep lunch essentially as it was, building on the midday success the restaurant already enjoyed. Where they'd planned to make changes was in opening for dinner five nights a week with an entirely different menu, one featuring seasonal ingredients that would enable Matt to flex his imagination and technical muscle.
The result was almost a disaster.
"Within 6 months, business dropped off," Danielle, 31, remembered. "People just stopped coming in. Rumors started—'Its not the same. They don't know what they're doing.'"
The loyal customers had rejected the changes. They were used to a certain aesthetic and a certain menu, and for whatever reason, they couldn't or wouldn't make the adjustment. Unconsciously, it would seem, they couldn't believe that a restaurant that served one kind of lunch could do as good a job with a whole other kind of dinner.
So Matt and Danielle had to make a choice: they could acquiesce to the long-timers and ditch the dinner menu, or they could make the bold decision of changing the lunch menu to be more like dinner. The prohibitively high cost of food meant they simply couldn't afford to keep doing both.
Sticking with what had always worked was the safe choice, but they went the other way. Today some items on the lunch menu hark back to Oliver of old—the omelets, roasted potato soup and chicken salad on croissant are still there—but the McElmoyls staked everything on the belief that they could win back a loyal customer base doing things their way.
And it's worked. Today the lunch menu features items such as shrimp ceviche with gyoza strips and a seared ahi tuna wrap alongside those old favorites, as well as a slate of burger choices and, perhaps surprisingly, a selection of burritos.
Lunch does all right today, though receipts have still not returned to pre-2006 levels. It's dinner—Matt and Danielle's main reason for opening their own place—that keeps the restaurant open today. Oliver serves dinner every night but Monday, booking a healthy number of reservations many days, especially Fridays and Saturdays.
Matt said that things were nerve wracking for a while, but he never wavered in his belief that he could win Bordentown over with good cooking.
"I believed in myself, and believed that people would love the food I was serving," he said. "When you put everything into your food and stand behind it, you can't lose."
One feature of the dinner menu that has been a success is the three-course prix fixe menu, offered every night they are open except Saturday. Customers can choose an appetizer, soup or salad and entree for $35. They can also order off the regular menu.
Though meals are classically prepared, Matt said they're not trendy or laden with unfamiliar ingredients.
"People come in here and they feel comfortable. They're not intimidated by the menu," he said.
Danielle said someday she hopes to do more catering than they do now. They can do parties in house if a customer is willing to rent out the entire restaurant for a few hours, but they can also do off-premises catering.
The McElmoyls live a few blocks from the restaurant, and have since they became Oliver's owners. Son Jack is 5, and daughter Anna is 3. They say they love what the community has to offer and have loved having the opportunity to get to know so many of their neighbors.
"I want to be part of making [Bordentown] up and coming," Matt said. "Putting it on the map like Collingswood or New Hope (Pa.) or something like that, which would raise the bar even more."
Oliver, a Bistro is located at 218 Farnsworth Avenue in Bordentown. Open Tuesday–Saturday for lunch and dinner and Sundays from 4–8 p.m. for dinner. (609) 298-7177. On the Web: oliverabistro.com.
Food+Dining
Oliver
A bistro
restaurant