Craft beer movement takes hold

Mar 27, 2012 12:50PM ● Published by Community News Service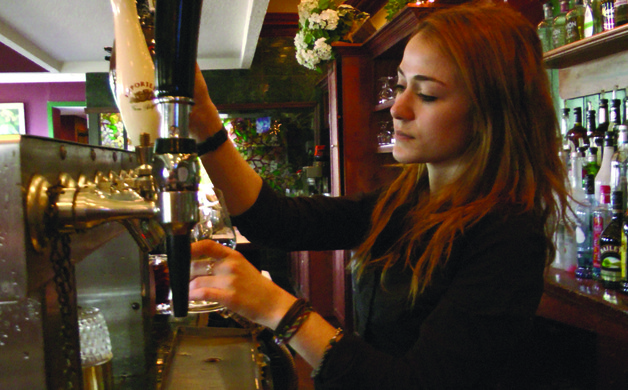 Feyza Gungor pours a beer at Farnsworth House March 16, 2012. (Photo by John Leaver.)
By John Leaver and Joe Emanski
The craft beer movement is picking up steam in New Jersey, and among the local restaurants that are leading the charge are Uno Chicago Grill in Hamilton and Farnsworth House in Bordentown.
While most beer drinkers are happy with a bottle of "macrobrew" such as Budweiser or Coors Light, some are hoping for something a little different, maybe a little more adventurous, from local taps.
The Farnsworth House, a restaurant in Bordentown City, doesn't fill growlers, but bar manager Fatih Gungor says he has doubled his draft capacity since he started offering craft beer on tap.
First, he started switching out famous brands like Miller or Coors for varieties from local breweries like Flying Fish and Climax, from New Jersey, and Victory and Stoudt's, from Eastern Pennsylvania.
"We noticed as time went on, more people were drinking the local stuff more than they were drinking the 'popular' stuff," he said. "So as time went on, we just progressively made it bigger 'til we realized we were on to something."
Today, Farnsworth has 22 beers on tap—Guinness, Stella Artois from the major breweries, and 20 selections from smaller breweries. Gungor said word of mouth has been a driving factor in building his customer base.
"We were that 10th bar that was different, so it gave [customers] a great new option," Gungor said. "As time went on they brought their friends in, they brought their friends in, and it grew from there.
Gungor also said he takes recommendations from customers on what to stock, especially if the recommendation comes from a regular whose tastes he has come to trust.
"We know that if a customer comes here often and is like, 'Hey, I found this beer' which I never heard of, and he says it's spectacular, we'll take his word for it—I'm going to bring it on tap," Gungor said.
Gungor said the customer base at The Farnsworth House grew over time and without any real hype—and that's just the way he likes it.
"We're not trying to be over the top, like, 'Hey we want this place packed wall to wall,'" he said. "We actually kind of like it when it's quieter, because it gives us more time to be personable with our customers."
Justin Pontoriero, a Bordentown resident, said he's been going to Farnsworth House since he was a kid, but was never that into trying new beers until he started seeing them on tap in the restaurant. Now he's at a point where he likes Belgian ales—not necessarily the easiest style of beer to drink—best.
"There's a great balance of sweetness and bitterness," said Pontoriero, 24.
Jim Danay, general manager of Uno Chicago Bar and Grill in Hamilton, says his restaurant offers 24 taps of mostly craft beer to suit customers who are looking to combine a trusted experience—like having a pizza—with something new.
"People are looking for individuality, and they find that in a beer," Danay said.
Liquor stores in New Jersey have actually had some of the most varied beer inventory in the country for awhile. Stores like Joe Canal's in Lawrence and the Cranbury Buy-Rite stock shelf after shelf of craft beer, and both will fill bottles, called growlers, with draft beer right in the store.
But for the most part, bars and restaurants have been slow to follow the stores' lead. As recently as a few years ago, a beer drinker would have had to go to Philadelphia to find the sorts of beers Uno's now serves every day.
Danay is a craft beer enthusiast himself. He said he and others involved in managing Uno's franchises in New Jersey and Pennsylvania used to visit one another's homes, play darts and try new beers.
"We figured, we are all in the restaurant business, why are we not bringing this into Uno's?" he said.
Gungor and Danay both said it's important to rotate beers and maintain the draft lines if beer is going to taste the way the brewers intended. That's a contrast from the traditional model where bars have the same beer on tap day after day, year after year.
But craft beer enthusiasts often value the opportunity to try something new more than the ability to get something tried and true.
"No matter how good a beer sells, as soon one beer kicks, we bring in a new style, a new brew," Gungor said. "You can come here on a Friday night, you come here the next Friday and anywhere from six to fourteen beers might've changed hands in the span of a week."
The Farnsworth House, is located at 135 Farnsworth Avenue in Bordentown. On the Web: thefarnsworthhouse.com. Uno Chicago Grill is located at 225 Sloan Ave., Hamilton. On the Web: unos.com.
[youtube.com/watch?v=lrfG3K8mUuE&]
Food+Dining
beer
farnsworth house