Community members aim to bring back town's traditions

May 04, 2012 02:00AM ● Published by Community News Service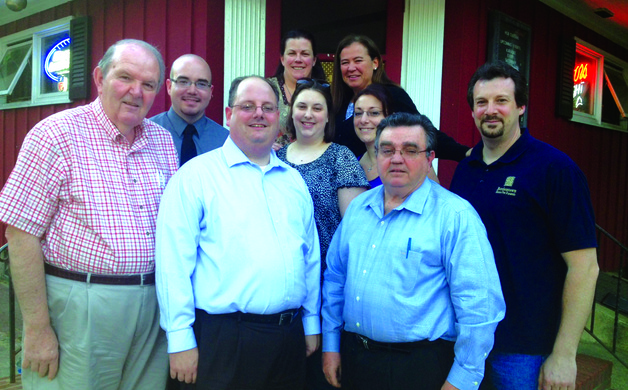 The Foundation for Bordentown Traditions members are (front) Ed Koenig, Chris Nunn, Larry Denney, Robert Pecth, (middle) Bryan Bramley, Katy McGowan, Stephanie Pecth, (back) Mary Barnes and Debbie Kinsley. (Photo courtesy of Mary Barnes.)
By Alexandra Yearly
Nine members of the Bordentown community are set on encouraging Bordentown Township and City comraderie, and they've united to form the group to make it happen.
The group, The Foundation for Bordentown Traditions, was the brainchild of Bordentown Township native Chris Nunn. It initially took shape as a plan to resurrect the annual fireworks show.
The members aim to do that by raising funds through new events and partering with already established events in the community.
The estimated cost of reviving the Independence Day fireworks would be about $30,000, though several variables may affect that number. The fireworks were cancelled in 2007, when they proved to be too costly for the township.
Nunn had been considering the idea for several years after Medford Township first organized a similar group. He considered bringing the same concept to Bordentown, and found the perfect opportunity after he was approached by Bordentown City Mayor James Lynch about partnering with an upcoming event.
Nunn rounded up several active Bordentown residents, and the group officially formed in February. It's already partnering with the Street of Dreams Car Show set for June 23 in Bordentown City.
The members are also exploring other fundraising ideas, like hosting a rib fest, comedy night, beef and beer and Trenton Thunder night. They hope these may become annual events, too.
"We want to start with the fireworks, but we're hoping it will kind of take on a life of its own," first vice president Robert Pecht said, "and we can do more where we can have the carnival like St. Mary's used to have every year."
"We're trying to make them traditions," trustee Katy McGowan said. "This car show will become a tradition in town. This is the first time we're gonna do it, but in 20 or 30 years, it's still gonna be going on."
Group members include Larry Denney, Ed Koenig, McGowan, Stephanie Pecht, Nunn, Pecht, Debbie Kinsley, Mary Barnes and Bryan Bramley. They range from Bordentown natives to newer community members to small business owners in town.
"A lot of the people that are involved here are not small business people ... you also have people in this group that are just part of the community and want to be here, which makes us different than a rotary or Chamber of Commerce association," Pecht said. "It's about being part of the community."
The love of the small-town community feel has been a motivating factor in resurrecting many of the previous Bordentown traditions, like the St. Mary's carnival. For many of the group's longtime residents, the loss of some of those memorable community events spurred motivation to bring them back for the next generation.
"I've lived here for the past 20 years now, and I still remember riding my bike to the events, working out on the St. Mary's carnival and definitely the fireworks. Me and my friends used to always go to them and hang out," Bramley said. "Eventually, as you see some of these things go away, it's a little disheartening." Now, Bramley hopes his two young children will be able to enjoy some of the events he once did.
Barnes, owner of the HOB Tavern in Bordentown City, has been hearing stories from the locals since she opened up the bar 10 years ago.
"The neighbors come in, the people that grew up here, the people that grew up in the township," Barnes said. "I've heard stories for years about all the things they used to do, so when the idea came up to do a combination of events with the township and the city, I thought it was a great idea."
Pecht, an 8-year Bordentown resident, said the close-knit community was strikingly different from his hometown.
"It's very rare to find a community like this, where everybody knows each other," Pecht said. "Where it takes you a half hour, 45 minutes just to walk down the street because you're constantly talking to people that you know."
The Foundation for Bordentown Traditions is still looking for sponsors for the Street of Dreams Car Show June 23. For more information, call Chris Nunn at (856) 340-6327. On the Web: search The Foundation for Bordentown Traditions on Facebook.
Community
,
News
traditions