World War II veteran receives recognition for time as POW

May 15, 2012 02:00AM ● Published by Community News Service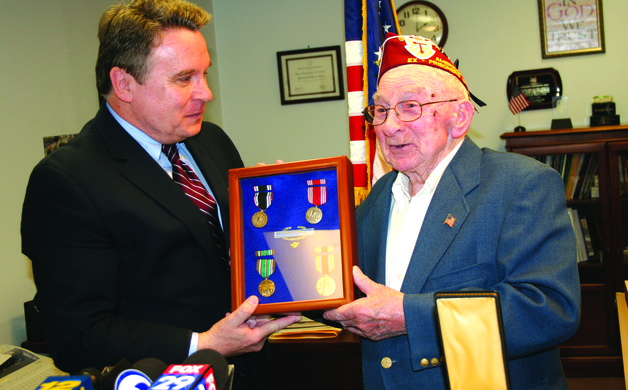 U.S Rep. Chris Smith hands a POW award to veteran Harry Havens April 10, 2012. (Staff photo by Alexandra Yearly.)
By Alexandra Yearly
It was more than 60 years ago that lifelong Bordentown resident Harry Havens spent nearly two months imprisoned by German soldiers.
On April 10, the World War II veteran was finally honored with a POW medal. U.S. Rep. Chris Smith presented Havens with the medal.
Havens, 88, had frequented the congressman's office, often looking for flags or ways he could help other veterans and causes. When the office staff eventually found out about Havens' unrecognized POW status, they take care of the paperwork to make sure he was honored.
Havens' journey began when he was inducted into the U.S. Army April 24, 1943 at age 19, and entered active service May 5.
It wasn't until two years later, after Havens and his division landed in France and traveled up to the German border, that technical sergeant Havens would become a prisoner.
After venturing just a thousand yards into Germany, Havens and his fellow soldiers were captured by the Germans March 15, 1945.
"As the night grew into day and you could start hearing things and seeing things, and that's when we heard the tanks and so forth coming," Havens said.
Havens, who was the platoon leader, said he called for artillery but was refused, leaving his division no choice but to surrender.  The group was placed on trucks and driven into German territory.
As a POW, Havens narrowly escaped death more than once.
When he and the rest of his division turned to exit the truck, they found themselves face to face with a machine gun.
But shouts of "nein" from a German lieutenant halted the shots. The lieutenant had been cared for earlier in the war by American soldiers after he suffered an injury, and chose to save the American soldiers when the tables were turned. It was a frightening 42 days for Havens, who, while he was prisoner, witnessed the shooting and cremation of another soldier in the group.
"You don't know if you're gonna come out on the living end or not ... [the German soldiers] had their orders when the guards left us that they were supposed to do away with us," Havens said.
Havens and the other prisoners never stayed in the same place more than one night, and were marched daily to keep ahead of the front lines. The group was given bread (if they were lucky) and a can of meat for all to share. Finally, Havens and his division were liberated April 26, 1945.
Havens' POW medal is only one of several honors from his time serving.
Havens earned the Silver Star for his actions on Nov. 20, 1994 near La Voivre, France. Under heavy enemy fire, Havens guided four injured men 400 yards back to the aid station, then returned to bring back one casualty without pausing to take cover.
For his actions on Jan. 25, 1945, he was awarded the Distinguished Service Cross. His actions that day led to the death of 15 Germans, the capture of 30 Germans and injury of 10 Germans.
"You don't really stop and think. You just go ahead and do," he said. "And then after it's all over, you stop and think about it … you say, 'well, I was kind of stupid to do that, but it paid off in the end.'"
Havens said he doesn't think about those days much anymore, except for a fleeting memory once in a while.
He's more focused on his involvement with the Veterans Advisory Committee; this is his fourth year as chairman.
And still, he has happier things to focus on. Havens had returned home after his imprisonment to marry his sweetheart, whom he was married to for 57 years before she passed away. His only living relatives are two grown grandchildren, whom he lost touch with in the past few years.
But that's changed since the media coverage about his honor.
"My phone's been ringing," he said. "My granddaughter … she was all happy about it."
Community
,
News
veterans
pow
world war ii
chris smith