Annual Bordentown Street Fair to celebrate 35 years of crafts

May 19, 2012 02:00AM ● Published by Community News Service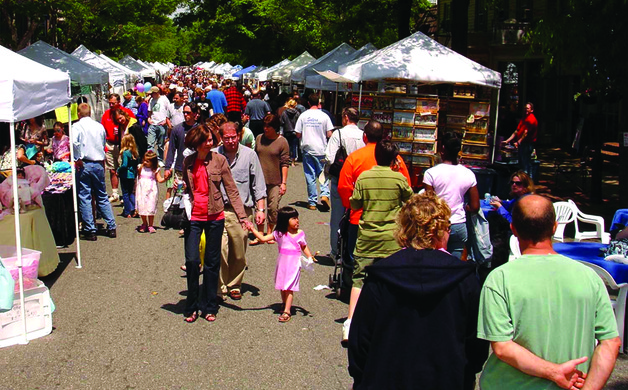 Attendees crowd the streets in May 2011 at the Bordentown Street Fair. (Photo courtesy of the Northern Burlington Regional Chamber of Commerce.)
By Hilarey Wojtowicz
Historical downtown Bordentown is known for its restaurants and shops. But for two days in May, additional vendors and merchants will be joining the local owners on Farnsworth Avenue.
The Bordentown Annual Street Fair has been held for 35 years, and it comes to town on Saturday, May 19 and Sunday, May 20.
Started in 1977 by the Northern Burlington Regional Chamber of Commerce, the Bordentown Street Fair is known for its unique set of local business and regional vendors.
"We send out a 500-piece mailing in October to prepare for this fair," said Diane DiSpaldo, the executive secretary of the Northern Burlington Regional Chamber of Commerce. "We get vendors and businesses from New York, Pennsylvania, Delaware, as well local owners on Farnsworth Avenue."
DiSpaldo has seen the fair grow over the past 15 years, when she first began to help organize it.
"It's a great way to benefit the merchants in town and to showcase the chamber members' own businesses," she said.
DiSpaldo said attendees can expect to see the traditional crafters at the fair, along with many other food, animal and collection stands.
"We will have handcrafts that have been coming to the fair for many years," DiSpaldo said. "We will also have stands showcasing needlework, wood-crafts, ceramics, stained glass pieces, fabric work, jewelry, oil and vinegars, candles, dog treats, handmade dolls, sports collections and even sand art."
Chamber president Fred Gomez also believes it is a great way for community members to find out about vendors that they may not otherwise know of.
"The best part that we are actually known for are the crafters," Gomez said. "They are vendors that people may not be able to find otherwise."
Gomez has been the president of the Northern Burlington Regional Chamber of Commerce for the past year and has been involved in the fair since 2010. Farnsworth Avenue is the main street blocked off for the fair every year, but the side street of Walnut will also be used for the location of the Kids' Corner.
Children can enjoy rides, games and attractions such as face painting, tattoos and pony rides.
The fair is free for all, as fees will only be charged for the products sold, as well as the food and games. It is open to the public between 10 a.m. and 4 p.m. both days.
For more information regarding this year's street fair, contact the Northern Burlington Regional Chamber of Commerce.
Community
,
News
fair
crafts