Lone Bugler to sound call to honor veterans

May 25, 2012 02:00AM ● Published by Community News Service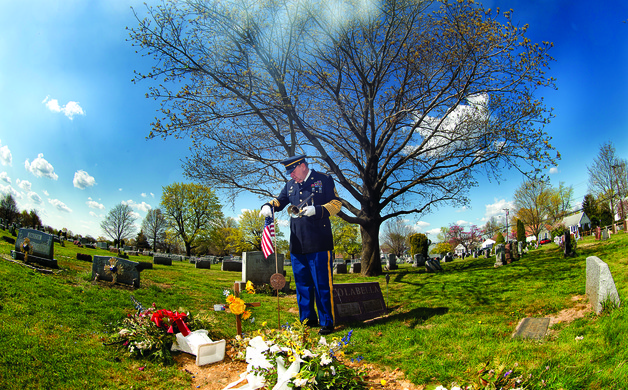 Retired 1st Sgt. Dick Pinter adjusts the flag next to the grave of veteran Alfred V. Colabella III, a Bordentown resident who passed away on March 24, 2012. (Photo by Suzette J. Lucas.)
By Alexandra Yearly
Some years, there were downpours of rain. Another year, a fire had ripped through his home just one day earlier. But for the past 11 years, no matter what the conditions, U.S. Army retired 1st Sgt. Dick Pinter, known as the Lone Bugler, has spent Memorial Day visiting 21 cemeteries, paying his respects to his fallen military comrades by playing the bugle call, "Taps."
"He's a dedicated person, and when his mind is made up, he's a typical first sergeant," said former Bordentown Township Mayor Bruce Hill. "Come hell or high water, he's going to accomplish his mission."
Pinter's mission of showing his gratitude to fallen comrades began in 2001. The now 71-year-old Bordentown resident had spent 38 years serving in the Army Band Field, but that Memorial Day was the first time Pinter sat on the sidelines and watched the ceremonies instead of participating in them. As he sat reminiscing about his years of service, his wife mentioned that her two brothers, both World War II veterans, were never honored by the military at their funeral services.
A few days later, he mentioned it to his sister, who surprised him with the news that her father-in-law, a WWII veteran, also never received honors.
After mulling over that new information, Pinter made a decision. He instructed his wife and sister to assemble their families and on Memorial Day, the families would go to each of the gravesides at Crosswicks Cemetery and Greenwood Cemetery to give the deceased members the honors they never received from our nation, Pinter said.
On that day 11 years ago, Pinter was overcome with emotion.
"I can distinctly remember sounding 'Taps' and looking out over all them flags," Pinter said. "How could our nation, the greatest nation on earth, show such disrespect for veterans? How many families paid the ultimate sacrifice by giving their child in the defense of our nation, and we can't even lay them to rest with the final honor from our nation with the proper respect?"
Pinter made another decision then. He would set out to give the final form of gratitude from the nation to veterans and their families.
This year marks a special anniversary for "Taps." It was composed 150 years ago by Union General Daniel Adams Butterfield. Bugler Oliver Wilcox Norton played it in July 1862 during the Civil War.
To commemorate the anniversary, on Armed Forces Day, May 19, Pinter and more than 200 buglers are expected to perform a mass sounding of "Taps," and also sound "Taps" at monuments throughout the cemetery after the bell sounds at noon.
Pinter has stayed true to his mission as the Lone Bugler to educate people about honoring the military, the flag and the country, and to play "Taps" on the bugle to honor deceased military veterans.
He also uses the performances as a time to teach. His topics include teaching about the flag, the uniform, the origin of "Taps" and the bugle, the civilian salute to the nation, proper customs of patriotism, the meaning of the 21 Gun Salute, military appreciation month, when to pause for a moment of silence, the blue star banner and gold star banner.
Pinter also plays "Taps" at military funerals free of charge, and continues to lobby Congress to pass a bill that will give preference to the use of qualified military buglers in a retired status to sound "Taps," the final honor from our nation, at military funerals over using any alternative electronic devices to play a recording of "Taps." Now, if a real bugler is unavailable, a military member may stand in with a bugle that has an electronic piece inside that plays "Taps." Since he began performing, Pinter has acquired a following of audience members and participants.
Several years ago, Bordentown resident Kevin Nelson became involved as the initial member of the motorcycle escort team that travels with Pinter to each performance. The group has about 6-8 members who help Pinter by raising and lowering the flags and passing out informational pamphlets to the audience. After attending so many of the performances, Nelson said he noticed how different people's reactions are.
"It varies from smiling in pride to people crying," he said.
"Sometimes veterans show up that haven't dealt with their combat experience, and they just want to stay to the back and kind of hide out," Nelson said. "We never push anybody to come up front."
Hill attends the performances annually.
"As a Marine Corps veteran, it makes me proud to know that somebody really gives a damn," Hill said.
"He's making people aware of what's going on. I think that's the most important part that people understand," Hill said. "He's not just out there blowing 'Taps' for the sake of blowing 'Taps.'"
It was during Hill's tenure as mayor that Pinter was named the official township bugler. It was then that Pinter's street was renamed "Lone Bugler Way."
His performances aren't limited to Memorial Day and the week leading up to it. Pinter also performs at schools, senior centers and community centers. Every two years he performs for the students at Life Center Academy in Florence, said teacher Joe Zahorsky, a retired military major.
Zahorsky said the performances expose students to information they wouldn't always find in a history class, and his biannual return to the school helps the students remember the information.
"[The students] become actively involved, and usually when they're actively involved, they're motivated, so that says a lot," Zahorsky said. At the end of each performance, Pinter asks the audience to make a decision, too.
"'If you consider yourself a patriot, one who loves our country, I'm going to ask you to stand, and at the first note of 'Taps,' I'm going to ask you to give your civilian salute'...and I sound 'Taps,'" he said, "and every one of them kids put their hand over their hearts. And I bet you they get it."
Retired 1st Sgt. Dick Pinter will perform his 21 annual ceremonies and Memorial Week celebration, beginning May 16.
May 16. 10 a.m. Burlington County fallen officers ceremony. Burlington County Public Safety Center, 1 Academy Dr., Westampton. May 19. 10 a.m. Arlington National Cemetery mass sounding of "Taps" commemorating the 150th anniversary of the bugle call "Taps." Arlington National Cemetery, Arlington, Va. May 23. 2 p.m. Philadelphia Korean Memorial Monument at Penn's Landing, May 24. 11 a.m. City Of Trenton veterans memorial ceremony. May 25. Noon. N.J. State WWII memorial ceremony (pending authorization). May 26. 11 a.m. and 3 p.m. Korean Memorial, Atlantic City (pending authorization). May 27. 10:15 a.m. First Baptist Church. 127 Prince St., Bordentown. 11 a.m. Greenwood Cemetery in the "Field Of Honor." 1800 Hamilton Ave., Trenton. 1 p.m. Princeton Memorial at flagpole. 403 Gordon Road, Robbinsville. 3 p.m. Odd Fellows Cemetery at flagpole. 800 Route 130 S., Burlington.
Memorial Day: May 28. 8 a.m. Ewing Church Cemetery. 100 Scotch Road, Trenton. 9 a.m. St. Mary's Cemetery. 210 Crosswicks Road, Bordentown Township. 10 a.m. St. Mary's Cemetery, Trenton. 11 a.m. Ewing Township, Major General Betor Veterans Park. 2 Jake Garzio Dr., Ewing Township (pending authorization). 1 p.m. Riverview Cemetery at main flagpole in cemetery. 870 Centre Street, Trenton. 2:30 p.m. Brigadier General William C. Doyle Veterans Memorial Cemetery. 350 Province Line Road, Wrightstown. 5 p.m. Crosswicks Cemetery. Crosswicks-Hamilton Square Road, Crosswicks. 6 p.m. Bordentown Cemetery. 210 Crosswicks Road, Bordentown Township. 7 p.m. at flag pole Northern Community Park Bordentown Township. Groveville Road, Bordentown Township.
Community
,
News
veterans