Haunted hay rides and Halloween parades

Oct 12, 2012 06:36AM ● Published by Community News Service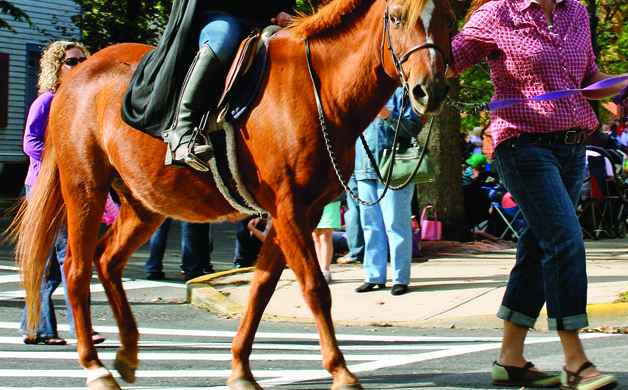 By Carolyn Steber
Bordentown has no shortage of fun fall-themed activities for October.
The first event is the 3rd Annual Wailing Woods Haunted Hayride on Friday, October 12. The ride is organized by the Bordentown Township public works department.
Three wagons will be leaving from the Joseph Lawrence Park at the Peter Muschal School to carry riders, for about 15 minutes, through the woods where spooky things await.
"We keep it balanced between scary but not too scary. We have a good mix of things back there," said David Dietrich, the public works supervisor who organized the event. "It's pretty cool."
Rides are free and will be from 6-10 p.m.
Dietrich is expecting about 1,000 people to take part this year, up from 800 last year. He suggested showing up early to assure a spot in line.
But don't worry about being bored while you wait. The night will also include a DJ, face painting, tarot card reading and a vendor selling "Wailing Woods" T-shirts and temporary tattoos. Dietrich said there will also be an appearance from Trenton Thunder's mascot, Boomer.
The Foundation for Bordentown Traditions, a nonprofit organization that helps plan community events, is getting involved, too. The group will be joining in on the night of fun by selling food and running children's games.
"This event grew dramatically between year one and two, and we anticipate another jump this year," said Chris Nunn, president of The Foundation for Bordentown Traditions.
The second event is the 42nd annual Bordentown Halloween Parade, sponsored by the Consolidated Fire Association, on Sunday, Oct. 28 at 2 p.m.
The parade will feature nine musical performance groups, including local high school marching bands from Bordentown and New Egypt, as well as the ever popular drum and dance group, the Baltimore Westsiders.
"They are a very energetic group. They are a showstopper throughout the whole parade," said Katy McGowan, parade chairperson. "If you see them walk past, you have to stop and watch them."
The parade will also include people of all ages dressed in Halloween costumes, fall-themed floats, fire trucks and bagpipers. McGowan is expecting about 30 floats and marching units to be involved.
"It's a family event," she said. "Anyone can participate. Everyone can come watch it."
There will be a masquerading contest held before the parade at St. Mary's parking lot at 1 p.m. Cash prizes will be awarded for the best costumes, and contestants can then walk in the parade to show off their outfits.
The parade will be winding its way from the start point on Elizabeth Street. It will then turn right onto Second Street, left onto Park Street, left onto Farnsworth Avenue and will go all the way down to the middle of town. It will then turn left on East Union Street and left onto Crosswicks Street.
There will be group costume and float judging at Clare Estates before the parade turns right onto Lafayette Street and heads back down to Elizabeth Street.
The third fall activity is Bordentown's house decorating contest for residents of Bordentown City, the township and Fieldsboro. McGowan says the contest will get everyone in the holiday spirit.
For the two Saturdays leading up to the parade, your home could be up against your neighbors' for the coveted trophy.
To sign up to walk in the parade, or to have your house decorations judged, register online at bordentownhalloween.com.
To donate to the parade, which runs off donations, mail your contribution to P.O. Box 47 in Bordentown, NJ, 08505 or bring your money the day of the parade day to be collected by the high school's National Honor Society along the parade route.
For those wishing to volunteer with the hayride, or to donate Halloween props, contact the public works department at (609) 291-2133.
Community
,
News
halloween