Thompson Street set for spooky season

Oct 26, 2012 06:37AM ● Published by Community News Service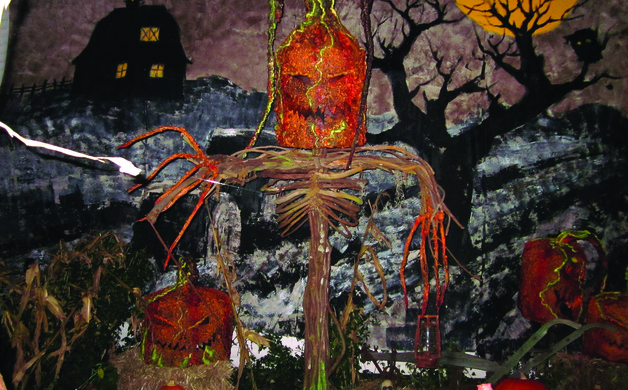 The 2011 Halloween theme on Thompson Street was pumpkins. Frank Rios and Pat Patrizio decorated their home as the Pumpkin Rot Farm. (Photo courtesy of Frank Rios.)
By Alexandra Yearly
Everything started with the dragon.
The smoke-breathing monster first appeared in 2005, crawling through the windows and winding its way up the seemingly-brick exterior of 5 Thompson St. in Bordentown City. It's what the home's owners, Frank Rios and Pat Patrizio, describe as their first Halloween extravaganza—the display that sparked the interest of a growing number of neighbors to participate in Thompson Street's annual themed Halloween display.
Since then, there have been witches, vampires, UFOs and Cirque-o-ween. Each year, Patrizio and Rios decide on a theme, open to any interested neighbors who want to create their own spin on it.
Last year, jack-o-lanterns decorated the length of the street for a pumpkin-themed display.
In the space once occupied by 5 Thompson St., rotting paper mache pumpkins sat atop bodies of vines and roots, each with a ghoulish grin, at the Pumpkin Rot Farm. Bales of hay, an old wagon wheel, a rickety cottage, eerie lights and smoke transformed the site into a spooky farm, set against a nighttime backdrop of the farmhouse and dead trees in the distance.
"Last year, for the first time, people said 'this is my very, very favorite,'" Rios said. "It beat everything … it felt so good."
Even the Mummers string band, of which Rios is a member, made an appearance on the street, and is set to perform again at this year's festivities, too.
In August, Rios and Patrizio were already hard at work mapping out ideas for the next extravaganza. In early September, a preliminary sketch detailed the theme, and a sample prop served as the base idea of how they'd begin to model their plan.
"That's the hard part—the worst—to come up with an idea, because you have 50 ideas: 'How about this? Why don't we do this? How about that?'" Rios said.
Rios and Patrizio often have too many ideas, and find difficulty in narrowing them down. But one theme viewers will never see is gore.
"You're not gonna see serial killer slasher films, Friday the 13th, because to me … it's traditional Halloween," Patrizio said. "It's OK to be scared, that's what Halloween's all about, but at the same time, I don't want blood and guts because it wasn't about serial killers when I was a kid."
The pair works as interior designers, and spends countless hours working on the specifics of each Halloween design. Rios especially tends to get lost in painstaking detail.
But the process amounts to surprisingly minimal expenses because the displays are all homemade. Many of the props—like spiders, ghosts and bats—can be reused each year, strategically placed in different positions around the yard.
But Rios and Patrizio also fashion props out of recycled and reused materials: pallets, old fences, yard sale items and scraps, to name a few. They make most of their big purchases at stores like The Home Depot rather than at Spirit Halloween.
Community members and businesses have begun to pitch in with the duo's efforts as well. When Thompson Street featured a pirate theme, the restaurants stored all their wine bottles ("empty, of course," Patrizio noted) to donate to the display. Even local cleanup crews in town have held old fence parts or materials that can be reused, Patrizio said.
It's also common for people to leave bags on candy on the steps, since the high foot traffic (the street is closed off to vehicles Oct. 30-31) often drains the supply of candy unusually quickly.
Most of the other residents on Thompson Street have caught the Halloween spirit and jazz up their own homes with spooky decorations of their own.
Mike Lukach, who lives with his family at the other end of the street, has joined in the themes for the past six years. He opens up his backyard fence, which opens onto Thompson Street, to decorate the driveway and shed.
"All the kids that come up on Halloween, they're amazed at the detail we go to," Lukach said. "Last year we went through 15 bags of candy by 8 o'clock at night. The little kids are amazed. That's the best part of the whole deal."
His kids, ages 9 and 14, have already started helping him prepare this year's decorations, but his annual surprise to trick-or-treaters is his costume. Last year, he sat in a chair, holding a bowl of candy, keeping passersby guessing if he was a prop or person.
"Everybody gets involved…It's Halloween, and you can go almost as far as you want to go with decorations, and it just makes it more fun," Lukach said.
Now the Halloween fever has even begun to spill over onto 2nd Street, where residents have asked to participate in the theme.
Rios and Patrizio said the decorations are all about fun for the kids. Their goal is to include anyone and everyone who wants to participate, from neighbors who want to decorate to friends who want to put on a performance.
"People have asked me before, 'Why Halloween? Why don't you do Christmas?'" Patrizio said. "The reason we do Halloween is everybody can do it."
Community
,
News
halloween