Martial artist owns successful studio

Nov 29, 2012 06:36AM, Published by Community News Service, Categories: Sports, Business
---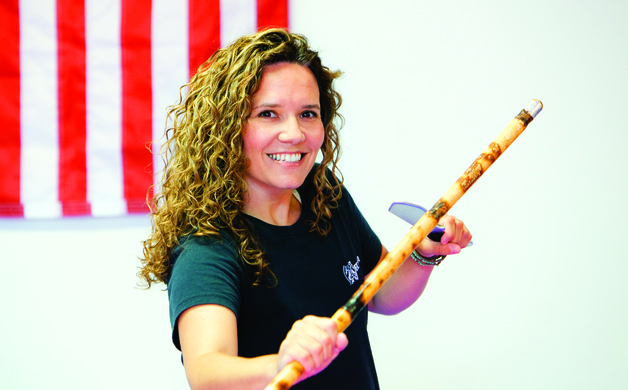 Michele Thompson practices martial arts in her Bordentown studio, East Coast Academy of Martial Arts.
---
---
By Mike Steele
Michele Thompson has been a fan of the martial arts since childhood.
"Instead of watching cartoons, I'd watch those low rated, C-level [martial arts] movies with my dad and try and do all the karate chops," she said.
Thompson's parents, however, would not allow their young, accident-prone daughter to train. She had to wait until she turned 18 and was able to sign her own release form before finally being able to study the sport she had always been interested in.
Thompson has now been studying the martial arts for two decades and teaching the sport to others for 16 years.
When a studio where she was a teacher relocated out of her commuting range, she decided to open up her own business.
Thompson now owns the East Coast Academy of Martial Arts in Bordentown, where she and half a dozen other instructors train students in various forms of martial arts, including Jun Fan, Muay Thai, Wing Chun, Filipino Kali and Maphilindo Silat. Thompson allows prospective students to sample a free class before committing to a specific martial artform.
East Coast Academy first opened in 2010 at a 250 square foot facility on Farnsworth Avenue, and classes quickly became so popular that Thompson was forced to move the business to a larger space.
"We bulged out of there within the first couple months," Thompson said.
Only eight months after opening, East Coast Academy's gymnasium transferred to a 3,000 square foot building just down the road. The business will celebrate its second anniversary at its new home in February.
East Coast Academy offers martial arts classes to students as young as five years old. Thompson is happy to watch children enjoy themselves in class and develop friendships with one another, and she prides herself on the discipline that she instills in her young students.
"The people who bring their children here know that I'm very strict and structured in the class, and they like that," Thompson said. "The kids come here and they learn discipline and respect, and they learn martial arts."
Older students have the opportunity to study both martial arts and fight training. Thompson tailors instruction to meet the specific goals her adult students wish to accomplish, whether it be training in a specific martial art, learning self defense techniques, or fighting for sport.
"Not everybody's a fighter, and that's OK, and not everybody is just a martial artist," Thompson said. "You have to kind of cater to the student and see what it is they want and how they want to be developed."
Thompson is pleased to see her adult students living an active lifestyle, but believes the benefits of training in the martial arts carry far greater rewards than simple physical fitness. She enjoys watching her students grow in confidence and self respect.
"People think that they're just getting into shape but what they don't understand is that they're developing themselves as a character and it carries outside of the school," Thompson said.
She recalled a past student who entered the academy fearful of fighting; the woman did not want to be hit or hit others in class.
"By the time she left, she was sparring and was promoted three times at work," Thompson said. "When you see something like that, there's no feeling like that in the world."
In addition to classes, East Coast Academy hosts birthday parties and seminars in self defense and fitness.
"Businesses will sometimes use us for team building exercises," Thompson said.
Thompson is also partnering with a fellow instructor, Milton Davis, to promote sanctioned fighting events in the local area. The pair will find and research fighters to arrange sport matches. Their first event will take place on Nov. 9 at Consolidated Fire Association.
Thompson is excited to have one of the academy's original students take part in the fights.
Jared Robinson of Hamilton, who fights under the name Young Boy, enrolled in East Coast Academy when he was 13 years old. Now 16, he will be competing in this first event.
"He went from being a little kid training in the kids' class to a fighter," she said.
East Coast Academy of Martial Arts is located at 102 Farnsworth Ave. in Bordentown. Phone: (609) 577-4345. Email: info@ecamartialarts.com. On the web: ecamartialarts.com. For more information on the Nov. 9 fighting event at Consolidated Fire Association, located at 20 Crosswicks St. in Bordentown, contact the academy.
---
---
---