XC squads excel on the course

Jan 29, 2013 07:04AM ● Published by Community News Service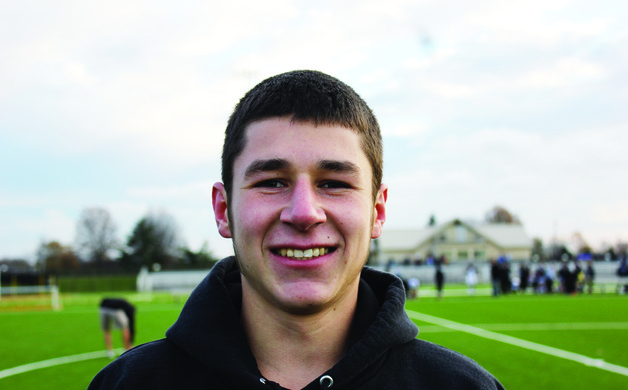 Devon Pepper
By Samantha Sciarrotta
Bordentown Regional High School cross country head coach Dave Misselhorn is in his 12th year with the program, and he knows a good leader when he sees one.
Captains Devon Pepper and Larissa Pywowariw are proof of that.
Pepper is the boys' team captain while Pywowariw leads the girls. The teams ran to nearly identical records — 10-5 for the boys, 9-6 for the girls — and surpassed last year's performances.
"'I'm so pleased, and I'm very proud," Misselhorn said. "They stepped up, ran as a team, and battled. It was really cool."
For the girls, being more successful than last season wasn't difficult; they didn't even have a team.
Pywowariw played field hockey last year, but decided to make the switch over to cross country for her senior season.
"Track was really my life, and I didn't feel like field hockey was helping with my running," she said. "I thought cross country would be able to help with my one and two mile runs. I didn't know what to look for at first. I saw some of the times other runners had, and I thought, 'I could never do that.'"
She would prove herself wrong, of course.
Pywowariw went on to capture the Burlington County Scholastic League Freedom Division title, the first Scottie to do so since 2004.
"She has just been a great pickup," Misselhorn said. "Larissa is a huge asset."
Pywowariw said two other first-time cross country runners, Allison Ge and Aishah Dukes, came over from the track team. Both are sprinters who wanted to use cross country to improve their times and endurance.
In addition to those three, Leighanna Ritter, Katelyn Anderson, Natalie Pratt, and Emily Vernon all rounded out the first complete BRHS girls' cross country team in more years than anybody can remember.
"It's good for Bordentown to have a girls' team," Pywowariw said. "It shows that we have people interested in running."
The team placed second in the division behind Cinnaminson and ahead of Delran.
"Delran beat us a few times throughout the season, but we came back in the division race," Misselhorn said. "We were really going back and forth for awhile. We peaked at the right time. It was really cool."
In the Burlington County sectional race, the girls placed sixth, just missing their goal of fifth. The top five teams move on to states.
Misselhorn said he could not be happier with the way the season played out.
"They really fought and battled through every race," he said. "We wanted them to PR every race, have fun, and do their best, and they did that."
The boys had similar, if not a little bit more, success.
Last season, they came in fifth out of six in the Patriot Division. This year, they were first-place contenders and ended up taking second.
"They showed so much heart," Misselhorn said. "They really wanted it. They had a taste of success, and they just kept on fighting for it. The seniors wanted to go out on top."
Pepper led the team to a third-place finish in the Central Jersey, Group 1 meet. They missed out on second place by a single point. In the Burlington County Divisional race, Pepper finished with a time of 16:30, a new school record.
"That was one of my indivdual goals," he said. "It felt so good."
Pepper also set a few team goals, including winning both divisionals and sectionals. They placed second and third, respectively, and the time put in by team members Grant "Little Cat" Tamatus, J.T. Rupp, Ben Brennan, Matt Scherrier and Chris Chilelli is what allowed them to come so close to meeting Pepper's objectives.
Misselhorn said Tamatus, Rupp and Chilelli, all underclassmen, were hot on Pepper's trail during most races.
"It's encouraging to see the younger runners moving up," Misselhorn said. "They're strong. That they're able to contribute to the leadership of the captain gives you hope for the future."
That is exactly what Pepper aims for.
"I put a lot of work in, and so does the rest of the team," he said. "We tried to get out as much as possible during the summer. I tried to do my best to show them that whoever is willing to work the hardest is going to be the most successful."
Misselhorn is still savoring the success his teams brought to the school.
"Everybody came through, even the younger kids," he said. "They all worked their butts off. They're the ones who do all the work and put forth all the effort."
Sports
brhs
bordentown regional high school
cross country