Railroad Days brings cheer

Jan 29, 2013 07:24AM ● Published by Community News Service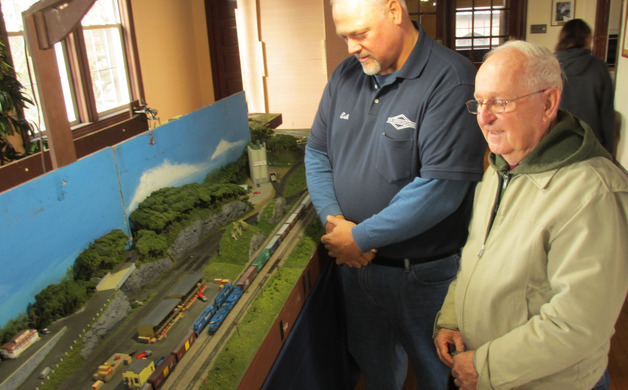 Erik Seidelmann and Bill Collom admire the model trains at Christ Church at Bordentown's Railroad Days.
The City of Bordentown came together after Hurricane Sandy, power outages and a snow storm to enjoy trains and celebrate the city's railroad history Nov. 9-11.
Friday night, Nov. 9, CAFE420 held a Live History Presentation, by Michael Skelly, and music and other performances for the evening.
Nov. 10-11, Bordentown's Christ Church and First Presbyterian Church hosted train displays operated by New Jersey Southern NTRAK and Southeastern Pennsylvania Garden Railroad Society.
Spring-like weekend weather was just in time for the Railroad History Guided Tours that Saturday and Sunday afternoon. Visitors marked the 181st anniversary of the start of the Camden & Amboy, the first railroad in New Jersey. They walked in the footsteps of legislators, royalty and the first woman train passenger in the United States who had taken demonstration rides behind the "John Bull" steam locomotive.
Families were able to play hands-on with Thomas and Friends track and trains. Everyone got to visit exciting train displays by award-winning model railroad organizations.
Bordentown Heritage is already making plans for the annual Bordentown Railroad Days celebration for November 9-10, 2013.
On the Web: bordentownheritage. org. Email: bordentownheritage@gmail.com.
Community
,
News
railroad
train