Girls' soccer season ends at title game

Jan 30, 2013 06:14AM ● Published by Community News Service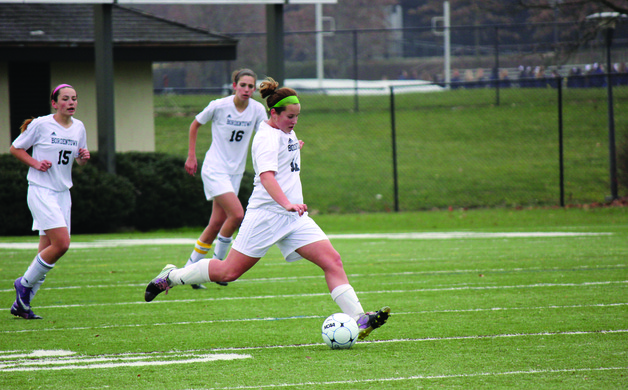 Brielle Hudik sends the ball upfield during the state final against Glen Rock on Dec. 2, 2012 at the College of New Jersey.
By Samantha Sciarrotta
Bordentown Regional High School girls' soccer head coach Dominick Castaldo knew that this season was going to be something special.
"There were times even during the preseas
on when I saw some really good things," he said. "I knew what we had coming back from last year. We only lost a couple of seniors, so it was going to be a matter of how the freshmen fit in. As time went on, you started seeing us get stronger and stronger. It just sort of built."
As the season progressed, that became clear. The Scotties rolled through the regular season, led by Alexis McTamney and her record-setting 58 goals.
Once the state tournament arrived, McTamney proved to be even more of an asset. She scored all of Bordentown's 12 post-season goals.
"Lex is a true goal scorer," Castaldo said. "You can teach a forward how to be a forward or how to play the position, but you can't teach a player to score goals. She just has that. She'll take a thousand shots, and every one of them in her mind is going in. She knows her job."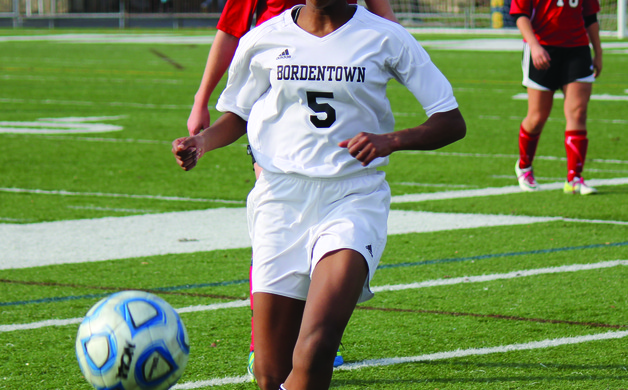 Castaldo said despite how easy McTamney makes her job look, she worked hard to get where she is.
"She puts the work in every day," he said. "It could be really simple for somebody like that to say, 'You know what? I'm not going to work today.' She wants to raise her level every single day, and that's an inspiration for everybody else. Everybody on this team knows what their job is, and they go out to do it with the best of their ability."
That mentality is what got Bordentown to the Central Jersey Group II title game against Glen Rock on Dec. 2.
Glen Rock, though, proved to be a difficult opponent. It defeated Bordentown, 4-0.
"The thing that was most difficult about defending Glen Rock was their possession and movement of the ball," Castaldo said. "They were very skilled and played their game, which created problems for us."
The ball belonged to Glen Rock for most of the match. Defensively, there were two or three players at McTamney's side at all times.
"They did not defend [McTamney] any different than any team," Castaldo said. "Because they held possession, we did not have the ball enough to get her the ball."
Senior goalkeeper Allyson Potts faced 21 Glen Rock shots throughout the game, while Bordentown could only muster four shots.
The team and its coaches are still happy with what they were able to accomplish despite the loss, including a Central Jersey Group II title.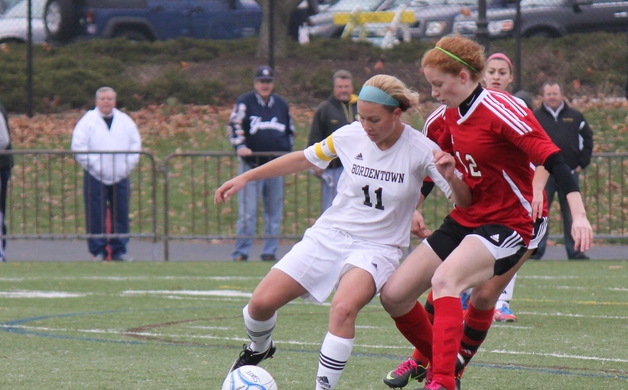 "I couldn't be more proud of the team and myself," Potts said. "We played our hardest right through the whole season. This is the best team I've seen at least since my freshman year. It's a great group."
Castaldo agreed.
"They worked hard every day and kept their goals in sight," he said. "We went through the season challenging the girls of how they wanted to be remembered. How could I not be proud of them? I loved coming to the field every day and looked forward to working with them and seeing how high they could raise their level of play."
He said their ability to mesh and willingness to work were the two main factors of their success.
"You step over the white line and it's all business, whether it's a game or practice," he said. "You need to stay focused, and you need to come out and work hard every day as if it were a game day. They just like to play. They like being around each other. This team laughs and has a good time all the time. I think that contributes to the fact that they're willing to to step on the field and work every day."
Potts feels the same way.
"There is no doubt in my mind that that is why we went as far as we did and played as well as we did," she said. "Not all teams have that chemistry between every single girl. We did, and that's what helped us. When everyone is a teammate and a good friend, you're more likely to work for everyone else than just for yourself."
Sports
,
Schools
brhs
bordentown regional high school