Family copes with son's rare disease

Jan 31, 2013 05:59AM ● Published by Community News Service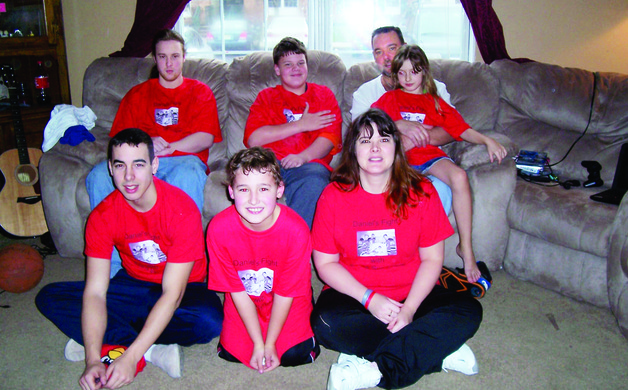 The Applegate family continues to raise awareness about Evans Syndrome. Pictured are (front) Joshua, Daniel, Dawn, (back) Chris Jr., Matthew, Chris Sr. and Jessica.
By Lexie Yearly
Daniel Applegate spent the summer of 2011 out on the baseball field.
He'd played on three teams that year, even earning a roster spot on the All-Star team and playing travel ball with the Jersey Wildcats. The rigor of the baseball season was a welcome activity after Daniel's 2009–10 summers, which he'd spent sick with pneumonia and unable to play his beloved sport.
But as the 2011 season began to wind down, Dawn and Chris Applegate began to worry the sport had once again taken a toll on their son's health.
Daniel would return from a game or practice devoid of energy and exhausted for the remainder of the day, often falling asleep by 7 p.m. Though concerned, Dawn and Chris attributed the energy level drop to Daniel's hectic baseball schedule in addition to his schoolwork.
Until a call from the school nurse sent the family rushing to the hospital. Daniel's teacher had noticed the third-grader's jaundiced skin and eyes, and alerted the nurse.
After an extensive amount of tests, Daniel was finally diagnosed the next day, Dec. 20, 2011, with Evans Syndrome, a rare autoimmune disease that causes the body to make antibodies that destroy the red blood cells, white blood cells and platelets.
The body reacts differently depending which blood count is low: when red blood cell count is down, Daniel becomes tired and anemic; if platelets are down, he could hemorrhage; and when white blood cell count is down, he loses his ability to fight infections.
Steroids are the most common treatment—though they are not a cure—and are used to suppress the immune system. In Daniel's case, the steroids also affect his kidneys, so he needs to take other medication to keep from getting kidney stones.
In the event his blood counts get too low, Daniel needs to go to the hospital for a blood transfusion to stabilize his counts.
When Daniel was first diagnosed with Evans Syndrome, it was five and half months before he went into remission. Remission from Evans Syndrome means his blood counts are stable—though not necessarily normal.
Still, Daniel must have regular blood count checks at the Cancer Institute of New Jersey in New Brunswick, where he goes weekly, in addition to a host of other doctors visits—immunologist, oncologist, hematologist, nephrologist, rheumatologist and more—to monitor or rule out other disease possibilities. As of January, Daniel had had more than 200 needle injections and 11 IVs during the course of his Evans Syndrome treatment.
The Applegates moved to their Bordentown Township home 10 years ago, and all of their children—Chris (21), Joshua (18), Matthew (12), Daniel (10) and Jessica (7)—have attended the Bordentown school district. Since Daniel was diagnosed, they've been trying to raise awareness of the disease with help from local friends and businesses in town.
It's not the first time they've raised awareness for one of their children. Matthew was officially diagnosed with Asperger's Syndrome at the age of 9, and Dawn said the family has participated in autism walks at Mercer County Park and in Burlington County. Dawn also posts information about autism on her personal Facebook page.
But the rareness of Evans Syndrome has proved to be the biggest challenge for the Applegates. Minimal resources are available for Dawn and Chris to find research about Evans Syndrome, and as a result, the couple often has trouble trying to determine the best course of action for Daniel.
"That's the hardest thing," Chris said. "You've got a child that you can't protect, and then you have other things that you can't get information on to make a decision—to make an educated decision—on how you're gonna handle it. So we're playing it by ear."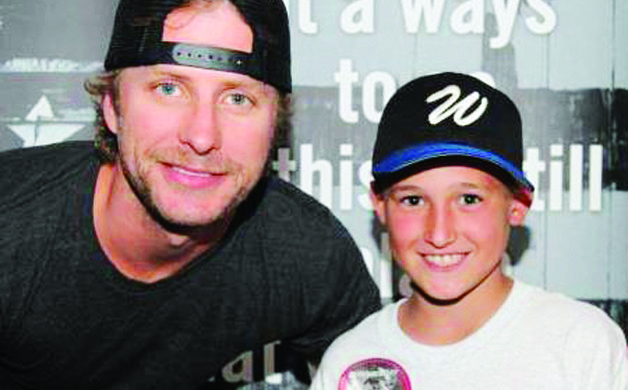 Dawn had kept her laptop stocked with all the information she could assemble about Evans Syndrome, mostly from searching the Internet and reaching out to other Evans Syndrome patients.
"There's a lot we don't understand, and we try to ask the right questions," Chris said.
The Applegates have also gone for second opinions at The Children's Hospital of Philadelphia. Dr. David Teachey is one of the few doctors researching Evans Syndrome in children, and said there have only been about 1,000 children in the world who have been diagnosed with Evans Syndrome.
Evans Syndrome is a diagnosis of exclusion, Teachey said, meaning that all other diseases that could destroy blood cells have to be ruled out first. Dawn, who is still constantly searching for new resources, took to sharing Daniel's story online and connecting through other Internet groups with families all over the world dealing with Evans Syndrome. On Dawn's Facebook page, titled Daniel's Fight with Evans Syndrome, she updates followers on Daniel's health and progress, awareness events and updates on other families' stories with Evans Syndrome.
Despite the connections the Applegates have made through the Internet, they've never been able to meet the families in person. The geographically closest people the Applegates have met live in Pittsburgh in Virginia.
Dawn said she and the families share information and updates with each other, many times reporting back to Daniel's doctors to compare treatment options.
"I'll find out from them what they're doing, then ask our doctors," Dawn said. "We try to stick all together. They've been helping a lot."
Even Daniel keeps in touch with one boy his age living in England who has Evans Syndrome. The pair plays video games like Call of Duty, communicating over Xbox and PlayStation.
Last month, Daniel returned to his fourth-grade classroom at MacFarland Intermediate School for the first time since fall, when his Evans Syndrome had returned. On the days Daniel needs to stay home from school, he receives home instruction to keep up with his assignments.
Though Daniel misses out on classroom interaction, he doesn't lose touch with his friends. His Xbox and Playstation are a constant link to them, too, he said. Earlier in the week before his first day back to school, Daniel was excited to return to the classroom. He was most excited to play baseball again, but he still had a bit more waiting to do for the season to begin.
An open window, sanitized classroom and avoiding contact with sick children are some of the precautions necessary for Daniel to attend school. Daniel must also wear a medical mask to keep him from being exposed to germs. When he had attended school in November, Daniel was surprised on his first day back to see his classmates were all sporting the same masks to make him feel more comfortable.
That kind of support from the community has been forthcoming and much appreciated, Chris said. Community members and businesses have offered their support, and even Daniel's baseball teams reached out to the family. During one of Daniel's stays in the hospital, The Jersey Wildcats, Daniel's travel baseball team, brought food and gas money over for the Applegates to help them travel back and forth to visit Daniel.
"People from Bordentown, they stood behind us, and we're grateful for that," Chris said.
Fundraising began when the Applegates reached out to the Tootsie Roll Company. The company donated 2,000 lollipops, which Daniel sold at school. They sold the lollipops in pairs: one red to represent red blood cells and one purple to represent platelets, tied with a white ribbon to represent white blood cells.
When the family organized a Tricky Tray fundraising event hosted by the Bordentown Elks last July, $12,000 worth of gifts were donated by businesses, including many local businesses, to auction off.
Proceeds from the fundraiser, titled "Daniel's Fight with Evans Syndrome," are donated to fund Evans Syndrome research being done at the Children's Hospital of Philadelphia. Last year's event totalled about $3,4000.
The Applegates are apprehensive about letting Daniel do too many things, but aside from taking basic precautions and regularly having Daniel's blood counts checked, the Applegates cannot do anything else to keep the Evans Syndrome from coming back.
"It's tough letting him go out," Dawn said. "He wants to, when he goes to his baseball, he wants to stay by himself. And I want to stay there and make sure he [doesn't] get hurt."
"They tell us to let him do what little boys do," Chris said. "We try and do that. We try … to take a step back and let him be a little boy."
The main thing every day is regularly monitoring Daniel's health; keeping a lookout if he's jaundiced is the main way to tell if his blood counts are low.
But the experience hasn't all been negative. Daniel has been visited in the hospital by a number of individuals willing to donate their time, including the New Jersey Devils ice hockey team and Spiderman. He's also gotten to attend different events, including a show at the Stone Pony in Asbury Park in June 2012, where he even got his picture taken with country singer Dierks Bentley.
The 2nd Annual Tricky Tray Event is scheduled for June 1 at Bordentown Elks from 6–10 p.m., with all proceeds benefiting Evans Syndrome Research at The Children's Hospital of Philadelphia.
The Applegates are accepting donations for the Tricky Tray Event. For more information or to donate, email dmapplegate510@gmail.com or search Daniel's Fight with Evans Syndrome on Facebook.
News
residents