Family business combines food, fun and family

Jan 31, 2013 06:15AM ● Published by Community News Service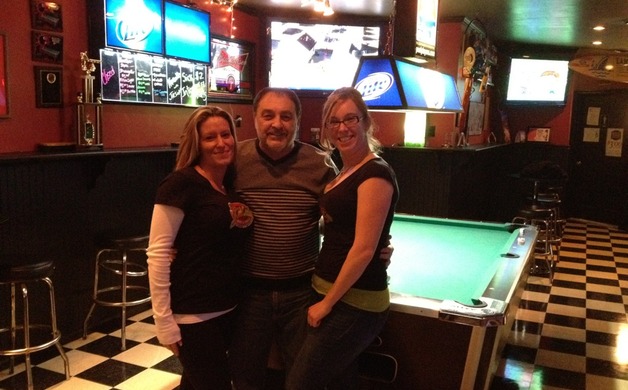 Cool Cricket owner Bob Bablon (center) stands with bartenders Staci Schuman and Christine Hammell. (Photo by Brandon Gould.)
By Brandon Gould
While residents opened their doors for children roaming the streets of Fieldsboro in search of sweets on Oct. 31, 2008, one man revealed a treat of his own.
As others provided Butterfingers and Kit-Kats on that Halloween night in 2008, Bob Bablon left his door ajar, officially opening the town's newest bar and grill, the Cool Cricket.
Bablon, who had worked for months to transform the establishment sitting at 216 4th Street in Fieldsboro, exposed the Cricket with style on opening night as he held the bar's first annual Halloween party.
Residents were encouraged to come out, costumes and all, for a night of drinks, laughs and a performance from the Baked Trouser Trout, a local band who continues to play the Halloween party to this day.
"It was a great night," Bablon said. "Everybody came in with their costumes and we had the Baked Trouser Trout playing, who play our anniversary every year now. It was a lot of fun."
Bablon, who was previously a chiropractor for 36 years and "needed something to do" after he stopped practicing initially, has worked with the assistance of his family to bring an atmosphere that most bars or restaurants simply cannot provide.
The Bablon family's handprints can be seen all over the location that used to house the Bassani Restaurant. Basically starting from scratch, Bob's wife Donna, his son Justin, and his daughter and her husband, Kristin and Steve, all came together to provide assistance as Bob's vision became a reality.
"It took a lot of hard work, a lot of long hours and help from my family; it's a family business," Bablon said. "We did a lot of the work ourselves."
That hard work has created a place that has allowed the Bablons to extend their family beyond bloodlines.
"It's nice to have a business where your family helps out and where we also treat our customers like they're family, too," Bablon said. "When you come into the Cool Cricket, you're treated like family and that's what people like here."
Another thing that draws the people to the Cool Cricket is the food, Bablon said, which his staff makes from "only the best quality of food," including vegetables from the bar's own garden located in the back.
The locals crave the "Rat" wings, named after Keith "Rat" Trout of those same Baked Trouser Trout who play every Halloween, while the out-of-towners venture to Fieldsboro for items like the cheesesteak scampi—half cheesesteak, half shrimp scampi.
Beyond the beer specials, the karaoke and trivia nights and live bands every Saturday night, Bablon offers something else that most places can't: quoits pits and a 30-by-50 pavilion out back.
"It's unique because it is the only place around here where you can have big parties outside, which is kind of neat," Bablon. "Most places just can't provide that kind of opportunity."
Bablon has used the space to his advantage to help support members of the community and members of his own staff. This year, the Cool Cricket will continue to extend a helping hand when it hosts a Beer and Beef Fundraiser for a young boy named Colin, who has Acute Myelogenous Lekuemia, on Feb. 2.
In another fundraiser, the Cool Cricket will also donate proceeds from its fifth annual Miller Lite Wing Bowl to the Florence High football team, which recently won the 2012 Central, Group I State Championship.
"It's fun because you see all these guys and women lined up and they have to eat so many wings in five minutes," Bablon said. "It's like the hot dog eating stuff. Same thing just with wings."
When all is said and done though, Bablon and his family have worked to provide one thing for their customers.
"We want people to come out and have a good time for a reasonable price," Bablon said. "That's what we strive for."
The Cool Cricket is located at 216 4th Street in Fieldsboro. Phone: (609) 291-9110.
Food+Dining
,
Business
uncategorized