Self-defense tools make safety a priority

Jan 31, 2013 06:18AM ● Published by Community News Service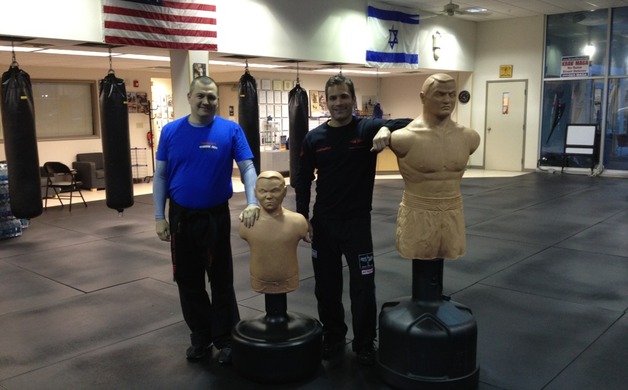 Jason Weber and Abel Khan of Weber's Martial Arts focus on teaching individuals how to defend themselves. (Photo by Brandon Gould.)
By Brandon Gould
Awareness and self-defense are a pair of tools individuals of any age may have to utlize at one time or another.
This is where the combination of Israeli Krav Maga and Weber's Martial Arts comes into play.
The two services, which operate together at 860 U.S. Highway 206 in Bordentown, currently provide knowledge for customers, spanning from the ages of five all the way up to 75, on the technique of self-defense. Krav Maga is reserved for older students, although training can begin at the age of 14, while the martials arts training is available for children from ages 5-13.
"For both the kids and the adults, we like to stress awareness," said Abel Kahn, an instructor and owner at Israeli Krav Maga. "If kids can recognize dangerous situations or a predator, they'll have awareness and through lessons they'll have certain techniques and they'll be able to react in a certain way."
Kahn, who trains in Krav Maga in Israel alongside with his brother and co-owner David Kahn under the tutelage of Grandmaster Haim Gidon—the first Grandmaster selected by the founder of Krav Maga, Imi Lichtenfeld—says that his students also must learn how to defend themselves in dangerous situations.
"The same awareness applies to (our older students) in terms of robberies, muggings, assaults and break-ins," Khan added. "They need to be prepared."
Kahn and his brother have been instructing students in Krav Maga since January 2006, although at that time they were operating out of Hamilton. The brothers moved down U.S. 206 about a year ago, and a few months later, due to an interest in training for younger students, the duo partnered with Jason Weber, who was a "perfect fit."
Prior to starting Weber's Martial Arts, Weber had been a student and an instructor at Everson's Karate Institute, where he rose to the level of Sensei. He received his black belt in 1997 and continued his training under Master Everson on his way to receiving his first, second and third degrees before ultimately reaching his current fourth degree in Okinawan Kenpo in June of 2011.
Weber has been able to bring that experience and training to provide education of avoidance and self-defense to his students in a number of situations.
"Anything with dealing with bullies or strangers, the first thing is avoidance," Weber said. "We try to teach them to avoid the conflict and talk to a parent or an adult if something happens. When someone in school grabs you though, or if someone grabs you on the street, we go to defending yourself and basically attacking the vitals."
In order to get his message across, Weber is a big proponent of what he calls the three Fs: focus, fitness and fun.
"In any type of martial arts you need focus, and in everyday life you need focus as well," Weber explained. "For fitness, we do plenty of exercise and physical activities. And lastly you need to have fun, especially with young children.
"If you don't make it fun a little bit, you're going to lose them, so we get what we need to get done in class and then we'll end on a good note like a game, an obstacle course or something fun like that."
With their students gaining confidence and developing the different techniques and maneuvers, both instructors have found their work to be "highly rewarding."
"When you see a young kid, who is shy and maybe has trouble saying their name to you at first, come in and excel at (karate) is just great," Weber said. "It's very rewarding to see these shy kids come out of their shells and really express themselves, kicking the bags and flipping all over the place."
Both Israeli Krav Maga and Weber's Martial Arts encourage the members of the Bordentown community to attend a class and will be providing discounts to members of the Retro Fitness, which is located at the same location.
Weber's Martial Arts and Israeli Krav Maga is located at 860 U.S. Highway 206, connected to Retro Fitness, in Bordentown. Phone: (609) 424-3346.
Community
uncategorized