Record Collector's passion to share music experience

Mar 01, 2013 05:51AM, Published by Community News Service, Categories: Business, Community
---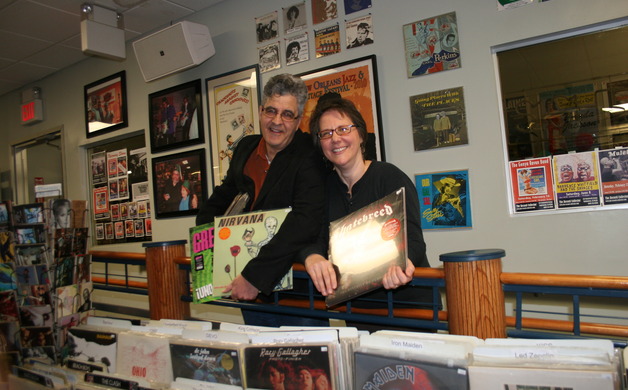 John and Sue Chrambanis stand in The Record Collector in Bordentown with just a few of the many records in the shop. (Staff Photo by Lexi Yearly)
---
---
By Lexie Yearly
John Chrambanis breezed past shelves stacked with LPs and CDs as he strolled into his store office, slid onto his chair facing the computer screen, and excitedly typed "Clairy Brown and the Bangin' Rackettes" into the YouTube.com search engine.
"I'm so excited we got them," he said, turning up the volume as the group's lead singer began her soulful crooning, reminiscent of the European Northern soul sound popularized in the U.S. by Amy Winehouse.
John's wife, Sue, had spent several hopeful months pursuing the group, which had just agreed to be added to the seemingly endless list of bands and soloists who have performed at The Record Collector in Bordentown City.
The shop's entrance is easily visible on Farnsworth Avenue, its exterior painted in bright pink and green tones, but along the back wall of the store, a short wooden platform sits on the floor, almost unnoticeable amid the stacks and carts of LPs and CDs, hanging T-shirts and posters and 45s lining the walls. But when evening rolls around, all of the carts are wheeled into the back room, speakers are moved, and stage lights illuminate the transformed performance space.
The shows began about three years ago when the Chrambanis's scheduled an appearance by Sally Star, who'd signed autographs and sang a few songs.
"People were going crazy," said Sue, who noted that Sally Star even rode down the street in the Bordentown Halloween parade.
The success of the promotional event led to a few free shows, and eventually bigger name artists were making stops to perform in the intimate space.
Musical guests have included a number of different artists, including Pete Best of the Beatles, Bouncing Souls, Frank Stallone, and Tommy Ramone from The Ramones. David Johansen, also known as Buster Poindexter, most known for his rendition of "Hot, hot, hot," has made several appearances, and is scheduled to perform March 8.
The shows have become a way for the Chrambanis's to invite others in to share the experience of the music in a vastly different environment than most shows. Only about 130 people can pack into The Record Collector, but even standing in the farthest corner is closer than patrons could get at a sold-out show for 5,000.
Many of the shows have been unforgettable, John said, yet some of the best shows are by local groups and their imperfect, passionate renditions of original songs.
"There's a lot of people that are technically perfect, put on great show…but the ones that really get to you are the ones that are a little flawed," John said. "They make up for it with just … enthusiasm."
For John, that same enthusiasm for music is present when he's listening to a record; it's about the feel, the sound and the experience.
"You're engaged. It becomes the center of attention," he said. "And if you do it with friends, it becomes an event, just like watching TV together or a movie."
Typically, records have a fast side and a slow side, and the action of turning it over to hear that change in style keeps its audience actively listening.
Despite the emergence of technology focused on convenient music storage, records are still in demand, John said. In fact, many of his customers are from younger generations, who have stumbled upon a parent's or grandparent's old record player and are intrigued.
A teen recently came into the store with a stack of records, and told John as he checked out that he had all the same songs downloaded onto his mp3 player, John said. But, the teen continued, he and his friends liked to get together and listen to the sounds on vinyl.
It confirmed what John remembered about his own childhood—gathering around the record player and listening to an album start to finish, the way the artist intended it.
"You could download the music and hear the music," John said. "But it's not the center of attention, it's kind of like background. And certainly if you download individual songs, you're not experiencing what the artist wanted to portray to you."
Growing up in Trenton, John had always loved listening to records. He'd built up his own collection of nearly 300, making regular trips to The Record Collector in Trenton, then owned by Tom Geraldi.
After Geraldi's father died in 1983, Geraldi planned to close up the store and take over running his father's upholstery business. When John heard the news, he immediately offered to step in and take over.
In John's 30 years in the business, the store has seen several relocations. He moved to South Broad Street in Trenton before eventually crossing over to Morrisville, Pa.
Now John and Sue still live in Pennsylvania, but had come across the Bordentown location through one of John's childhood friends. They've been in the current storefront for nearly seven years.
While the CD sales have dropped off, records are still in demand—at least for now, John noted.
Despite the number of options available when it comes to playing music, John said the record holds its own as the cleanest, most filling sound.
"If you have the right equipment, there's no doubt the record is far superior," John said. "But if you don't have the right equipment, a CD's great. And that's why it became so popular."
When CDs started becoming popular, Sue said, many of the record stores began getting rid of their supply of vinyl, some warehouses even turning over old rcords to John for free. But not only did John love records too much to let go of the business—so did the customers.
The Record Collector was sought out by many European residents, Sue said; they would travel over to the U.S. and stock up on all kinds of LPs, then have them shipped back to Europe where they could make a profit on their own sales.
"We were one of the few record stores that still had LPs, and the Europeans are kind of ahead of us in that sense because they know audiowise, LPs have a better sound," Sue said.
Sue recalled one customer from Greece, who would quickly rifle through the stacks of LPs, immediately selecting what he wanted. By the time he'd finished at the end of a week, he'd have 30 boxes stacked up against the wall.
Customers who browse the shelves might be surprised to learn that the selection on display doesn't even come close to what John has stored in the back. The inventory amounts to more than one million records, with a noteworthy selection of especially rare LPs.
Some of their many gems include Lightning Hopkins, Beatles "Yesterday and Today" butcher cover, a Cream LP signed by its original members, and the recent acquisition of an Elvis Presley 45 on the Sun label.
John surmised that as the industry continues to change, the future of records is hard to determine.
But he still doesn't even own an mp3 player. He's content turning to the other side of the record.
The Record Collector has a number of upcoming shows, including Wishbone Ash on March 2, David Johansen on March 8, and Tommy Ramone and Glen Matlock "Acoustic Anarchy Tour" March 17.
The Record Collector is located at 358 Farnsworth Ave. in Bordentown City. For more information and a complete list of upcoming shows, go online to the-record-collector.com.
---
---
---