Longtime resident celebrates century of life

Mar 01, 2013 06:01AM ● Published by Community News Service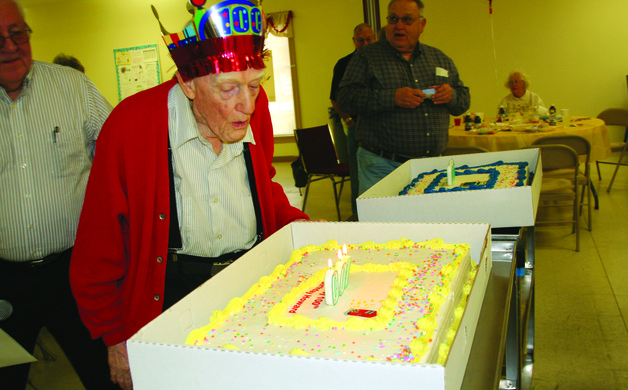 Howard McCue blows out the candles on both cakes to celebrate the day after his 100th birthday, Feb. 4, 2013 at Bordentown Township Senior Center. (Staff photo by Lexi Yearly)
By Lexie Yearly
Two giant birthday cakes were rolled into the Bordentown Township Senior Center Feb. 4, each decorated with winning slot machines to commemorate Howard McCue's big win in Atlantic City a few years ago.
Though he turned 100 years old Feb. 3, McCue still walks without a cane and has no major aches or pains, though he said, "I may wobble a little bit like I'm drunk."
"What did I do to live so long?" he said. "Stay away from the doctor."
The longtime Bordentown Township resident celebrated his birthday in the company of his family; he has three children, six grandchildren and 14 great-grandchildren, though not all were in attendance. His children and grandchildren came in from as far away as Arizona, Colorado, California and Florida, and even his sister, Audrey Winner, who is 94, attended the celebration.
As McCue enjoyed his lunch at the senior center, family members gathered to share stories and celebrate with "Mac."
The patriarch's nickname had been his own doing, his grandson Ken Ford recalled.
"Growing up as kids, we were told that we call him Mac, because he was too young to be a grandfather," Ken said. "I don't know whether he's old enough for us to call him Grandpop yet or not, but I'm not gonna try it."
McCue was born Feb. 3, 1913, in Morrisville, Pa. and soon after, his family moved across the river to Trenton.
He recalled how times were difficult then—he'd walk around with cardboard in his shoes to cover the holes worn into the bottoms, and his mother canned tomatoes and beans.
During the Great Depresssion, McCue traveled the country with his father looking for work; to this day, he's been to every state except Alaska.
McCue married his wife, Lina, in 1932. When the couple traveled to Cranbury to take their vows, they brought just $5 with them. Upon their arrival, the preacher informed them it would cost $5, but McCue insisted it was too much money.
"We gave the preacher, I think, $3 to marry us," McCue said.
McCue moved to Bordentown in 1938, and has stayed in the township ever since. He spent most of his life indulging in one of his favorite interests: mechanics.
He worked as a maintenance supervisor for 32 1/2 years at Fort Dix, where, during WWII, he supervised 30 female mechanics. He also supervised68 male mechanics. Before and after his time at Fort Dix, McCue also worked at a number of dealerships in mechanics, motor sales, service and security.
To this day, he's also still licensed as a ham radio operator through Army MARS (Military Affiliate Radio System). During WWII, he translated and transmitted incoming messages—like if a soldier was killed or wounded—to Washington.
"I'm lucky to be here with all the things that I've done," he said.
When McCue was younger, he attempted to use his motorcycle to impress a group of girls. As the Harley rolled down the street, McCue hopped up to stand on the seat—until a gust of wind knocked him over and back down to the road.
It wasn't until just a few years ago, when McCue was well into his 90s, that he finally retired from riding his motorcycle.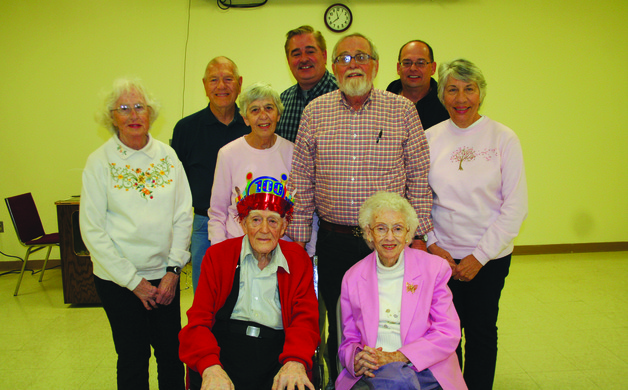 His family recalled many fond memories of "Mac," from his love of fixing things to his straightforward demeanor.
McCue's son, Howard McCue, Jr. said he remembered the family taking Sunday drives as part of their entertainment; he and his sisters would squeeze in the back seat, and the elder McCue and his wife would sit up front and navigate through the town.
On one particular Sunday drive, McCue Jr. noticed the car kept passing by a similar landmark again and again.
"We kept coming around the same point two or three times," he said. "So Mac's sense of direction sometimes isn't the best. I'm hoping I inherited a better sense of direction."
McCue's son-in-law, Ron Bussendorf, said it was easy to respect Mac because he didn't beat around the bush.
"He speaks the truth, I mean the real truth," he said. "He'll tell you exactly like it is. You have to appreciate that, and you trust him."
Bussendorf married McCue's daughter, Joyce, more than 10 years ago, and remembered McCue's reaction.
"I went to his house, and I said, 'Mac, I want to marry your daughter,'" Bussendorf said. "And this is his exact words: 'She's three times seven. That's OK.'"
McCue's 100th birthday was an occassion Joyce was thrilled to be a part of.
"It is really very special," she said. "He's been a very good dad."
McCue is still active in the Bordentown community. He remains a member of the Bordentown Elks and Masonic Temple. His wife, who passed away in 1988 from cancer, had been a founding member of the senior center.
Now, McCue still lives alone in his Bordentown Township home, where his daughter, Arlene Grove, who lives in nearby Hamilton, visits daily to check on him.
And for the last five years, McCue has followed the same Sunday ritual. After church, he and five friends go out to lunch, and then back to his home to play the card game Phase 10.
Though he didn't offer any advice to others seeking old age, McCue did continue to stress one thing—just stay away from the doctor.
Community
uncategorized