BRHS performance to feature tap dancing and trouble

Mar 01, 2013 06:09AM ● Published by Community News Service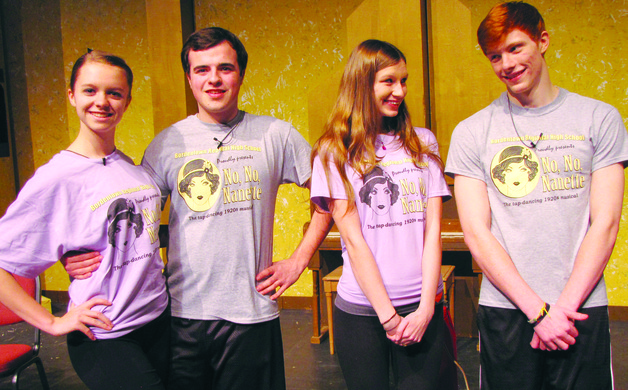 Bordentown Regional High School students are set to put on a production of No, No, Nanette. Pictured are actors Kaitlyn Anthony (Lucille Early), Matt Luyber (Billy Early), Ashley Hansell (Nanette) and Matt Dalton (Tom Trainor). The production is set to run Feb. 28 through March 2, 2013 at the Bordentown Performing Arts Center.
By Brandon Gould
Senior Matt Luyber has performed all different kinds of roles during his time at Bordentown Regional High School, but this year's spring production will be the first time he and several of his classmates have ever had to tapdance.
The style of dance is a staple of this year's production "No, No, Nanette" and a change of pace for the Bordentown cast, which performed a more modern play last year.
"This show is a little bit different than what we usually do," said Stacie Morano, the school's theatre director. "Last year we did Legally Blonde, so this is a complete 180."
The play, which will open at 7:30 p.m. Feb. 28 through March 2, is set in New York City during the 1920s and involves the struggles of not only Nannette, played by senior Ashley Hansell, but several other characters as well.
"It's an ensemble kind of a cast, meaning that it's not just the story of one person even though it's called No, No Nannette," Morano explained.
The play also circulates around Nannette's boyfriend, Tom Trainor, as well as a pair of couples. One couple is Nannette's legal guardians, her Aunt Sue and Uncle Jimmy, and the other is Sue and Jimmy's friends, Billy (played by Luyber) and Lucille Early.
Nannette's struggles come from all around her; Tom wants her to settle down and be his wife, while her aunt and uncle try to hold back Nannette's wild side, according to Hansell.
"(Nannette) is a typical teenager. She wants to go out and do stuff and have fun," Hansell said. "She wants to go to Atlantic City and just be a girl, go to parties and do what she wants, but her aunt and uncle won't let her. They're keeping her life restricted and so she feels like she wants to rebel."
As Nanette is going through her ordeal, her uncle is involved in a pickle of his own.
He has been giving money to three girls, each of whom he has a platonic relationship with. However, Jimmy's wife has no idea about what her husband is up to and so, when things get bumpy, Jimmy requests the help of his friend, lawyer Billy Early, to hide his secret.
That process causes a whole stir of trouble, and it all comes to a boil as the whole cast comes together in Atlantic City because of a strange turn of events.
In between, the play is full of dance scenes that are a little different than what viewers would normally see. With the help of their choreographer, Heather Boner, the students have been able to use their dance moves to further convey the plot, Morano said.
"(Heather) used a lot of the dance routines to tell little stories, so there is a lot of acting involved beside doing the steps and smiling," she said.
Performances are scheduled for 7:30 p.m. Feb. 28 through March 2, and will be held in the Bordentown Performing Arts Center, located in Bordentown Regional High School at 318 Ward Ave. Tickets can be purchased online or at the door at a rate of $8 for students/senior citizens and $10 for adults.
Arts+Entertainment
,
Schools
brhs