What it's like to fly from Trenton-Mercer Airport

Mar 01, 2013 06:13AM ● Published by Community News Service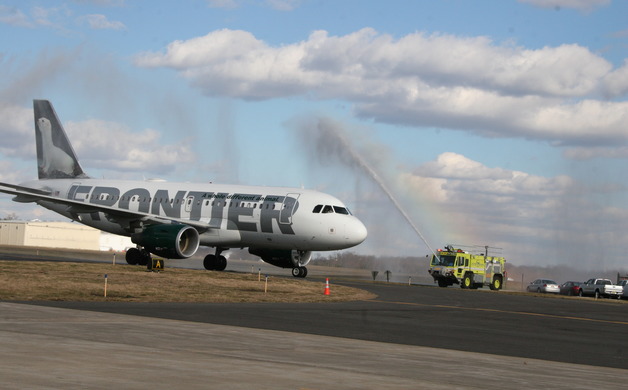 By Diccon Hyatt
On Halloween, you couldn't buy a ticket to fly from Trenton-Mercer Airport on a commercial airline. By Mardi Gras, you could jet to New Orleans and nine other cities on Frontier Airlines, which started flying 138-seat Airbus A319s out of the airport in November.
The airport is now busier than it has ever been since 1983 when it first offered commercial airline service. Since then 14 carriers have come and gone. Frontier hopes to finally be the one who can make air routes work from Trenton-Mercer.
Mayor Bert Steinmann has been promoting the airport as a key component of a major redevelopment project focusing on the old GM site on Parkway Avenue.
On the inaugural New Orleans flight, Jan. 31, the mayor chatted with passengers and handed out Ewing Township pins, making sure the passengers, who came from far and wide, knew what town they were flying from. Most had never heard of Ewing Township before. Steinmann said he wants the county to change the name of the airport to incorporate "Ewing."
But what is it like to fly out of Trenton-Mercer's small terminal? How does it compare to Philadelphia and Newark, the next-closest options for most travelers?
To find out, I hitched a ride on a Feb. 11 flight to New Orleans and back. As it turns out, flying Frontier from TTN is indeed a "whole different animal," as their slogan suggests.
Going to Trenton-Mercer is as simple as going to the grocery store. I drove my car to the airport Monday morning, left it in the parking lot out front for free and walked right in to the ticket desk.
Something of a "tragedy of the commons" situation is developing as travelers leave their cars to fill up most of the available free parking spots while they are away. Mercer County is currently building another lot to remedy this situation.
From the parking lot, it is a short walk to the ticket desk where you can check bags, then get in the security line. Trenton-Mercer is a small airport, but it is not exempt from the requirements for federal airport security.
TSA agents at Trenton are just as friendly and efficient as those at big airports. It's the same agency with the same uniform and procedures as anywhere else in the country. Getting through the line on the almost fully booked flight took about 15 minutes. However, the airline still advises arriving 90 minutes before the flight as you would with any other airline.
On the other side of the security line is a departure lounge. There is just the one lounge, and a single gate. It is literally impossible to get lost or go to the wrong gate. Beware, though, before going through the security line: there are no bathrooms on the other side.
There is also nowhere to buy a cup of coffee. In an epic case of bad timing, the airport's only restaurant, the Runway, went out of business just before Frontier arrived and lured hundreds of hungry passengers to the airport. Airport officials say they are planning to get a small cantina or snack bar up and running as soon as possible. In the meantime, there is a vending machine with bags of chips and candy.
Passengers go out through a covered walkway and walk up a ramp to get on the plane, and friendly flight attendants showed everyone to their seats. Because of the baggage check fee on economy tickets, most people packed in carry-on bags, and overhead bin space was highly coveted.
Frontier has a different ticket pricing scheme than most airlines. There is no first class, just Economy and the pricier Classic and Classic Plus. The upgraded tickets come with perks like checking bags for free, "stretch" seating with extra legroom, free alcoholic drinks and the ability to cancel or change tickets without fees. Economy passengers can buy all these things a la carte, or even once they are on the plane.
You can turn on your TV for $6, and it comes with 30 channels of Direct TV and three movies. The day I flew, the flicks were Lincoln, Wreck-it Ralph and Argo. The people sitting in front of me, the winners of a Mardi Gras promotional contest, watched a TV reality show called "Dog The Bounty Hunter." There's something for everybody.
Soft drinks were free, but snacks, alcoholic beverages and fancy soft drinks were available to buy, unless you had the highest level ticket. You can't use cash, only credit cards. Just before takeoff, flight attendants tempted passengers sitting in the rear with $25 "stretch" upgrades, and at least one tall woman took them up on it, moving to the front for some extra legroom. Stretch upgrades are cheaper if you buy them in advance.
The flight to New Orleans was uneventful. When the plane landed, it didn't take long for the beads-wearing passengers to disembark. But I wasn't there for Mardi Gras, I was there for the real story: The plane ride, so I got right back on the jet. Before long, the plane had been serviced and we were in the air again bound for Trenton with a stiff tailwind. One of the TV channels showed our plane's progress on a map as we zoomed along at more than 400 mph, cutting the three-hour flight down by half an hour.
Chatting with the flight attendants, I learned that Frontier puts the airline crew up at a hotel close to the airport, and they usually go out to eat and hang out at local restaurants in the evenings. Already, a boost to the local economy.
The ability to watch daytime TV on each seat's LCD screens came in handy when fog prevented the plane from landing at Trenton, and had to be diverted to Harrisburg, Pa. The flight attendants turned on all the seat TVs for free, as the pilot refueled and returned to Trenton to circle for about three episodes of Judge Judy before ultimately returning to Harrisburg.
I was told that passengers waiting for our plane on the ground ordered pizza from Red Star and ate it as they listened to our plane circling overhead waiting for a chance to land that never came. Unfortunately, neither Frontier nor county officials at Trenton-Mercer have the ability to control the weather. Frontier bused the passengers to Ewing, a two-hour ride from Harrisburg.
I never got the chance to see what it was like to land at Trenton-Mercer, but I did ask passengers from a later fight, coming in from Fort Lauderdale, what they thought of the experience.
"It was fantastic," said Vinnie Vigliotti, of Jackson. "There's no lines and you get through quicker, and you're in the plane before you know it."
Mary Anne Bohlinger, of Ewing, picked her son up on a trip home from college.
"It was wonderful," she said, compared to his usual arrival at Philadelphia. "It took seven minutes."
However, she said the lack of food and the scarce parking were problems.
Steve Friedlander of Hamilton said it was a good experience and that it was nice to have an option for flights that was only 18 minutes from his house.
It was Larry Walczak, of Stuart, Fla., who said what airport officials probably want to hear the most:
"It was better than Newark or Philly."
Frontier now flies to Columbus, Ohio, Detroit, Raleigh/Durham, NC, Atlanta, Chicago-Midway, Fort Lauderdale, Fla., Orlando, Tampa, Fort Meyers , Fla., and New Orleans. Tickets are available at flyfrontier.com.
Community
trenton-mercer
airport
fly
jet