Dubh Linn Square offers a taste of the Emerald Isle

Mar 01, 2013 06:18AM ● Published by Community News Service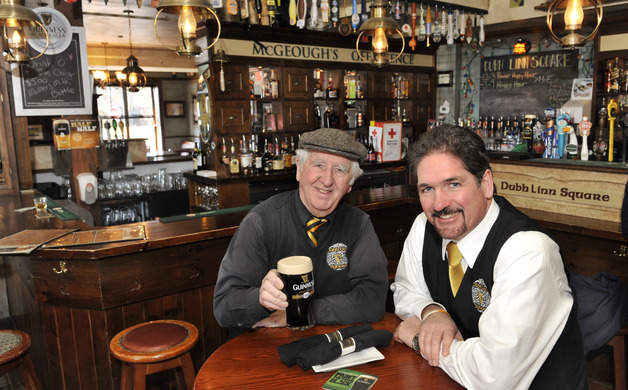 Owner Michael McGeough, Sr. enjoys a beer with his son, Michael McGeough, Jr. in Dubh Linn Square in Bordentown. (Photo by Mark Czajkowski)
By Ryan S. Murphy
As patrons walk into Dubh Linn Square for lunch on St. Patrick's Day, a kind and friendly gentleman will meet them at the door, proudly sporting a traditional Irish flat cap and an Irish brogue. On the walls of the softly lit pub, they will see various pieces of Irish memorabilia, ranging from period photographs to old signs advertising Guinness, the most famous of Irish brews. The television screens often show the soccer or rugby matches. A mirror behind the bar displays a map of Ireland broken into its four provinces, and above the bar is a sign that reads, "McGeough's Off-License."
As they sit down to eat their Guinness Beef Stew, Fish and Chips, or Shepherd's Pie, patrons might find themselves forgetting that they're not actually in Dublin. Instead, they are right here in Bordentown, in a charming little building off of Route 130.
The man at the door seating people is Michael McGeough, Sr., the father of owners Sean and Michael McGeough. The family business began four years ago when the two brothers decided they wanted to provide a pub experience similar to that of what they experienced while living in Ireland.
"We went back to Ireland from '77 to '84," Michael McGeough, Sr. said. "And my kids all went to school in Dublin. That's why it's called Dubh Linn Square. So Michael, even though he was only 18 at the time, had a good idea of what the Irish pubs were like. We were living in East Brunswick at the time, when they saw the old building here and decided to re-model it."
McGeough points to the extensive bar in the middle of the pub.
"You see that bar there? It was made in Ireland," he said. "That's where it was all put together."
In fact, just about everything in the pub is straight from Ireland, thanks to the efforts of its owners, who hired an Irish company to do the design work.
"The bar was actually designed by a company based in Ireland called Ol' Irish," said Ken Merriman, manager of Dubh Linn Square's Bordentown location. "So the craftsmen there worked with the local contractors here, and that's how it gives you that really good genuine feel."
Merriman always remembers the importance of a pub, which is short for public house, as a hub for the community.
"Pubs in Ireland were developed as social centers," he said. "When I lived in the countryside before I lived in Dublin, the pub was where people went. People didn't have cell phones, and most people didn't even have phones in their houses. So the pub was how you would meet people. If you wanted to get a message to somebody, you knew you could find them at the pub certain nights of the week."
He added that the beauty of an Irish pub is that it can't be categorized as just being a restaurant or just being a bar.
"Pubs are a mish-mash of everything at different points of the day. We'll play satellite sports on the weekends during the day, and that's a different crowd than those coming in late at night," he said.
The pub has different events, like Open Mic Nights and bands, and they also have special discounts, like Military Mondays when servicemen and women get 20 percent off. On Saturdays and Sundays, the pub offers a traditional Irish breakfast until 2 p.m. The meal consists of fried eggs, sausage, white and black pudding, and bacon, or as the Irish call them, "rashers."
Merriman said that the St. Patrick's Day festivities at Dubh Linn Square will be a celebration of everything about Irish culture.
"A lot of the events we'll have, like the Pub Quiz, a lot of those developed in Ireland because it was a way of getting people to go out and socialize," he said. "On the days leading up to St. Paddy's Day, we'll focus a little bit more on the music. And on the day itself, we'll have a big tent outside. During the day, it'll be more family-oriented, with games for the kids and face painting. Then as the day progresses, it becomes more of a drinking event."
The menu for St. Patrick's Day will feature only the items on Dubh Linn Square's menu that are considered traditional Irish food because, as Merriman points out, everyone wants to be Irish on St. Patrick's Day. One of these popular dishes is the Bangers and Mash, which is Irish slang for sausage and potatoes.
He also points out that while the music will feature a lot of traditional Irish folk music, there will be a mix of more modern music as well, including bands and musicians like the Birmingham Six, Bill O'Neal and Drew's Farm.
"I could listen to it all day long, and I drive my kids nuts always listening to Irish music," he said. "It's a nice mix of the older Irish music and what people are more familiar with
For more information about Dubh Linn Square Bars & Restaurants, go online to dubhlinnsquare.com. Phone: (609) 298-7100. Email: ken@dubhlinnsquare.com.
Food+Dining
,
Community
nightlife