Pierrot Productions set to present Gypsy

Mar 14, 2013 08:37AM ● Published by Community News Service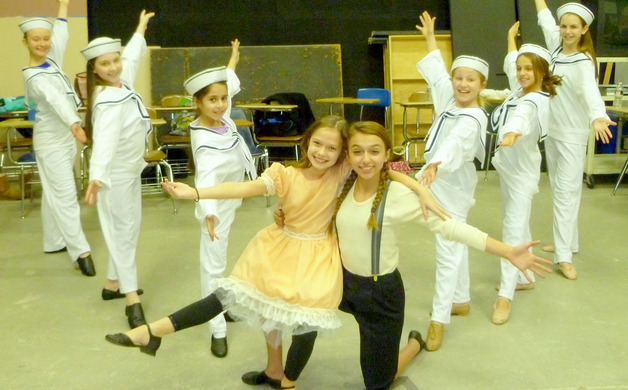 Pierrot Productions actors rehearse for Gypsy, which is set to open at Kelsey Theatre March 15. Pictured are Christina Pullen (New Egypt), Alexys Pulsinelli (Bordentown), Julia Patella (Cranbury), Grace Matwijec (Newtown, Pa.), Lisa Diaz (Southampton), Morgan Wambach (Maple Shade), Sabrina Chevlin (Princeton Junction), and Marisa Lazar(Maple Shade).
Pierrot Productions is set to present Gypsy at Kelsey Theatre March 15 through 24.
The show is scheduled for March 15, 16, 22 and 25 at 8 p.m. and March 17 and 21 at 2 p.m. at Mercer County Community College's West Windsor Campus, 1200 Old Trenton Road.
Gypsy is a musical loosely based on the 1957 memoirs of striptease artist Gypsy Rose Lee, which focus on her mother, Rose who is known for being "the ultimate show business mother." The show follows Rose as she raises two daughters to perform onstage and the hardships of show business life.
Lyrics are written by Stephen Sondheim and music is by Jule Styne. The show includes popular standards, such as "Everything is Coming Up Roses," "Let Me Entertain You" and "Rose's Turn."
The show first opened on Broadway in 1959 with revivals in 1974, 1989, 2003 and 2008. The original production was nominated for eight Tony Awards and the revivals received several Drama Desk Awards, with notable performances by Ethel Merman, Angela Lansbury, Tyne Daly, Bernadette Peters and Patti LuPone.
Pierrot's adaption features Pam Jorgensen of Franklin Park as Rose, Jenna Scannelli of Manalapan as Louise, Tom Chiola of Trenton as Herbie, Samuel Spare of Howell Township as Tulsa, Aziza Seven of Lawrence Township as Tessie, Grace Matwijec of Newtown, Pa. as Baby June; Caitlin Sprang of Lawrence Township as June; Lisa Diaz of Southampton as Baby Louise, Danielle Grosso of Hamilton as Mazeppa, and D. Nixon of Ewing as Electra.
Ensemble cast member includes Alexys Pulsinelli of Bordentown, Julia Patella of Cranbury, Wesley Cappiello and Thomas Petrino of Hamilton, Amy Bessellieu, Tom Bessellieu, William Burke, Emily Elliott and Kailee Graham of Lawrence, Marisa Lazar and Morgan Wambach of Maple Shade, Christina Pullen of New Egypt, Sabrina Chevlin of Princeton Junction, Meghan Deeley of Sicklerville and Mari Skoultchi of Skillman.
The show is directed by Pete LaBriola of Pennington, with musical direction by Pam Sharples of East Windsor, choreography by Kat Kline of Ewing, and stage management by Ginny McGowen of Philadelphia, Pa.
Tickets are $18 for adults, $16 for seniors, and $14 for students and children.
More information is online at kelseytheatre.net.
Arts+Entertainment
kelsey theater