Art club fills up Empty Bowls

Apr 01, 2013 08:46AM ● Published by Community News Service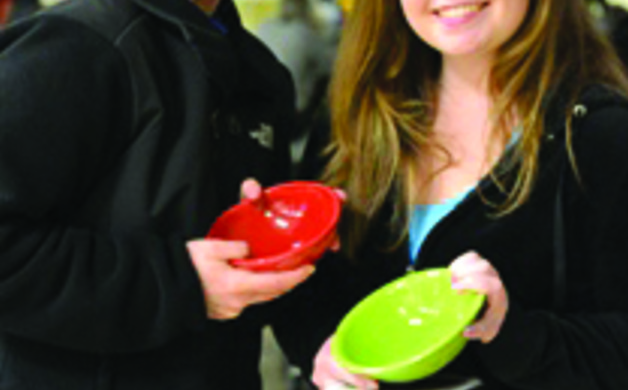 Students Lindsay Guzik and Sam Ryan show off bowls made by the BRHS Art Club.
The first ever Empty Bowls Soup Dinner in Bordentown was bigger than anyone expected. The BRHS Art Club welcomed over 70 people to their first Empty Bowls event on March 18 and raised $1,052 to donate to TASK and the St. Mary's Food Pantry. Empty Bowls is an international project started about 10 years ago to help feed people in need. The group decided to start small with 65 handmade bowls, just in case the turnout wasn't high. But tickets sold out before the school day even ended, and patrons lined up at the door to catch a glimpse of the handmade bowls created by the Art Club.
A large variety of homemade soups were served, donated by some of the staff and students at the high school, as well as breads featuring homemade corn muffins and cheese and cinnamon bread donated by Bordentown's Mastoris Diner. Attendees got to take the bowls home as a reminder that they represent the small amount of food that some people around the world have to eat in a given day.
Community
,
Schools
brhs