Parents find support in group for special needs

Apr 01, 2013 09:32AM ● Published by Community News Service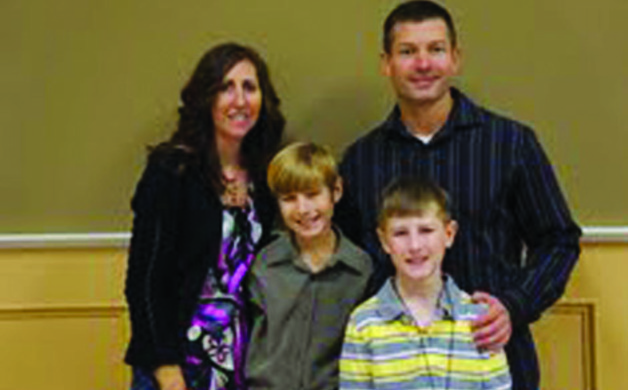 Barbara Eget is one of the leaders of Bordentown's Special Education Parent Advisory Group. Pictured is Eget with sons Davin and Conall and husband Jeffrey.
By Tom Smeaton
The Bordentown Regional School district has been searching for someone to step up and be more than the everyday class parent. Under the guidance of the Statewide Parent Advocacy Network, the school district had recognized the need for a support group for parents of special needs children. The Department of Special Services only needed one person to take charge and lead, but it got two volunteers in Barbara Eget and Amy Hornbeck. "I kind of look at myself as a been-there-done-that mom," Eget said. "I've been through a lot, so I want to offer support and suggestions and things like that and I think that's one of our main goals is to be a crutch for someone or a mentor or someone they can lean on if they have questions."
"My main goal is to help out newcomers who are just starting this journey with their child, like maybe at the pre-school level," Eget said. As a volunteer for both the National Alliance on Mental Illness and Decoding Dyslexia, Eget believes this group can be a great resource for other parents. She also has the personal experience to be a resource herself, as the parent of two children with learning disabilities, Conall, 8, and Davin, 12, who specifically is dyslexic. For Hornbeck, the mother of 8-year-old twin girls, Ava and Hannah, the drive is also brought about by personal involvement in the cause. Ava is on the autism spectrum, while Hannah is not, which gives Hornbeck a unique perspective on the entire district. "It makes for an interesting case study in having a child with special needs in the school district and then having a same-aged child who's typical in the school district and that challenges that each present," said Hornbeck. After a good showing at the preliminary December meeting, the parents took charge and organized the Special Education Parent Advisory Group, without much further direction from the district. In order to make the group a true voice for the parents in the education system, this was the plan all along. "The whole thing would be to invite the parents in … and then turn it over to them and see where they go with it," said Louise Sullivan, Director of Special Services for the Bordentown Regional School District. "I can tell you that I am amazed at their motivation and enthusiasm." While SEPAG is directed primarily toward parents of children with special needs, both Eget and Hornbeck stressed that all parents in the district are welcome to attend meetings and get involved in group activity. SEPAG also offers support for parents of children with a diverse assortment of classifications, both physical and neurological. Even among the first members, the range includes the autism spectrum, speech delays and ADHD, among other learning disabilities.
"The main purpose of these Special Education Parent Advisory Groups is to connect the collaboration between home, school and special education … and make positive changes that we all can agree on," Eget said. "I think the more that parents work together, the stronger these groups are," Hornbeck said. According to Eget, the first three meetings served as a "getting-to-know-you" exercise for the core group of parents that joined from the beginning. While getting a feel for each other, the parents also took time to develop a mission and coordinate what they wanted to achieve through this organization. The parents also discussed arrangements for a number of guest speakers on related topics at future meetings, including SPAN representatives. Now, with much of the early organization complete, the focus has turned to community outreach. SEPAG has currently set up an email list and a "Bordentown Special Education Parents" Facebook group. "We have over 300 classified children in the district, so we have quite a few parents to reach out to and find," Eget said. As more Bordentown parents get involved, the group is determined to make a difference in the education system for all students, including special education and regular education. "For parents to come together because they want to help change the system and to do that in a really positive and collaborative way is great," Hornbeck said. The group's next meeting will take place at the Bordentown Public Library on Thursday, April 18 at 6:30 p.m. Meetings are planned for the third Thursday of every month in the same location, reserved for up to two hours. Those interested in more information, discussions, and connecting with current members are also encouraged to request to join the private Facebook group "Bordentown Special Education Parents."
Community
,
Schools
uncategorized