BCC signs Guaranteed Admission Agreement with Saint Joseph's University

Apr 24, 2013 09:04AM ● Published by Community News Service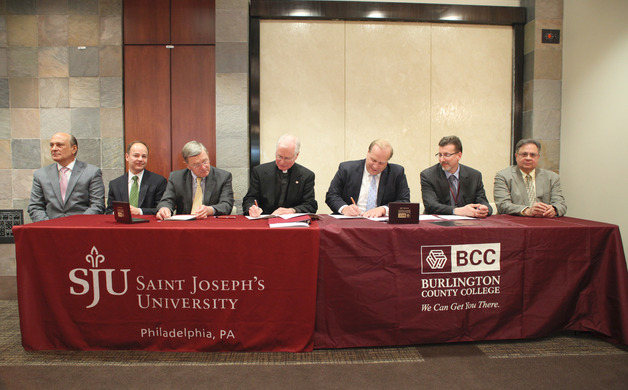 Saint Joseph's University Vice Provost Paul L. DeVito, Associate Provost for Enrollment Management John Haller, Provost Brice Wachterhauser watch as SJU president C. Kevin Gillespie, S.J. and Burlington County College president David C. Hespe sign the Guaranteed Admission Program with BCC Provost David Spang and director of transfer center Robert Ariosto at the college's Culinary Arts Center April 22, 2013.
Burlington County College president David C. Hespe and other representative signed a Guaranteed Admission Program transfer agreement with Saint Joseph's University April 22 at the college's Culinary Arts Center in Mount Holly.
According to the agreement, BCC students can use a structured method to gain guaranteed admission to SJU in Philadelphia, Pa.
Students studying biology, accounting, chemistry, pharmaceutical and healthcare marketing, business administration, finance, marketing and sociology can complete their associates degree then seamlessly transfer to SJU as juniors to earn a bachelor's degree.
In order to participate in GAP, BCC students must complete all core courses, earn their associate degrees and sign the Intent to Transfer form before they have registered for their 30th credit.
This program includes a specific academic plan developed by SJU and BCC for each major and a checklist of core course credits that will transfer to SJU if the student earns a grade of C or better.
Students also must have earned a cumulative GPA of 2.70 or higher at the time of transfer.
Saint Joseph's University was founded by the Society of Jesus in 1851. It is one of only 152 schools with a Phi Beta Kappa chapter and AACSB business school accreditation.
Community
,
News
bcc