Bordentown Regional High School thespians nominated for Cappie Awards

Apr 25, 2013 06:49AM ● Published by Community News Service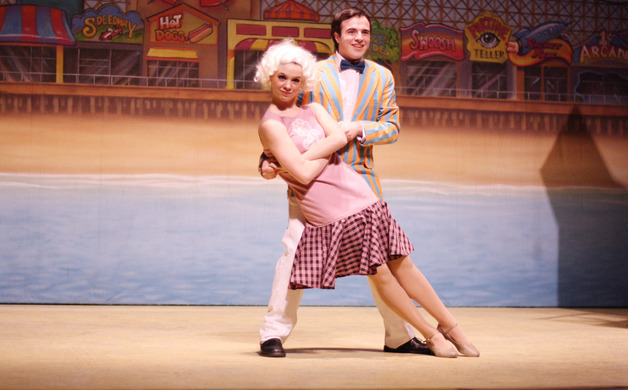 BRHS student Matt Luyber as Billy Early dips Greater Philadelphia Cappie nominee Kaitlyn Anthony playing Lucille Early in the school's production of No No Nanette performed in February and March of 2013.
The Greater Philadelphia Cappie Awards is a national program that honors achievements in high school theatre. BRHS previously won five Cappies in 2012, including Outstanding Musical, for their production of Legally Blonde.
Senior Hope Leonard is nominated for Outstanding Comedic Actress in a Musical for her role as the sarcastic maid Pauline. Leonoard is the historian of Theatre Club and has been involved in every BRHS production in the last four years.
She is currently directing "Tell Me Another Story…," a short play for the 2013 BRHS One Act Play Festival scheduled for May 3.
Junior Matt Dalton is nominated for Outstanding Male Vocalist for his performance as Tom.
Last year, he was nominated for Outstanding Lead Actor in a Musical for his work in Legally Blonde. Dalton also wone third place Junior Auditions category at this year's New Jersey State Thespian Festival.
Sophomore Kaitlyn Anthony, who played Lucille Earl, is nominated for Outstanding Dancer for the second year in a row. Her dance training includes spending last summer in New York working under the direction of Gelsey Kirkland.
Anthony also received a 2013 Theatre Night Award Outstanding Leading Actress nomination for her portrayal of Charlotte Hay in the BRHS comedy Moon Over Buffalo.
Junior Andy Jones and sophomore Emily Palang are nominated for the Outstanding Sound Cappie award. Both Jones and Palang are active members of the Bordentown Performing Arts Center Stage Crew and previously ran sound for Moon Over Buffalo and Charlotte's Web in the fall.
Award winners are set to be announced at the Cappie Gala scheduled for May 5 at the Upper Darby Performing Arts Center. BRHS seniors Ashley Hansell and Matthew Luyber are set to perform in the Cappies opening number for more than 1,600 attendees at the ceremony.
BRHS is home to International Thespian Society Troupe 6803, which has won awards for both its productions and individual students at the New Jersey Theatre Night Awards, the Greater Philadelphia Cappies, the New Jersey State Thespian Festival and the International Thespian Festival.
More information is online at bordentown.k12.nj.us.
Arts+Entertainment
,
Schools
uncategorized