Kids find safe haven Over the Rainbow

May 01, 2013 07:15AM ● Published by Community News Service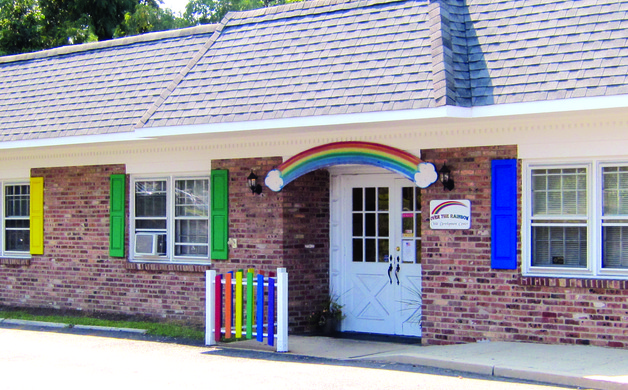 Over the Rainbow Child Development Center  located at 146 U.S. 130 in Bordentown.
Over the Rainbow Child Development Center owners aim to provide a nurturing environment for children.
By Brandon Gould
Moving through the halls of the Over the Rainbow Child Development Center, executive director Lisa Giancarli stops at each room, looking in and greeting the few toddlers who elected to stay awake while their classmates drifted off to sleep during nap time. The center has hit the century mark in enrollment, yet Giancarli can match all the faces with names, and she already knows which bright-eyed students she'll be addressing as she approaches each room. While others may see it as work, Giancarli finds it fruitful to be at her home away from home. "You kind of fall in love with these kids," Giancarli said. "It's more than just a business, it's so rewarding in so many ways." Giancarli decided to use that passion and continue on in the field of childcare after raising her own two children as a stay-at-home mother. Giancarli and her husband, Joe, acquired the center, which sits at 146 Route 130 in Bordentown, in 2011 with hopes to provide a nurturing environment and do "things that they haven't seen here in awhile." "I wanted to go back to work, but I didn't want to go work in a 9 to 5 office," Giancarli said. "[Running Over the Rainbow] has been a learning experience with something new going on each day here. It's been rewarding, interesting, never boring, exciting and frustrating at times—the total package." The attributes were there when the Giancarlis purchased Over the Rainbow. It was the largest child care facility in Burlington and Mercer counties under one roof, but renovations were needed: new paint, carpet and tile. After those tasks were checked off, the couple continued by evaluating the staff and retaining the foundation that would fit their vision. "[Over the Rainbow] was kind of old and antiquated, so we kept the personnel who had been here for a long time and who we thought would fit our school," Giancarli explained. First and foremost in that process was hanging onto to the center's facility manager Evi Taylor, who has worked at the Over the Rainbow for 18 years and even sent her son for tutoring at the center. "She basically could run this place without me," Giancarli admitted. "She treats the place like it's her own, and I noticed that right away, and I knew she had to stay here. She does a fantastic job at running this place." Along with Taylor, Giancarli also decided to hold onto Ruth Covington, 16 years experience, and Brenda Gipson, 17 years experience—both of whom also sent their children through the Over the Rainbow system. That wealth of experience became the foundation of Over the Rainbow, as enrollment nearly doubled from 53 to 100 in the last two years, according to Giancarli. "Families, their pride and joy is their children," Joe Giancarli said. "To be able to bring your child to a place where a teacher has been working 17 or 18 years, you know that those people care and that they love what they do." The Giancarlis also hired a trio of fresh faces with "nurturing" personalities to fill their other classrooms, according to Joe. They also hired program director Marci Rubin to improve and enhance the curriculum. The program includes children, ages spanning from six weeks to five years old, and works to gradually develop the skills that they will need as they move toward kindergarten. Another option that Over the Rainbow provides is before and after school care for children, grades K to 8, with busses taking those students to and from school. The center also runs summer camps. With the improvements piling up and the operation on track as the two-year anniversary approaches in August, Giancarli has been satisfied with the center's growth, but also wants to keep the couple's vision intact. "We don't want to be this big corporate school," Giancarli said. "We want to be this nurturing, loving, small, homey school where you drop your children off and you know they're here all day and they're safe." Over the Rainbow is located at 146 U.S. 130 in Bordentown. Phone: (609) 291-0800. On the Web: overtherainbowcdc.com.
Community
,
Schools
kids
children