Memory loss therapy turns philanthropic at The Clare Estate

May 01, 2013 07:54AM ● Published by Community News Service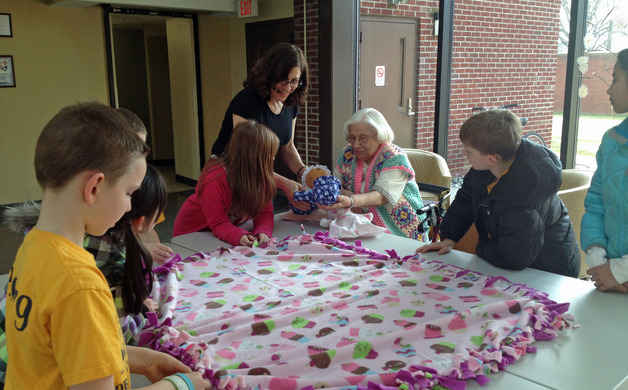 The Clare Estate resident Angie Gentile works with scouts during the Blanket-Making Marathon in March. The blankets are donated to children in Liberia and Haiti.
Blanket making at The Clare Estate benefits the memory impaired residents who make them and the children they are donated to.
What started as a therapeutic activity for residents with memory impairments to develop fine motor skills and socialization turned into a project that provided international aid.
Last fall, residents with dementia were taught about the art of handmade blankets and dolls. Participants inquired about the recipients of their handiwork and proposed donating the fruits of their labor to HomeFront, a Lawrenceville-based organization committed to ending homelessness and breaking the cycle of poverty throughout Mercer County.
The residents completed eight blankets, branded them with their motto, "every heart counts," and sent them to newborns serviced by HomeFront's Family Preservation Center in Trenton.
"Making these works of art for a purpose has driven our residents with memory impairments to do more and experience the satisfaction of making a difference in someone else's life," Clare Estate executive director Alyson Mulryne said in a statement.
Motivated to continue their efforts, residents sold beaded jewelry fashioned from recycled paper to offset to cost of blanket making.
Inspired by the personal philanthropic works of two certified nurse aides at the community, they set their sights on making blankets for children in Liberia and Haiti. They also hosted a toothbrush and toothpaste drive on behalf of a Haitian school.
In March, memory care services director Debbie Molinelli organized a Blanket-Making Marathon. Local scout troops and volunteers joined the residents in their efforts and help complete 18 blankets in one day, which are currently displayed on the community's first-floor walkway bridge.
The Clare Estate plans to host another Blanket-Making Marathon in June. To donate materials, volunteer or get involved contact (609) 298-9960.
Owned by Community Investment Strategies, Inc., The Clare Estate is a fully licensed assisted living residence. The building located on Crosswicks Street was formerly used as the St. Clare's Monastery.
Community
uncategorized