BCC softball team to play in national championships

May 08, 2013 08:37AM ● Published by Community News Service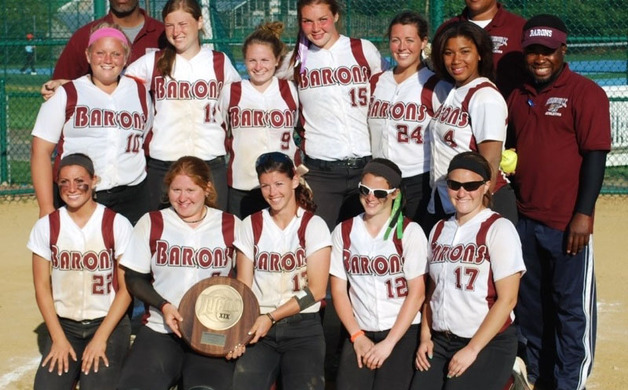 Pictured are (front) Gina Gryniuk (Marlton), Lisa Kosteleski (Cherry Hill), Devon Welsh (Maple Shade), Emilia Paciotti (Bordentown) and Victoria Bryd (Lumberton) (middle) Krystal Pearson (Sayersville), Krystine Rice (Marlton), Morgan Neilson (Atco), Melissa Rustemeyer (Colonia), Carolyn Griffin (Marlton), and Taylor Hamliton (Willingboro), (back) head coach Kirk Peterson, assistant coach Robert Holliday and volunteer assistant coach Maurice Wood. Not Pictured are Shannon Rautzahn and assistant coach Fred Balentine.
For the first time in Burlington County College's women's softball history, the team is set to advance to the National Junior College Athletic Association Division II Softball National Championship.
The Lady Barons won the National Junior College Athletic Association Region XIX Division II Women's Softball Tournament May 5 to earn a spot in the championship tournament.
The team started the tournament in last seed. On May 4, they defeated number one seed, Del Tech Owens, 5-0 and lost to number three seed, Mercer County Community College, 4-5.
The next day, the Lady Barons defeated number two seed, County College of Morris, 10-4.
They also made a comeback against MCCC and defeated them two games, 3-2 and 6-0, to take home the Region XIX tournament title.
"We came into the tournament at the bottom seed and defeated three talented teams," head coach Kirk Peterson said, "this is a once-in-a-lifetime opportunity for our student athletes. They are going to the world series of softball for junior colleges."
Key highlights of the tournament included a two inning pitching relief by Krystal Pearson in game 3 against the County College of Morris to position the team for a championship series.
Krystine Rice and Melissa Rustemeyer hit two home runs each in the final games against MCCC.
Team members Emilia Paciotti (Bordentown), Gina Grynuik, Lisa Kosteleski, Devon Welsh, Morgan Neilson, Taylor Hamilton and Victoria Bryd all had score saving defensive stops throughout the tournament.
Pitcher Carolyn Griffin of Marlton, who pitched in all three final games on May 5, was named the tournament MVP. She also recently received a Scholar-Athlete award at BCC's Intercollegiate Athletics Award Ceremony, which is presented to student-athletes who have earned a GPA of 3.5 or higher after the fall 2012 semester.
The women's softball team enters the national championship with a 38-15 record.
The championship series is set for May 14 through 18 Clinton, Miss.
Sports
softball
bcc