Hometown clown to perform in Ringling Brothers Circus

May 13, 2013 08:05AM ● Published by Community News Service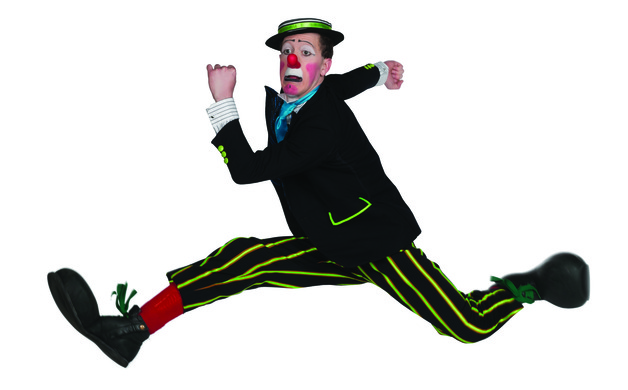 Bordentown resident Jeff Branin will perform for the Ringling Bros. and Barnum & Bailey circus coming to Trenton in May 2013.
Bordentown resident Jeff Branin is set to show off his clown shoes at the Ringling Bros. and Barnum & Bailey's circus at Sun National Bank Center.
After a paint fight and a talent show, Jeff Branin crams himself into a tiny getaway car and checks off another successful day at the office.
The Bordentown native had grown up with a passion for being in the spotlight and making people laugh — and now he's doing it for a living. When the Ringling Bros. and Barnum & Bailey's "Built to Amaze!", the 143rd edition of the Greatest Show On Earth, comes to the Sun National Bank Center in Trenton May 15-19, spectators will find Branin as a member of Clown Alley.
2013 marks Branin's third year with the circus. Branin, now 24, had been working as a performer at Six Flags Great Adventure in Jackson when, after attending a Ringling Bros. circus show in February 2010, "all the puzzle pieces just fell into place."
At the show, Branin struck up a conversation with some of the performing clowns, voicing his own hopes of becoming a professional clown within the year. Soon after that, he'd learned of an upcoming audition in July, and by November he was out on the road with the very same clowns he'd spoken with the previous February.
Now, Branin tours with the circus 11 months of the year, and expects to hit about 80 cities during the course of the show.
But since the show travels all over the country, audience reactions to the same routines tend to be quite varied.
"No two shows are ever exactly the same, and the crowd strangely enough, even if it's in the same city, the crowds are always different," Branin said. "They will always react differently. It always depends on the city itself and their type of comedy."
The troupe rehearses many of the same acts, yet they always play out somewhat differently, because—inevitably—something forces the clowns to improvise.
At the end of one elaborate paint fight act, Branin recalled, a car was supposed to enter and carry the clowns out of the tent. Yet unbeknownst to the troupe, the crew was dealing with some mechanical issues behind the scenes.
When the car didn't show up as planned, the clowns began whispering to each other, "Improvise! Keep going!" Branin said. The show continued with improvised physical comedy until the clowns could finally hitch an exit ride.
The benefit, Branin said, is that the audience is never quite sure what to expect.
"A lot of times when the audience is watching, even if they have no idea if that's the way it's supposed to go or not, the audience will see we're having a good time with it, so it's like subconsciously they'll enjoy what's going on," he said.
In a recent private showing in Brooklyn, only males were able to perform, leaving a vacant space in the clowns' headliner team, which is a husband and wife duo. Branin was selected as the replacement and was thrust into the spotlight.
The experience was different than his usual role because the headliner team often works alongside the ringmaster, giving Branin the audience's full attention.
"I came off the floor sweating like crazy, but it was so much fun just being out there and knowing that every little thing you're doing at that exact moment is being watched by thousands of people, and they specifically are watching you," Branin said.
Performing in the spotlight was something Branin enjoyed doing ever since he was a child growing up in Bordentown.
He and his older sister, Kelly, 33, often acted in local performances at Mercer County Community College's Kelsey Theatre, and Branin appeared in a number of performances when he was a student at Bordentown Regional High School.
Branin, who said he started clowning when he was 6, had actually followed in his older sister's footsteps. The circus was an annual tradition for the Branin family, and with every performance, Kelly and Jeff were convinced even more they wanted to be a part of it.
"From all the times we were little, my parents every year would take us to the circus, and he always said, 'I want to do that,'" Kelly said.
Despite the 8 1/2 year age gap between the siblings, they remained close, and when Kelly began scripting clown performances, Branin followed suit. The pair had a knack for goofing around that often led them to many ideas for skits, Kelly said, and made for an upbeat home life for their parents.
"If the two of us are here, they're always cracking up," Kelly said. "There's never a serious moment in here."
When Kelly began working as a clown at birthday parties with a company based in Toms River, 8-year-old Branin wanted to tag along.
In the summer they attended the massive Clownfest event in Seaside, a convention of hundreds of clowns who competed in a seemingly endless amount of categories, age groups and talent categories. The siblings each came home with their share of trophies after competing there in 1996-97.
Kelly was the first to take a stab at making their dream come true. At 17, she auditioned for Ringling Bros. and passed, but would need to have her parents travel with her because the minimum age to join was 18. With a father who worked in law enforcement and mother who worked in banking, that scenario wasn't an option.
Kelly planned to attend the Ringling Bros. clown school before planning a second audition when she turned 18. But in 1997, the school closed, and she took it as a sign that it wasn't meant to be, and pursued a career in the criminal justice field instead.
"He's basically living this dream for both of us," Kelly said.
"I couldn't be prouder of him," she continued.
"Built to Amaze!" is set to be held in Trenton May 15-19. Branin noted that it will feature a number of new acts, including the "Wheel of Steel" and the world's youngest human cannonball.
Another new addition to this year's show is the King Charles Troupe, a high-energy basketball-playing unicycle troupe. Other classic circus performances include its animals, such as tigers and elephants, and acrobats and aerialists, to name a few.
One of Branin's personal favorites is the addition of a 7-year-old elephant.
"She is literally like a typical 7-year-old," Jeff said. "When you see her backstage, her trunk is wanting to touch everything."
Community
,
News
,
Arts+Entertainment
circus