Freedom Financial Advisors add personal touch

Jun 03, 2013 07:09AM ● Published by Community News Service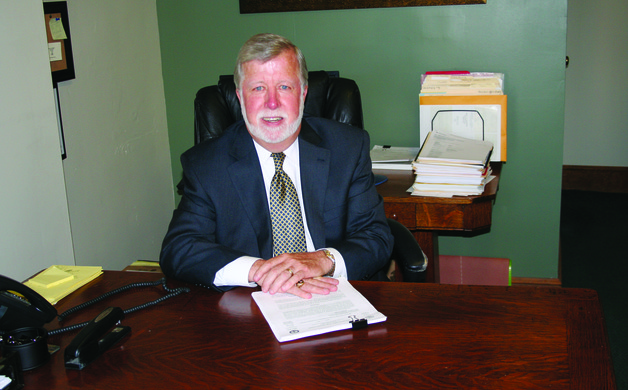 David Workman of Freedom Financial Advisors sits at his desk in Bordentown City. (Staff photo by Lexie Yearly.)
By Scott Morgan
The financial world is not immune to trends. Financial management may be built on a foundation of stability, but even it must contend with the realities of the Internet Age.
"Financial advice is now very available on the internet and via social media," said David Workman, CPA, PFS, and founder and owner of Freedom Financial Advisors LLC in Bordentown. "Clients need to decide if they desire a personal relationship with a trusted financial advisor or just a website to execute their transactions for a fixed fee."
It is a common dilemma these days — how to provide customers and clients with relevant service that fits into their daily lives while not losing the face-to-face experience in the process. For Workman and his staff at Freedom Financial, the personal touch is a major facet of the business.
"We know that long-term financial service relationships with our clients is built on trust," Workman said. "We get to know one another on a personal level."
Part of the process is removing the confusion for clients.
"We take a holistic approach to financial planning by integrating tax advice into all of our services and financial recommendations," Workman said.
Most large corporate brokerage firms tell their client to check with their CPAs and tax advisors first, Workman said, which leaves the client confused and wondering who they should listen to.
Despite the fact that most people know generally what financial advisors do, most come to firms such as Freedom Financial because of the IRS.
"Most of our clients start their relationship with us as income tax planning and preparation clients," he said. "Once they get to know us, they realize that we can assist them with most all of their needs."
The firm's primary services are retirement planning, tax planning and preparation, estate planning and administration, and wealth management.
"As baby boomers approach retirement, they are faced with many financial decisions," Workman said. "We help them create a personal financial plan to fund their retirement years."
The firm also assists executors of family estates.
"When a member of the family passes on, we help the executor probate the will, pay the final debts, prepare the estate returns, and make the proper distribution of assets," he said.
Workman founded Freedom Financial in 1999 and moved it to its present Farnsworth Avenue home a year later. The business just celebrated its 14th anniversary and, Workman says, has grown significantly over the years. Freedom now has four financial professionals on staff in addition to its client service manager, Chantelle Weinczyk. John Ditri joined the firm in 2004 and mainly serves the firm's tax and estate planning practice. Thomas Xenakis, a longtime friend and colleague, joined the firm in 2009 after a 25-year career in corporate finance and accounting and is a partner now. Richard Ciuba joined the firm in March after 15 years of sales, business development, and marketing in global financial services firms.
Workman is a graduate of Penn State, where he earned his bachelor's degree in economics and accounting. He began his career with accounting firm KPMG as a CPA and tax consultant. Workman left corporate America to found CashFlex, a third party lock-box processing firm that served the cash management needs of money centers and regional banks across the U.S. and Canada. He sold CashFlex to Corestates Bank in the 1990s and went on to found Freedom Financial. He hasn't looked back since.
"We get a great deal of satisfaction helping our clients make sound financial decisions for their families," he said. "Many of our senior clients have recommend us to their children, who are now our clients."
And Workman hopes to carry on the personal touch with his new generation of clients.
"As you plan your future you need to look for the right combination of caring, personal service and professional advice to help you reach your goals and dreams," he said.
Freedom Financial Advisors is located at 132 Farnsworth Ave. in Bordentown. Phone: (609) 291-8363. On the Web: ffadvisors.com.
Business
uncategorized