Student-athlete stays cool under fire

Jun 13, 2013 07:49AM ● Published by Community News Service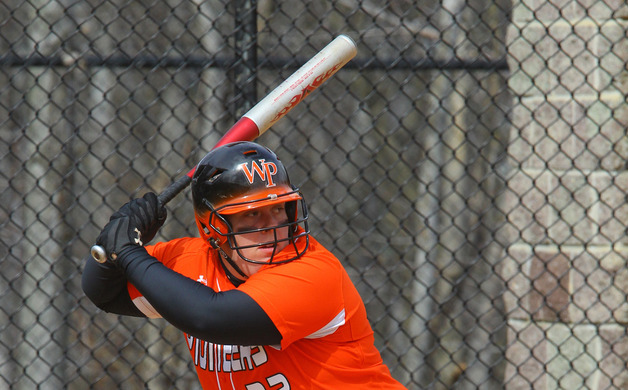 Nicole Walls bats for the William Paterson University softball team.
By Heather Brocious
Balancing the demands of being a college student and a college athlete is a difficult task, but softball senior designated player Nicole Walls' volunteer work has the potential to put her own personal safety at risk.
That's because the Bordentown native and William Paterson University student has been a firefighter since the age of 16 in her district's Consolidated Fire Association, a decision that seems natural given her family's history. Walls' grandfather and great-grandfather were firefighters, and her great uncle served in the Seattle airport's fire department.
Within her immediate family, her father, John, has been the Bordentown chief for 25 of the 30 years he has been a member, a volunteer position that he has successfully combined with his day job as the township's water supervisor. Walls' mother, Nancy, is the vice president of the fire company; her sister, Chelsey, is a social member of the firehouse who helps with events such as fundraisers; and her boyfriend, Chris, became a certified member of the Bordentown department at the same time as Nicole.
"I became a probationary member when I was 16, which meant that I could be on the exterior of buildings and also do things like help the driver," Walls related. "I went through the academy when I was a sophomore at William Paterson, and that's a six-month program of eight hours every Sunday and a few Saturdays."
Once she completed the academy training that also included CPR, HAZMAT and Incident Command System certification, Walls was able to take on an increased role in the firehouse. She has responded to four working fires and also serves as the chair of the Hall Committee, coordinating rentals via email and phone.
"On the weekends that we don't have (softball) games, I'm at the firehouse as much as I can be," explained Walls, who regularly makes the 75-mile trip between Bordentown and the WP campus. "As a volunteer, they understand that I have other commitments. The firehouse is only three blocks from my parents' house, so that makes it convenient."
"It took some getting used to, having Nicole as a member," her father said. "Sometimes if I have to correct something she is doing, I might be tougher on her than the rest of the guys, but I really try to not be over-protective of her. All in all, I wouldn't trade having her at the firehouse for anything."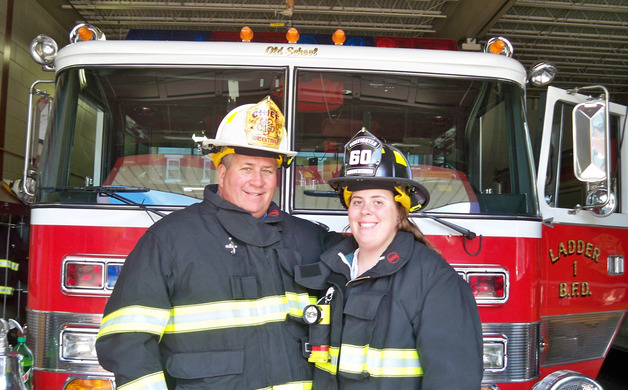 As a designated player for the Pioneer softball program, Walls has made 50 career appearances while excelling in the classroom as a physical education major, earning the designation of being a 2012 National Fastpitch Coaches Association All-America Scholar Athlete. Expecting to graduate in May of 2014, she will complete her practicums next fall and will student teach in the spring of 2014 in the Bordentown area.
"Going to the academy as a college student, the structure and discipline you learn from being a student-athlete, definitely helped," recalled Walls. "And the dedication you learn as a firefighter, I think it has helped me be a better teammate, to do whatever helps the team. As a firefighter, it's not just about yourself, but it's about the team, and that's true in softball."
"I always wanted Nicole to know that I supported her in her quest to become a firefighter," said 19th-year WP softball head coach Hallie Cohen. "I always thought it was pretty special to be a strong female in a predominately male environment, and that in some small way, she was representing William Paterson and our softball program as well. As tough as it was, Nicole always found a way to balance her school work, softball, and firefighting. She has always been mature well beyond her years, and has been a quiet leader along the way."
Walls' softball goals for 2013 include winning the program's fifth New Jersey Athletic Conference (NJAC) title while enjoying the experience of what will be her final competitive season on the diamond. As she prepares for her professional future, Walls has already taken the state's civil service test, and if the opportunity for a full-time paid firefighting position presented itself, she would consider it. If not, she will continue to volunteer while teaching.
"It's rewarding to know that you are doing something that you were trained to do," she said. "You're helping to save people's lives and people's property."
This article originally appeared in William Paterson University's spring 2013 edition of WP Magazine.
Sports
uncategorized