Imhoff Furniture owner recreates customer service of the past

Jul 08, 2013 08:32AM ● Published by Community News Service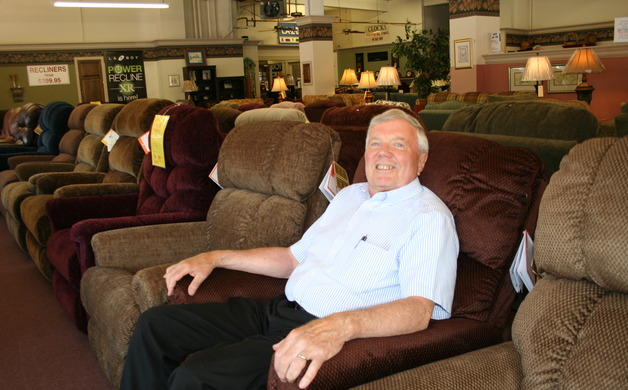 Owner Fran Imhoff lounges in one of the many recliners available in his store, Imhoff Home Furnishings. (Staff photo by Lexie Yearly.)
By Brandon Gould
Fran Imhoff vividly recalls the crowds that would gather to stare at the facade of 407 High St. in Burlington City during the 1950s.
Television sets sat in the window, sound blaring into the street. People would come together to see what was playing on the screens. It was a move that called attention to Imhoff's employer, Capitol Furniture Co., and one that symbolized what the store has always been about: customer service.
Although the building's storefront has changed, and there are no longer TVs in the window, Imhoff, who took over the store in 1975 and renamed it Imhoff Home Furnishings, continues to deliver the same items and service that made Capitol Furniture a mainstay in the city.
"You really need to get to know your customer, and we really like to do things one on one," Imhoff said. "It's no flim flam or bringing this out to you when you ordered that. We pride ourselves on quality service."
Imhoff is a throwback. He doesn't care much for the Internet, he prefers to talk on the phone rather than send a text message, and he enjoys selling couches that are built to last 20 years.
He takes pride in his business and has done so ever since he moved from the factory to the store floor over 60 years ago.
"I was into machine work and it was a matter of a lateral transfer, because I didn't want to work behind a lathe or a drill press for all of my career," Imhoff said. "I saw the way that the other fellows were operating and that didn't work for me. I was offered a chance to come into sales, and I did."
After providing his services to Capitol Furniture for nearly 30 years, Imhoff eventually took over the operation of the 15,000-square-foot store. The store's best selling items today include La-Z-Boys and reclining furniture, but Imhoff and his staff also sells grandfather clocks and curio cabinets, despite a decrease in the appreciation for such items.
"(Grandfather clocks) are not an item today that younger people are looking for," Imhoff said. "Back in the day though, coming in after the second World War, people were furnishing and you just had to have a grandfather clock because that's a signature piece, or a curio cabinet to keep your valuables in."
Still, Imhoff likes to sell items such as those — veterans like himself — that are made to last and made on American shores. That belief is what brings in the upholstery from North Carolina, the wood items from Pennsylvania and even the Flex-A-Beds—with two-sided mattresses, of course, because Imhoff "doesn't believe in one-sided mattresses"—from Georgia.
Along those same lines of familiarity, Imhoff leans mostly on his family to run the store. His nephew, Tony Lukis, is his No. 1 man—that is, if you don't count Tony's son, Anthony. Imhoff's wife, Carolann, assists in running the store. His son, Glenn, even lends a helping hand.
This supporting cast is further aided by long-time store manger Ruthann Parker as well as interior designer Mark Hackney.
It's a family atmosphere that thrives on return customers, ones who not only buy their own items from the store, but who also send their children and grandchildren to 407 High St. to receive the same affection.
That affection includes free delivery that spans a 25-mile radius from the store, going out to locations such as Bordentown, Florence and Hamilton, in some cases on the same day items are purchased.
Imhoff Home Furnishing is located at 407 High St. in Burlington City. Phone: (609) 386-6968.
Business
furniture