Junior musical company to present The Little Mermaid

Jul 09, 2013 06:38AM ● Published by Community News Service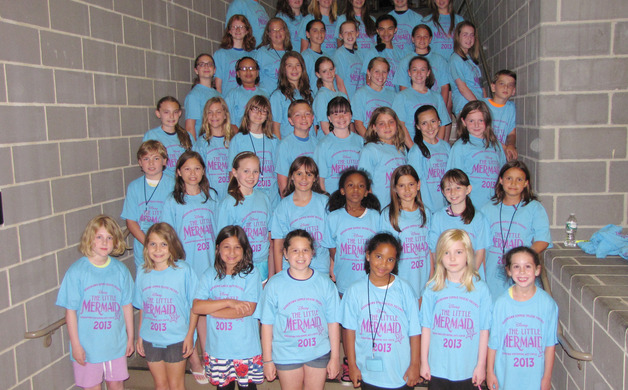 Pictured is the cast of The Little Mermaid Jr. Front row: Madeline Wauters, Michaela Meehan,Gracie Erxleben, Margot Steinhauser, Christine Jardine, Anna Madden and Brooke Guire. Second row: Joshua Dekovitch, Isabella Erxleben, Brianna Moran, Julianne Adelman, Maiyah McDuffie, Victoria Santoro, Jocelyn Cody and Courtney Quinn. Third row: Jordan DelOrefice, Kaitlyn Oliveri, Macey Mazakas, Lucas Bergen, Tessa Solvibile, Olivia Saranin, Gabrielle Takacs and Mia Procaccino. Fourth row: Rebecca Oliveri, Mikaela McDuffie, Isabella Mayo, Alicia Method, Kenna Wojcik, Lauren Redwood and Lucas Harnum. Fifth row: Melody Mazakas, Savannah Poole, Abigayle Harnum, Shannon Hansell, Daria Briggs, Haley Russell and Brenna Campbell. Sixth row: Scott Price, Delaney Redford, Anna Price, Cynthia Reynolds, Isaiah Nitka and Abigail Gunther.
The Bordentown Junior Musical Theatre Company is set to perform Disney's The Little Mermaid Jr. July 19 and 20.
The cast includes 48 performers between the ages of eight and fourteen from Bordentown, Fieldsboro, Trenton, Yardville, Cookstown, Chesterfield and New Egypt.
This is the sixth year of the Bordentown Junior Theatre Company summer program, which has given hundreds of young actors the opportunity to perform musicals such as Once On This Island Jr., Beauty and the Beast Jr., Mulan Jr., Aladdin Jr. and Honk Jr.
The musical is based on the2008 Broadway production and the 1989 animated feature film. It features all of the songs from the Academy Award winning animated feature film as well as three new songs from the Broadway show.
Performances of The Little Mermaid Jr. are scheduled for 7:30 p.m. July 19 and 1 p.m. July 20 at the Bordentown Performing Arts Center, 318 Ward Ave.
Tickets are $10 for adults and $6 for seniors and children, and can be purchased at the Bordentown CDA office, 48 Dunns Mill Road, and at the door one hour before curtain.
For more information regarding tickets call (609) 298-0025, ext.1200.
Arts+Entertainment
,
Schools
theater
acting