Community gathers for blanket-making marathon

Jul 09, 2013 06:56AM ● Published by Community News Service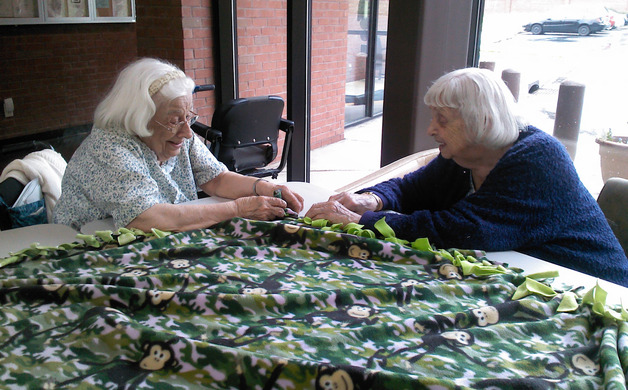 Clare Estate residents Angelina Gentile and Julianna Lautz craft a handmade plush blankets during a marathon event in June. Blankets were donated to three charities that serve children.
The Clare Estate residents and volunteers produced 15 blankets for three charities during a marathon event in June.
The day-long tie-blanket marathon brought together a dozen residents and volunteers who helped create unique blankets in various sizes and designs.
Blankets are set to be donated to HomeFront, True Light Ministries and Helping Hands for Haiti.
Lawrenceville-based HomeFront aids the homeless of New Jersey. True Light Ministries helps impoverished children in Liberia, West Africa. Helping Hands for Haiti was founded by a Clare Estate employee and Haiti native Judith Jean; it aims to provide schooling for children.
Established in 2001, The Clare Estate is owned by Community Investment Strategies, Inc. and housed in the former St. Clare's Monastery, located on Crosswicks Street.
To donate materials, volunteer or get involved contact (609) 298-9960
Community
uncategorized