CDA swim club still splashing after 51 years in Bordentown

Jul 19, 2013 08:50AM ● Published by Community News Service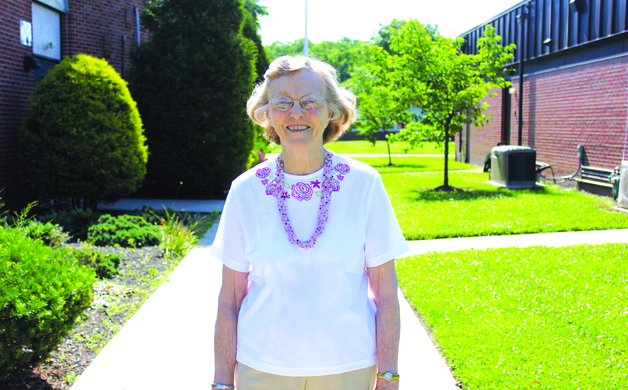 Shirley Fisher founded the swim club. (Staff photo by Samantha Sciarrotta.)
By Samantha Sciarrotta

Dr. Shirley Fisher felt that something was missing when she and her husband, Charlie, moved to Bordentown in 1962: a swim program. The school board in Honesdale, Pa., their previous home, sponsored a summer swim camp each year and Fisher, then 26, liked the idea. She approached the Bordentown superintendent and offered to start up a program of her own.
The first camp was held in the summer of 1962 at the now-closed Sandman Motel on Rising Sun Road. Fifty-one years later, the program is still going strong.
"Dr. Fisher has trained hundreds of lifeguards and water safety instructors," CDA Director Sandy Ewell said. "She has trained thousands of kids. In fact, I now have grandparents, parents and children who have all been serviced by the program. It's just unbelievable."
The program stresses not only swimming lessons and fun in the pool, but also water safety skills.
"It's a program that just has so many benefits to children and families," Fisher said. "It is such a great sport for enjoyment. Learning to swim can really save your life in so many situations. When you swim, you can do so many other things like boating or jet skiing that you may not have felt safe doing otherwise." It's for that reason, Ewell said, that Fisher often continues to accept participants beyond the registration deadline.
"I try to close the program as the numbers grow," Ewell said. "She doesn't let me. She doesn't want that one child that tried to get in have an accident that could have been prevented if they had taken her program. She's an advocate for that." It's easy to see why. At 74 years old, Fisher's passion for the sport hasn't faded in the slightest; she still swims a half mile every single day.
"It's the best lifespan sport," she said. "It's easy to do at my age when it's not as easy to do other sports. Swimming has so many benefits. A lot of doctors say that swimming is very helpful when you're recovering from an injury. I want children to have an opportunity to learn to swim when they're young."
She has provided all of that and more. Many of the instructors and lifeguards are program graduates. Fisher encourages all of her students to take the appropriate lifeguarding courses once they're of age at 15.
"It's so good for you to have those skills," she said. "Some of the kids take the classes just to learn, but a lot of them do go on to become lifeguards." Because so many campers go on to serve as staff members, Ewell said the turnover rate is low. They all stick around because they know what the program can provide its children.
"The staff works together so well," Fisher said. "They like working with each other. I rarely ever get a call from one of them saying they won't be in on a certain day, and they know that I'm always going to be there."
The program runs four to five days a week from June 24 through the end of July. This year's camp is held at the Southgate Apartments pool.
"They've been wonderful to let us use the pool," Fisher said. "We're just thrilled to be there. It's a great pool. We can have three classes going on at once." Fisher estimates around 10 different locations have hosted the camp throughout its history.
"That many groups thought the program was important enough that they wanted to let us have it there," she said. "There are not many communities who would do something like that. It's really a great thing for a community that doesn't have its own pool."
Fisher and Ewell said parents often come out to the pool to watch their children. In fact, both women encourage them to do so whenever they can.
"They like to watch the children," Fisher said. "If the parents are watching and we're saying skills need to be practiced, the parents now know that. They do better if they get in the water between lessons. We really like that. There's a lot of nice camaraderie amongst the parents. I get the opportunity to talk to them, and it's a really nice atmostphere. Children are learning." Ewell agreed.
"We build community through this program," she said. "The parents come and they line up around the pool, they bring their chairs, they have their umbrellas. They watch and they're talking to each other. It's all colors, all economic brackets. It's a wonder to see. People really like the fellowship that is created through this program. Shirley runs it that way."
Sports
swimming