'Boys from Bordentown' continue baseball careers

Jul 19, 2013 09:12AM ● Published by Community News Service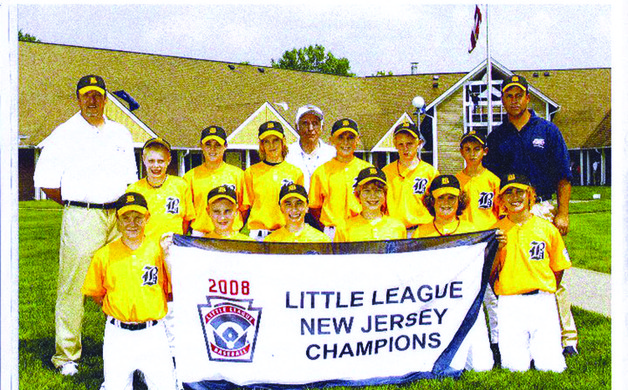 The Bordentown Little League 12-year-old All Stars won the BLL's first ever state championship in 2008. Front Row: Eddie Holmes, Nick Callahan, Clarke Laba, Austin Goeke, Zack Gakeler, Austin Chaszar. Back Row: Coach Dave Revay, Tommy Walters, Cole Clauser, Tyler Revay, "Team Uncle" (supplied by Mid Atlantic Regional), Ryan Shinn, Austin Papp, Patrick Welsh, Manager Pat Welsh. The picture was taken when they arrived in Bristol, Conn. for the Mid Atlantic Regional in August 2008. (Photo courtesy of Dave Revay.)
Five years after their brush with the Little League World Series, Bordentown All Star players find success in high school careers.
By Mary Ann Tarr
Tyler Revay hopes that baseball is still a big part of his life five years from now.
Baseball certainly is important today to the recent Bordentown Regional High School graduate, who is headed to North Carolina Wesleyan College in Rocky Mount to pursue a business degree and play the sport he has loved since he was a youngster.
Revay and 11 other "Boys from Bordentown" had a summer to remember in 2008, when the Bordentown Little League 12-Year-Old All-Stars captured the first baseball state championship for the league. The team finished a few games shy of advancing to the Little League World Series, which is held annually in South Williamsport, Pa.
As the Bordentown All-Stars became the team to represent the Garden State in the East Regional, they dominated the sports sections of the area newspapers. Sportswriters noted that the team—with Pat Welsh as the manager and Revay's father Dave as a coach—was a well-drilled, tight-knit group.
"Obviously, winning the state championship and being the first [team from Burlington County] to do that are some of my top memories," said Revay, who helped direct Bordentown's title runs in his role as catcher. "What I remember, too, is being together with all those same kids that whole summer. We were together almost all the time."
The 2008 BLL team had a long road to victory that summer.
Home runs from Zack Gakeler, the talented pitcher-first baseman-outfielder, were appreciated but not unexpected. When third baseman-pitcher Tommy Walters connected for the long ball, it wasn't necessarily a surprise either. But when 11-year-old Ryan Shinn proved to be a long-ball leader, it sparked hope that Bordentown was indeed a team that could challenge for the top spot.
Bordentown would eventually go on to win N.J. District 12, Section 3 and the state championships. Though the teammates are not together all of the time anymore, they remain good friends.
Half the team just completed a solid season as part of the program at Bordentown Regional High School, helping the Scotties win their first divisional conference title in many years.
Meanwhile, four BLL alumni — Gakeler, Shinn, Patrick Welsh and Eddie Holmes — helped Northern Burlington County Regional High School to capture the Central Jersey Group III championship. The Greyhounds of Northern Burlington finished the high school season 22-5—a school record—ultimately falling to Group III South champions Burlington Township in the state semifinals.
Gakeler was one of the top pitchers in the area, with a 9-1 record, and the junior also had four home runs. He is being heavily recruited by college scouts. Shinn, just a sophomore, set the NBC school record with eight home runs this season. He also hit 10 doubles for the squad that clinched the Liberty division with an 11-2 record.
Two members of the 2008 BLL All-Stars, Cole Clauser and Austin Goeke (one of three Austins on the team), attended private schools. Goeke will move on from The Hun School of Princeton to attend Wagner College. Goeke, who was a pitcher-first baseman-outfielder in Little League, completed an all-star senior season on the mound for Hun.
Austin Chaszar and Austin Papp were members of the 2013 Patriot division champion BRHS team that included Revay, Walters, Clarke Laba and Nick Callahan.
Walters, as a junior centerfielder, was named 1st Team Patriot Division. He finished the season with 11 RBI and .363 batting average. Laba, a senior first baseman, was named to 2nd Team Patriot Division, batting .370 with 30 hits, both of which were the second highest on the team. He also had five doubles and 13 RBI.
Papp was named 1st Team Patriot Division and was also selected to the Carpenter Cup as a pitcher, with a 1.88 ERA and 37 strikeouts. Chaszar batted .319 and was second on the team with 14 RBI. He had two home runs, two triples and a double. Callahan pitched 15-plus innings. Revay had 16 hits and 10 RBI.
"Every single one contributed to our success this year," said BRHS baseball coach Chris Glenn, whose team shared the Burlington County Scholastic League Patriot crown with Cinnaminson, and also won a game in the Central Jersey Group II tournament.
Though high school would eventually separate some of the BLL teammates, Dave Revay says the majority of the players stayed together through age 15, playing Babe Ruth and travel baseball together. Some even had the chance to play against each other in games like this year's "Bordentown Little League Night" April 11, when NBC won over BRHS.
"The first six innings it was a good game," said the elder Revay, who watched the teams battle to a 1-1 draw through six, before the Greyhounds erupted for five runs in the seventh inning.
"It was different playing against the kids you've known for so long," Tyler Revay said. "It's fun. It was a little strange, but it was good competition."
Tom Dolan, manager of the Bordentown Post 26 American Legion team, has seen how the bond has remained between the players. His 2013 team comprises athletes from five high schools, including BRHS and NBC. Four of the 2008 Little League All-Stars play prominent roles for Post 26 this summer — there would have been five, but Goeke is injured.
Yet Gakeler, Shinn, Walters and Welsh put their high school allegiances on the shelf to play as teammates for Post 26.
"They definitely have remained friends," Dolan said, noting that Walters and Welsh will be roommates for a July 4 tournament, and that Gakeler and Shinn also play AAU together. "They're all great kids and they definitely have kept a strong bond."
Papp, who also is a top-notch competitive bowler, will attend Rowan University as he pursues a career in civil engineering. He is giving up varsity baseball to focus on a "tough major" — engineering.
"I'd like to be an engineer, until, I don't know, maybe age 40," said Papp, whoalso mentioned that he would seek to minor in education. "Then, I want to be a math teacher and coach bowling at the high school level. I hope it all works out that way."
Papp can see himself playing in men's leagues down the road. His close friend Revay plans to stay involved in baseball for as long as he can.
"Where do I see myself in five years? I hope to graduate college and if I can, I'd like to run my own (youth) baseball (business)," Revay said.
The next five years, like the previous five, will be full of growth for the 2008 Bordentown Little League 12-Year-Old All-Stars. Some will return to their high schools to continue their baseball journeys and some will venture off to college.
"My son, who has gone from being one of the smaller kids on the team—I remember him small and with blond hair that summer—to becoming 6-foot-1, graduating (high school) and going on to play college baseball, well, it's something you would've never thought of," Dave Revay said.
"They're all top-notch athletes, every one of them," Dolan said. "They all compete. They all can still play with the best of them. They were growing together then, now they're growing as adults together. The competitive edge from going to different schools, playing on different teams didn't get to them."
Sports
baseball
little
league