Following hot start, Post 26 keeps momentum going

Jul 29, 2013 07:03AM ● Published by Community News Service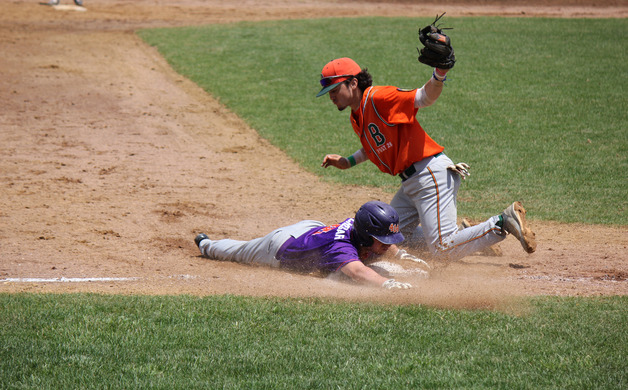 Shortstop Pedro Perez applies the tag at third base during a game against Lawrence on June 15, 2013 at Gilder Park. Bordentown won, 3-1. (Staff photo by Samantha Sciarrotta.)
By Samantha Sciarrotta
If anybody knows the Bordentown Post 26 baseball team, it's veteran manager Tom Dolan. Currently in his 15th year at the helm, Dolan is more than familiar with his squad's tendency to start off slow.
Not this year. Post 26 is off to a 6-0 start that Dolan attributes in part to the success many of his players saw during the high school season. Northern Burlington and Burlington Township faced off in the Group III semifinal, and several players like Cullen Carter, Ryan Bell, Ronnie Grant, Michael Scaringelli and Pedro Perez had above-average seasons.
"To start off like this is a positive sign," Dolan said. "It definitely rolls into that. They're used to winning. Hopefully, they'll continue that trend."
The team's practice schedule has even affected many of the players' tournament runs, which ran right into the start of Mercer County American Legion League preparations.
"The bad thing about having success in high school is that we never had a chance to practice as a team," Dolan said. "We went right into the season when Northern got eliminated by Burlington Township. We were actually shorthanded for awhile."
You would never know it by watching this team play. With what second baseman Pat Welsh describes as a "tight defense" and "timely hitting," Post 26 looks like it never missed a beat following last year's 22-11 overall record.
If anything, Welsh said, the squad's chemistry has gotten better despite the late start.
"It feels a lot better than last year," he said. "I think we were like 0-6 before we won. It seems this year we're jelling a lot better. We're just having more fun starting off, and everything's clicking. It helps that we were together last year for a little bit, and we've played with the newer kids before. It's been fun so far."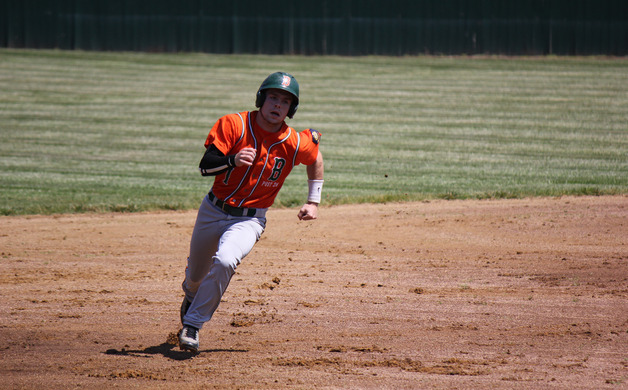 A doubleheader on June 15 is the highlight of the season so far for Post 26. The squad played to two close wins: 3-1 over Lawrence and 1-0 over Princeton. Despite the long day, Dolan wasn't worried.
"We have 18 good ball players on this team," he said. "I have a lot of good talent sitting on the bench, and they're ready to go. They're itching to get in there."
Pitcher Matt Herbert made his first start in over a year against Lawrence. A wrestler at Sacred Heart University, Herbert decided to play legion ball in his last eligible year. After a shaky start, he said he's ready to go for the rest of the summer, which could be key for Post 26 down the line.
"It's been awhile since I've thrown," he said. "Getting back on the mound and playing against a team like Lawrence is a little nervewracking. I started to settle in, and my mechanics started to come through. It's going to help for later in the season big time."
Dolan said another fundamental part of the team is Perez, his shortstop. Perez, he said, is always gritty, whether he's at bat or laying out for a ground ball.
"He's unbelievable," Dolan said. "He leads by example. He's a quiet kid, but he's got a ton of talent. I'm sure one day he will get drafted. He's that kind of player. Just to have him here, especially up the middle, he brings a lot to this team."
Post 26 finished second in the MCALL last year and made playoff and District 4 tournament runs. Welsh said he and his team are going to keep doing what they've been doing.
"We just want to do the same thing," he said. "Win, hit the ball, play defense. All of us are thinking about winning and continuing to build on it."
Dolan agreed. The level of skill he sees every day from his team keeps him confident and makes his job easy.
"Our goals every year are the same," he said. "When you have a talented club like this, it's kind of easy to manage. You're just going for the ride."
Sports
uncategorized