The Vault brings a slice of Naples to Bordentown

Aug 12, 2013 08:17AM ● Published by Community News Service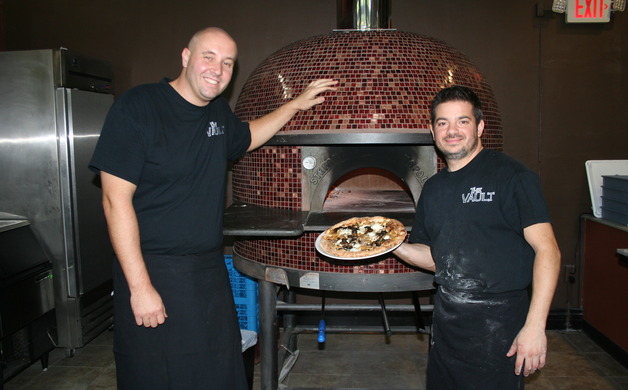 The Vault owners Terry Loda and Gian Belardo stand in front of the oven, imported from Naples, Italy, and display their popular five-cheese pizza. (Staff photo by Lexie Yearly.)
The Vault owners turn an abandoned bank into a Neapolitan-style pizzeria.
By Ryan Murphy
Driving through Downtown Bordentown, an old 19th century bank looms on the corner of Farnsworth Avenue and Walnut Street. But upon stepping inside this impressive building, the aroma of mozzarella cheese and fresh tomato sauce transports one across the sea to the finest pizzerias of Italy.
The new establishment is called The Vault – Authentic Wood Fire Pizzeria, and since it officially opened July 15, it's one of the few pizzerias in the area to serve true Neapolitan-style pizza.
The owners, Terry Loda and Gian Belardo, have been working hard for about two years now to bring their idea to life.
"We just really wanted to bring people here something they hadn't tried before, and they really seem to have taken to it," Belardo said.
Belardo's family is originally from Naples. The style of pizza from that area, with its thin crust, unique cheese and fresh ingredients, is a tradition for him.
"When Gian and his family traveled back to Italy, this was his favorite thing, going out for pizza. Gian actually trained with another pizzeria owner in New York City in order to learn how to make this kind of pizza," Loda said of his business partner. "You didn't have that style anywhere in this area. It's a little bit more popular now, with a few different places popping up in Mercer County. But it's still a new concept."
Loda had previously worked in the restaurant business, and after seven years as a realtor, was drawn back to it.
"I had missed this business, with its fast pace and that feeling at the end of a busy shift … it's a great feeling," he said.
Loda said he and Belardo had met years earlier while working as servers and bartenders at a Chili's, and they've been good friends ever since.
"This concept of Neapolitan style pizza, we both really enjoy," he said. "We've gone all over the place, trying different restaurants in New York City and stuff like that to test out the different types of Neapolitan pizza."
Loda described how this kind of pizza is different from others.
"It's based on really fresh ingredients, which we import from Naples. That includes our flour, our San Marzano tomatoes for the sauce, and the mozzarella di bufala, which is made from the milk of water buffalo in the Naples region, the only place they make it in the world. We try to make it as authentic as possible," he said. "It's cooked in a wood fire oven, which was handmade in Naples."
The oven can cook up to three pizzas at a time. However, the oven cooks at 900 degrees, so the pizzas only take about 60 to 90 seconds.
"When you're working at the oven, the pies have to be rotated constantly," Loda said. "The crust is really what makes this pizza. It's got a crispiness to the outside but the inside is really light and airy."
When trying to find a location, Loda and Belardo had originally chosen a place in West Windsor, but those plans didn't work out.
"We were looking for a town that had community events, a close-knit city environment that was comparable to Newtown, Pennsylvania or New Hope, main street type towns," Loda said. "I told Gian, 'Why don't you just take a ride through Bordentown?' When he did, he saw the for-rent sign on the bank. He called me and said, 'Man, there's this enormous bank right in the middle of town. You've gotta come see it.' But it was seeing all the events done here in Bordentown and the closeness of the community, that really sold us on this place."
They made an appointment to look at the inside of the building and discovered that it would take a lot of work to turn it into their dream pizzeria. The space, which stopped functioning as a bank years ago, has seen many different tenants. Most recently, it housed an ice cream parlor.
"The inside was pretty beat up. I think the bank was empty about a year or so before we went in. Just cleaning the basement took about three weeks, starting from the bottom up. We were starting to wonder what we were taking on," Loda said, recalling how he and Belardo had to install new walls in order to create the kitchen area. They also painted all of the walls themselves.
"In renovating the bank, we kept as much of the integrity of the bank as we could," he said. "The vault is still in here, hence the name, and you see it right as you come in. The serial number on it is 1, and the date stamped on it is 1876. A lot of people like to take pictures next to it."
The Vault menu currently features a selection of pizzas, like the five cheese or margherita pizza; salads, and desserts, including assorted gelato flavors and a Nutella Roll wrapped in The Vault's own homemade dough. Belardo said there will eventually be even more options on the menu.
"As time goes on, we'll expand the menu and include many other dishes," Belardo said. "But for right now, we want to see how people like the current options."
Belardo also said that they will eventually open up some outdoor seating once they and their employees are comfortable with the regular indoor arrangements. But the customers who have experienced The Vault's unique food and atmosphere already seem to enjoy the current menu.
Customer and Bordentown resident Dylan Ulmer said he had been anticipating the opening of the restaurant for a while.
"We live in the city, so we saw everything being built," he said, also pointing out how different it looked from its previous incarnation. "It doesn't even seem like it was an ice cream parlor before. It really feels like a pizzeria now."
Ulmer's friends, Noah Jackson and Cameron Ciarrocca, agreed that the pizzeria is impressive.
"I thought it was a different taste from other pizzas, with that fresh tomato taste," Jackson said. "The crust was better, too. It was thinner but soft and doughy in the middle."
Other satisfied customers included Assemblyman Wayne DeAngelo and Philip Miller, the head of the Mercer County Improvement Authority. The Hamilton residents ordered the spinach pie and funghi pie.
"There's a unique atmosphere here, sitting next to the vault and the pizza oven, watching the process and how quick it is," DeAngelo said.
Although The Vault has only been open for a short time, its owners feel confident that the Neapolitan style of pizza will feel right at home in Bordentown.
The Vault is located at 300 Farnsworth Ave. in Bordentown City. Phone: (609) 291-9000. On the Web: vaultpizzeria.com or search The Vault — Authentic Wood Fire Pizzeria on Facebook.
Food+Dining
,
Business
italian
pizza