Kayakers make 'Green Wave' at Bordentown Beach

Aug 19, 2013 08:18AM ● Published by Community News Service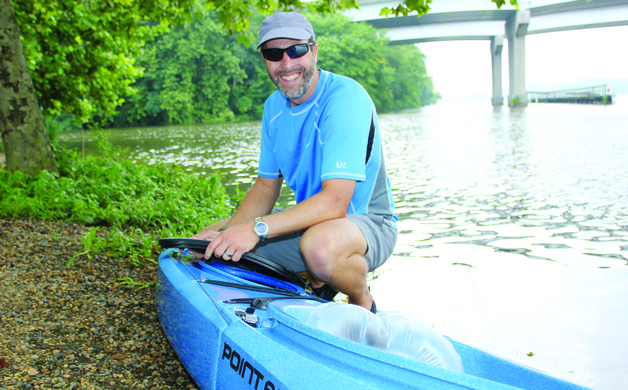 Bryan Mitchell sets up his kayak at Bordentown Beach before heading out on the water on July 22.
By Samantha Sciarrotta
Just off Bordentown Beach, between the lightrail bridge and the highway, sits the Abbott Marshlands, 1,200 acres of preserved land and water lined with bluffs, plant life and countless animal species. Trenton's Roebling Park is just a 3.5-mile kayak trip away.
Bryan Mitchell sees that and more almost daily during the summer, but many
Bordentown residents, he said, don't even know it exists.
"Some people in town maybe know of the marsh, but they've never actually paddled it," he said. "I try to get people out there. I'm just trying to get people exposed to the nice paddling environment that's there. It's a really rich historical, environmental area. Most people don't even realize it's there."
Mitchell owns Green Wave Paddling, a business based out of his Bordentown home. He has been kayaking for more than 20 years, and discovered what Bordentown has to offer soon after he moved here nine years ago.
He used to drive an hour and a half each day to and from Barnegat Bay, where he worked at New Jersey Kayak.
"I figured I was so close, I might as well try to do my own thing," he said. "I decided to get a small fleet of boats and start offering tours and lessons around here. There's really no one around the Central Jersey area that offers tours and lessons. I have my little niche here. I'm very happy about it."
Mitchell, who teaches at Clara Barton Elementary School when he isn't out on the water, offers kayak tours and lessons from the Bordentown Beach area. He starts up in the spring and ends in the fall. Surprisingly, the summer is not his busiest season.
"I'm actually not quite as busy during the summertime because people are going down the shore," he said. "If you have a shop down the shore, this is a busy time for you. In the spring, people want to get out and learn so they can paddle in the summer and fall. I'm usually pretty busy doing classes at MCCC, as well as my own. In the summertime, I'll have more people who want to go out on tours." The often unexplored area beyond the beach is something that every Bordentown resident needs to see, Mitchell said. Nothing is man-made except a few homes along the trail.
"You pass underneath the highway at one point," he said. "That's really cool because you hear all of the traffic above you, and it's just a different atmosphere. It's very natural and very quiet once you get away from the Bordentown Beach area. It's a really nicely preserved area. The marsh is very diversified and has ton of native species because it's kind of isolated between the highway and the river. It's almost like it was when the native Lenape Indians lived there."
Mitchell's wife Liz, a teacher at MacFarland Intermediate School, said the wildlife is particularly striking. There is a plethora of birds, including red-tailed hawks, great blue herons, and ringed kingfishers, small birds with big beaks that go after fish. At some point last year, there was even an eagle's nest. Turtles are common, and fish jump from time to time.
Heather Comisky has been a Bordenton resident for 15 years, and she found out about the area last year after taking one of Mitchell's tours with her family.
"We had a great time," she said. "It's a great activity for a family because it's something anybody can do. We really enjoyed Bryan's input and his knowledge of the area. It was really a great adventure."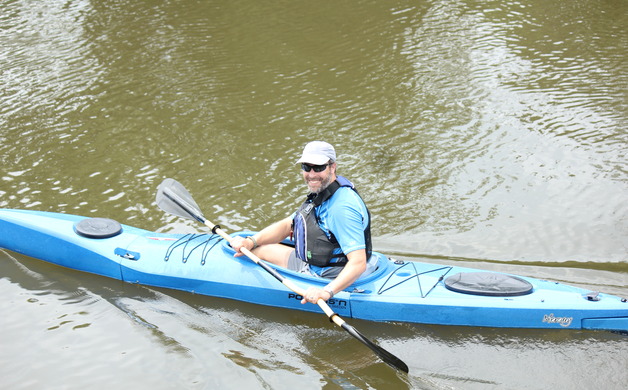 Anybody from 8 years old to 80 can take in the sights, Mitchell said. Paddling is not a sport with an age limit.
"People can paddle throughout their whole lives," he said."It's not like a sport you did in high school that you can't continue doing because it's maybe too intensive. The chances of getting hurt may be high. You can really pick and choose what you want to do in paddling, so you can tailor it to any skill." Younger kids can even get in on the fun.
"I've taken kids out there who can do the trip," he said. "I had a 12-year-old last year paddle his own boat. I also have double kayaks. I've had a younger child go with an adult. There was someone there to help him. Even with minimal experience, as long as you're fairly active and have some decent strength, it's totally doable."
He plans his trips with the tides. Factors like wind speed and tidal changes affect the difficulty of a trip.
"The tides are pretty strong," he said. "It'll scooch you right along, so you really have to plan all of your trips going with the tide and paddling back with the tide.
It's very tough to actually paddle against the tide. Underneath the railroad bridge, it'll run eight or nine miles an hour if it's at its highest flow. The water just gets put under that narrow bridge. I take beginners out there because it's not like rough, wavy water, but it's still moving water. For beginners, you'll feel it the next day, but you can usually make it because the tide is helping you. If the winds are coming from a certain direction, that's going to make it a little more difficult or easier."
The Mitchells have even taken their children out on the water. Brandon and Gavin are eight-year-old twins, and Bella is four. It was the kids who involuntarily pushed Mitchell into tamer river paddling.
"My original certification is in sea kayaking instruction," he said. "You're a mile out on the open water experiencing up to four-foot waves and 20-knot winds. As I get older and have kids, I can't take those same risks anymore. For me, just getting out and teaching a class on the lake or taking people on a tour, I'm really happy doing that. When I first started, I was really into that more extreme stuff."
Mitchell also teaches classes at Mercer County Community College. For now, he wants to keep his business home- and web-based, but he hopes to expand and get the word out about Bordentown's untapped resources in the future.
"Maybe in some years, I might be able to expand or do like a brick and mortar type of location in town," he said. "Now, we're just home-based and web-based. I want to get people out there to see the nice environment that's right in our backyards. As long as you're safe, then you can have fun. If you learn one or two things, whether it's a lesson or a tour, then that's the icing on the cake."
Sports
kayaking