BRHS grads start Bordentown Running Club

Aug 26, 2013 07:16AM, Published by Community News Service, Categories: Sports
---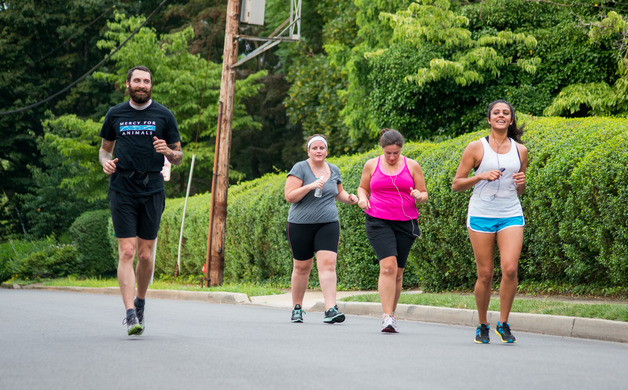 Leopold Jung, Terrie Judge, Alana Einhorn and Sruti Desai keep each other motivated along East Chestnut Street as they prepare to cross Farnsworth Avenue July 9, 2013. (Photo by Mark Wetherbee, Jr.)
---
---
By Kyle Kondor
"Shaping lives & thighs with motivational high fives!" is the slogan that reads across the center of the Bordentown Running Club's brand new flyer that the group has hung around town in hopes that it will help the club gain more members.
The Bordentown Running Club, which was founded two years ago by former Bordentown Regional High School and Rowan University track-star Donny Fillinger, meets every Tuesday and Thursday night at 6:30 p.m. outside of a pizzeria called The Vault on 300 Farnsworth Ave.
Each meeting consists of a 3.5-mile run and other fitness activities led by John Brodowski, who also ran for Bordentown Regional High school's track team, and Lee Jung who have kept the club going since Donny Fillinger moved out of town.
Both Fillinger and Brodowski led the BRHS track team to a state championship in 2001 and were later inducted into the school's Athletic Hall of Fame. Fillinger, who was also a 3-year varsity soccer player at BRHS, joined the Rowan University track team following his high school career where he went on to earn All-New Jersey honors. Now, the talented athletes are hoping to inspire other runners to join the BRC.
"We understand that it's tough to get out and run on your own sometimes so having other people there definitely motivates you," Brodowski said. According to the group's Facebook page, the BRC's vision is to create a social group and community medium for people who wish to lead a healthier or more adventurous lifestyle in a positive and supportive setting.
"I just love the idea of our club, I like the people here, and it's just a really good feeling encouraging people to get moving," said Jung, "and it's free." The group takes a scenic jog throughout Bordentown City and stops at Carslake Community Center to perform physical fitness activities such as pull-ups, push-ups and sit-ups. On certain days, members also jog along the Bordentown canal path that takes the crew all the way to Trenton and back.
The club has 174 members on its Facebook page, but only about 10-20 people on average participate in the group runs. Most of the club's members live in Bordentown, but runners have also come from towns as far as Old Bridge, East Brunswick and even Philadelphia.
Gregory Shaw, who attends the club runs regularly, said he would like to see a better turn out each week, and hopes that meeting outside The Vault, a brand new restaurant, will get some the club some recognition.
"We were drawing really good crowds at first and then it just kind of died," he said.
The BRC accepts runners of all ages and physical fitness levels, whether it's someone who's just trying to get in shape, someone training for the Trenton Half Marathon, a 5k mud run, or the popular Color Run that tours the world each year.
"Our only rule is to just be respectful," Jung said. "We're always looking out for each other. No one gets left behind, we run at a pace that's comfortable for everyone."
Brodowski encourages people to join the club, noting that anyone can post on the Facebook page and schedule a group run. In fact, almost every day, someone posts about a run or event in the tri-state area.
In the future, the BRC hopes to do much more than just running. Biking and kayaking are two activities they plan to add.
For more information, go online to facebook.com/groups/BordentownRunningClub.
---
---
---