BRHS girls' soccer team ready to rebuild

Sep 03, 2013 05:53AM ● Published by Community News Service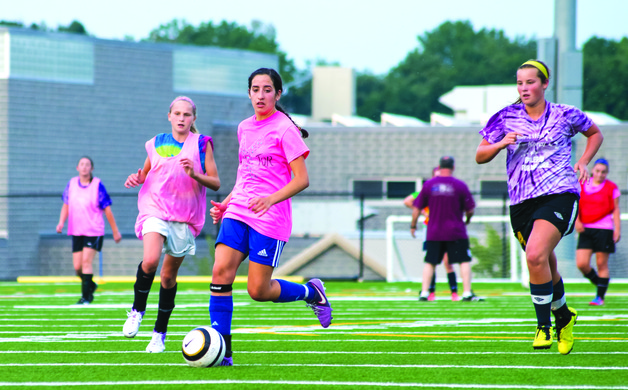 Morgan Papp, Samantha Pagnani and Breanna Hudik participate in a drill at practice. (Photo by Mark Wetherbee, Jr.)
By Kyle Kondor
Last season, the Bordentown Regional High School girls' varsity soccer team was a win away from being named Group II State Champions when they were defeated 4-0 by Glen Rock in the final game.
The Scotties finished the season with a solid record of 18 wins and 6 losses. The team hopes to be just as successful this season, but they'll have to do so with a brand new look.
In 2012, four of Bordentown's 11 starters were seniors. Most important of them all was NSCAA All-American Alexis McTamney, who will be attending Division I college Monmouth University to play next season.
"She was at a level by herself. You can't expect another player to give you 58 goals and some of the intangibles that she gave us. So we're going to have to find the goals from other places this season," said Dominick Castaldo, who's entering his 31st year as head coach of the team.
Putting McTamney's importance into perspective, she set a school record by scoring 124 goals in her four years at BRHS. In her senior year, she had 58 goals, which was almost twice as many as any other girls' soccer player in the state. She only failed to score in three of Bordentown's games, and scored multiple goals in 17 of them. In the state tournament, McTamney scored all 12 of the team's goals.
Castaldo is hoping that this season, junior midfielder Mecara Bruce and senior utility player Giselle Chica will step up and give Bordentown another shot at the state title.
"Our strength this year is that we have more girls who can score," Chica said. "We will just have to have more possession and take shots when we have the chance."
The Scotties have several incoming freshman, so they're hoping that some of the younger players will step up this season. The players have also worked a lot on the basics, hoping that it will lead to better play on the field.
"You design a system of play around the players that you have," Castaldo said. "I'm not a coach that's going to force something down our team's throat if they can't do it. We're going to play to what our strengths our. We want to put together a team that's going to work hard. One thing about last years team is they worked hard every single day."
In his 30 years with the program, he has made the state championship game four times, losing each contest. Though he hasn't won a state championship, winning games has never been a problem for Castaldo. In 2011, he surpassed the 300-career win mark, and he now sits at 324 wins, hoping to reach 350 sometime during the 2014 season.
Despite the recent success of last season, Castaldo says a lot of the teams opponents believe the Scotties will not be as much of a challenge this year. "At the summer workouts I heard people saying our team is going to be totally different because that senior group is gone," he said. "That already tells me that teams are looking forward to playing us. We have to make sure we can prove them wrong."
Castaldo made his own comparison to last year's team, saying, "It's hard for me right now to say whether we'll be better than last year or not. I definitely lost a lot of skill and experience. I'm really looking forward to this season because it's going to be a challenge."
Because of their record last year, Bordentown will face a tougher schedule this season. One game the team has circled is the second of the season, in which they'll face Mercer County powerhouse Steinert. They open the season at home against Palmyra on Sept. 6.
Sports
brhs
soccer