Marcello's Restaurant serves cannoli-tiramisu hybrid

Sep 16, 2013 05:50AM ● Published by Community News Service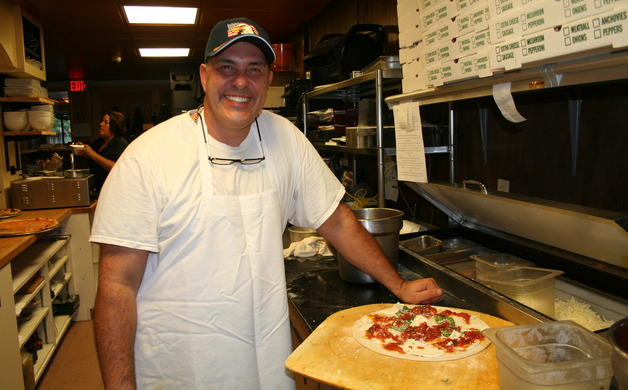 Marcello's Restaurant chef Vincent Minerva pauses while making a fresh pizza. (Staff photo by Samantha Sciarrotta.)

70 seat alfresco dining, homemade sangria, New York old fashioned tomato pies, outdoor bar, catering and delivery available. Read More
By Brandon Gould
Guiding his way through the kitchen of Marcello's Restaurant, the manager looks around for a little of this and a little of that.
It's an exploration to find the right ingredient that will take the average dish and make it special and unforgettable. And while he may be a cook by trade, Vincent Minerva is a master of culinary chemistry by nature.
Minerva loves being in the kitchen; he always has since he started working in restaurants as a dishwasher when he was 11 years old growing up in Bensonhurst, Brooklyn. But making a traditional dish was never quite enough, so Minerva started to get creative, turning his kitchen into a laboratory as he took the role of scientist.
"I get goose bumps because I just start anticipating me bringing it to the people," Minerva said. "It could be simple food, but I'm going to make it unique."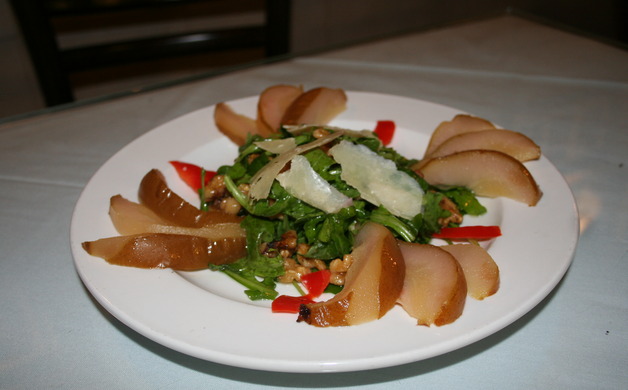 One of those transformative experiments came in the manner of a post-dinner treat. While some places might offer guests the option to cap off dinner with a dessert like a cannoli or tiramisu, Minerva lets his customers have both, all in one bite.
He came up with the idea after watching pieces of tiramisu get lost in the shuffle due to an inconstancy of who was cutting it. Minerva decided that he would utilize them as filling for a cannoli, and the result was his now famous Tirnaollis, a staple on the menu at Marcello's.
And it's productions like this, or creations like sticky calamari—"an Italian version of General Tso's chicken"—that Minerva believes sets his restaurant, which he has run along with his brother-in-law, Salvador Saoadino, since 2004, apart from all the others.
"The difference between a mom and pop place and a corporate one is that we can always use our imagination to make things differently versus sticking with a standard," Minerva said. "Being creative is what has made this restaurant what it is."
The creative juices at Marcello's don't just come from Minerva, either. He lets his customers get in on the action as well.
Marcello's offers its diners the option of enjoying a well-made burger that is a little out of the ordinary and designed from their own imaginations.
"When the customer makes their own burger, basically you're making a meatloaf," Minerva said. "So instead of putting the items on top of the burger, we're putting them in the meat."
One menu item details a burger that included zucchinis, mushrooms, lettuce, tomato, bacon, ham, extra cheese and barbeque sauce.
"Anything goes," Minerva said.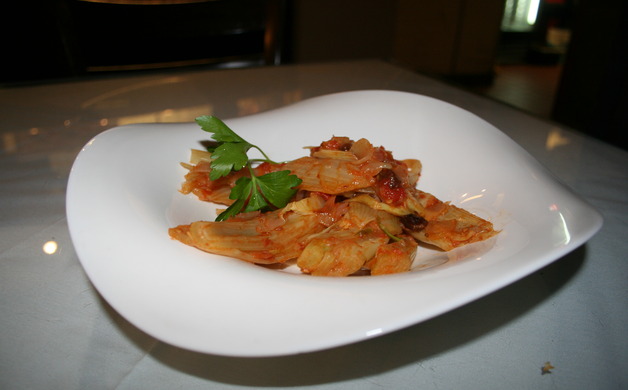 Despite being a traditional Italian restaurant, Marcello's also serves specials each month that come from different cultures. This month's feature is a refried risotto served over black beans and topped with New York Cuban strip steak.
Minerva just wants his customers to feel as comfortable at his place as they would in his own kitchen—a concept he brought from Brooklyn to New Jersey along with his old-fashioned tomato pies.
"Basically, the way I see it, you can come in in shorts or in a suit and you're going to get the service of a high-quality restaurant either way," Minerva said.
The restaurant also is able to provide the ability for patrons to sit outside at the newly renovated patio bar, which was converted from three seats to 12 seats. Minerva is hoping to further expand his dining area in the next year to reduce waits that sometimes occur due to the food being made to order.
"I try to make it very comfortable for the people coming in because I want them to feel like they are a part of the family," Minerva said. "We'll give you the attention of a hug and a kiss to greet you on the way in and also give you a hug and kiss on the way out."
Marcello's is located at 206 Farnsworth Ave. in Bordentown City. Phone: (609) 298-8360.
Food+Dining
pizza