Sustainability initiative sprouts Community Garden

Sep 23, 2013 05:55AM ● Published by Community News Service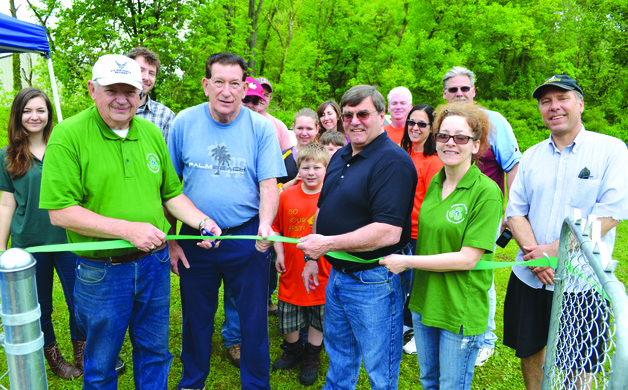 Livia Popko, Roger Plew, Steve Benowitz, mayor Jim Cann, Jane Wolf, deputy mayor Jill Popko and Bill Popko cut the ribbon at the Community Garden on May 11, 2013.
By Jessica Talarick
Organic cucumbers, tomatoes and melon fill the shelves of St. Mary's Food Pantry thanks to the Bordentown Community Garden.
The garden on Constitution Drive is a 3,000 square foot plot that provides those who do have land the opportunity to garden, and organic fruits and vegetables to those who cannot afford them.
The Community Garden is the brainchild of Bordentown Township Environmental Commission chairman Roger Plew, who is spearheading the township's campaign for Sustainable Jersey's bronze certification.
Sustainable Jersey awards certifications based on a point system. The organization has a list of more than 100 actions that are worth anywhere from five to 50 points. The bronze level requires 150 points.
A community garden earns Bordentown Township 10 points. Including the garden, the township is currently at about 75 points. Other sustainability projects include creating a green team (1o points), hosting a community paper shredding day (5 points) and enacting an employee environmental behavioral policy (5 points).
Plew said after deciding to establish the garden, he worked with deputy mayor Jill Popko and the public works department to bring the garden to life. The director of Public Works suggested the plot on Constitution Drive and Plew set forth getting the township's approval.
Once the land was secured, Plew set out to find sponsors. Plew said he sent letters to local businesses with a donations wish list. The response resulted in the foundation for a lush fruit and vegetable garden.
Home Depot donated $1,600 worth of fencing. Timothy's Center for Gardening in Robbinsville gave several flats of vegetable plants. Ocean Spray donated four rain barrels to gather water for the plants. And Hlubik Farms in Chesterfield not only provided materials for the garden but also assisted with the planting and harvesting.
Public Works plowed the field, fencing was installed and Plew and his volunteers were ready to begin a summer of gardening.
On May 11, about 30 people gathered for the grand opening and initial planting of the Community Garden. Neighbors and Green Team members come together for work sessions throughout the summer. As a result, many volunteers have joined the Green Team, which has not seen a surge of membership since its creation.
"Our Green Team response was steady, but not big. Once we put in the garden it was crazy," Plew said. He estimates about 15 have joined the team, which needs the manpower to harvest the garden's bounty.
This summer, the garden yielded cucumbers, melons, tomatoes, eggplant, zucchini, herbs, onions, string beans and different types of peppers. In the fall, Plew and crew plan to plant leafy greens like spinach, kale and lettuce.
About twice a week, volunteers harvest the crops and bring it to food pantries, like St. Mary's and Holy Cross Lutheran Church. Their largest harvest was 36 pounds of crops. Popko said they usually average 15 to 20 pounds per harvest.
Crops aren't strictly food pantry donations. Community members are welcome to harvest crops as long as they follow the rules that are listed outside the garden.
"If they are going to come and take, we would appreciate if they give time, whether it's weeding, turning compost or harvesting," Popko said. She also asks community members to contact the garden's crew via Facebook so they can assist in harvesting.
Like other Sustainable Jersey actions, Popko and Plew hope the garden is self-sustaining and continues to sprout crops for the coming years. Popko said expansion of the garden is based on community interest.
"What we would like to do next year, if people are interested, is personal plots," Popko said. Personal plots would provide people who do not have a yard, such as apartment residents, a space to garden on their own.
Other future plans include adding two more gardens throughout the township. But Popko is in no rush, as she is satisfied with year's response.
"Right now, what we have is working," Popko said.
Community
environment