From painting to pottery, artist fuels her passion

Sep 26, 2013 05:47AM ● Published by Community News Service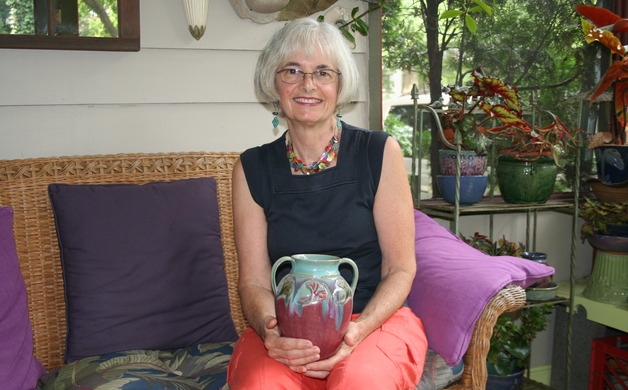 Bordentown City resident Marsha Dowshen sits on her porch with one of her handmade glazed pots. (Staff photo by Lexie Yearly.)
By Lexie Yearly
In the past 30 years, artist has sold or given away much of her pottery to her friends and Bordentown City neighbors.
"I like the idea that people say to me, 'I have breakfast with you every morning,' because they use the mug from me," she said. "And I like that. I like the idea that people are using it and enjoying it."
Her pottery is fully functional, Dowshen said, and she often uses and decorates with her pieces in the Farnsworth Avenue home she shares with her husband, Joel. Colorful bowls, dishes and vases are stacked in the living room. Abstract paintings decorate the walls, and decorative molds and tiles can be seen in various stages of drying on the porch table.
The real stash of pieces, however, is stored in Dowshen's basement studio, where shelves lining the walls are overflowing with pieces from throughout the years.
Since she started working with pottery, the artist has showcased her work primarily at juried events and exhibitions. She has scaled back her participation in shows in recent years, but at the height of her travels, Dowshen would attend about 32 shows annually.
Many times, travels with her family around the world have influenced what kind of pieces Dowshen begins working on next.
"I do get influenced by these different cultures, and somehow they're creeping onto my pottery," she said.
After a trip to Thailand more than 20 years ago, images of Buddha became a focal point on many of Dowshen's pieces, and even today, the artist enjoys incorporating aspects of Buddha — like the ohm — into her designs.
A more recent trip to India yielded many elephant pieces, she said, and when she and her husband returned from Guatemala last year, Dowshen wound up with a Mayan god pot.
Many of her pieces feature what Dowshen calls "critters"—anything from turtles to flowers to designs are often molded into the sides of vases or the bottom of bowls to create an added dimension.
A Tenafly native, Dowshen said she knew since Kindergarten that she wanted to be an artist.
"That's the thing I liked to do," she said. "I liked the coloring, I liked the painting, and…I guess I was good at it because I was always getting positive feedback."
She even loved biology courses as a student, because her lab reports required her to draw her findings, she said.
However, it wasn't until after she became a wife and mother that Dowshen began exploring the art of pottery. She majored in painting as an undergraduate student at the Rhode Island School of Design, and continued to focus on painting in graduate school at the Royal College of Art in London, where she was the only American graduate student accepted.
During her time as a student, she took an elective course in wheel throwing, and later recalled how much she enjoyed it. She later went on to take more classes at Mercer County Community College, and found that the process of working with pottery didn't require the same amount of energy Dowshen needed to dedicate to her paintings.
"There's a certain amount of intensity and creative energy that goes into being a fine artist," Dowshen said. "And…my first priority was taking care of my kids. And then when I was done with that, I was just exhausted."
Finishing a piece of pottery takes several different steps. First, Dowshen throws the clay on the pottery wheel, meaning she creates a form with the soft clay. When the piece dries enough, Dowshen trims the bottom to make a "foot" for the piece to stand. When the clay is completely dry, it goes in the kiln for the first firing, called bisque firing, which makes the clay hard enough to handle but also porous enough to absorb a glaze. After Dowshen applies a glaze, the piece goes back in the kiln for a second firing.
"That's one thing that I like about it, because you're not just doing one thing," Dowshen said. "Each stage is very different and I like that. I get bored very easily, so if all I did was throw pots, I wouldn't like it."
Typically, Dowshen works on several pieces at once, depending on their size and shape. If she's making mugs, for example, she may form 15 or 16 and fire them all in the kiln.
The firing process is one that requires a good amount of waiting: waiting for the kiln to reach the desired temperature, and waiting for it to cool down enough to open it, as the kiln can reach up to 2,100 degrees. When bisque firing, Dowshen usually has to wait 10-12 hours after the kiln has reached its desired temperature to open the kiln. For the glaze firing, she often has to wait a minimum of 18 hours, or even up to a day for it to cool off.
The waiting doesn't seem to bother Dowshen, though, who said she enjoys discovering how the pieces have turned out after each firing.
"I'm always anxious to see what it's going to look like in the end," she said. "However I'm always experimenting with my glazes, so it makes it more fun."
Dowshen makes all of her own glazes, preferring to feature colors like blue, red and — her favorite — purple.
Since she began primarily creating pottery, Dowshen experimented in another clay medium, too.
On a trip to the Noyes Museum, Dowshen found herself drawn to an exhibit by artist Mitch Lyons that featured his work in clay monoprints, a newer print-making technique the Delaware-based artist has been teaching around the U.S.
The piece is created on a slab of leather-hard clay. To paint the slab, Dowshen uses liquid clay, each with a different pigment. With each new application of color, the clay must be rolled in. When the design is complete, the image is pressed into a canvas to make the print.
Though she tried the new technique for several years, Dowshen has returned to her focus on pottery. In addition to attending craft and art shows, Dowshen displays her work locally. She recently began selling some pieces at Savory Spice Shop in Princeton, and last fall sold her pieces in the Pop-Up Shop in Bordentown City.
For more information, call (609) 298-5306. On the Web: marshadowshenpottery.com.
Community
,
Arts+Entertainment
painting
pottery