BRHS quaterback recovers from collarbone injury

Oct 10, 2013 05:49AM ● Published by Community News Service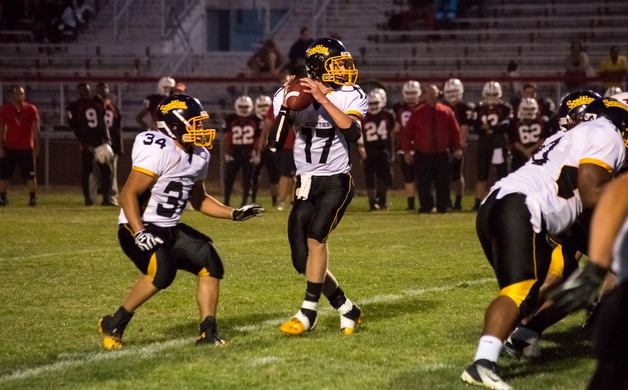 Austin Pinkerton prepares to throw during Bordentown's 33-27 win at Palmyra on Sept. 20, 2013. (Photo by Mark Wetherbee, Jr.)
By Samantha Sciarrotta
Six minutes remained in the first half of the Bordentown Regional High School football team's third game of the 2012 season. Free safety Austin Pinkerton set up for Delran's draw play, saw an open hole and took it.
"I dipped my shoulder down and hit the kid," he said. "We kind of knocked heads a little bit. I didn't feel anything at first."
It turned out Pinkerton, who at the time was also a backup quarterback, had a broken collarbone, but he didn't notice anything was wrong until after halftime when he tried and failed to take his pads off due to pain. Head coach Steve Perry said Pinkerton was dragging his shoulder a little bit when he made his way to the sideline, but other than that, everything seemed normal. He continued to play and even had a few more hits. At halftime, though, he decided to head to the hospital.
Pinkerton sat out for the rest of the year and was finally cleared to do physical activity again after 10 weeks of healing.
"Once it got healed, it was more about getting my strength back," he said. "I was hitting the weights really hard. I don't think I've ever worked that hard in my life. I was pushing the weights, pushing myself."
In April, though, he was sidelined yet again after a go-kart he was riding in rolled over and pinned his arm between the vehicle and the ground, splitting his elbow "in half." He ended up needing surgery.
"That was worse than my collarbone," he said. "It was stupid and just unlucky." He couldn't do anything sports-related throughout the spring and summer. By the time preseason camp rolled around, he was cleared to participate in non-contact practices and activities. Pinkerton, now the starting quarterback after the departure of Nick Bartolomei, didn't get to play in a single scrimmage. He's ready for the responsibility now.
"It's a lot, but I really understand the offense," he said. "They make it simple for me. It's clicking."
Perry said leadership and adaptability are characteristics Pinkerton learned off the field. Pinkerton's father recently returned from a stint in Afghanistan with the army. His stepmother gave birth while his father was overseas, and Perry said Pinkerton was the "man of the house" for a while.
"He has a lot going on," Perry said. "All this time when he had surgery and everything, his dad was over there. Resiliency is kind of an understatement."
Pinkerton, though, said the key is being able to keep his two lives separate.
"When I step on the football field, the practice field, anything, everything else takes a step out of my mind," he said. "It's just all football from there. When I step off, it's my family, schoolwork, my friends. That comes into play. When I'm playing football, it's football."
Because his practice time was limited, Pinkerton had little exposure to the team. In fact, his first-ever experience as a starting varsity quarterback came in the Scotties' first game of the season against Robbinsville, which they won handily, 33-13. Pinkerton went 5-9 with 57 yards and one touchdown pass.
Bordentown has made gradual headway since Perry first took the reins four years ago. After a 4-6 record in 2012, the team is poised to fulfill its goal of a .500 or better finish. Pinkerton's return, he said, could be a major component to the team's success.
"He definitely has shown great leadership," Perry said. "He takes charge of our huddle and our offense. The guys respect him, and that's the most important thing. He doesn't make mistakes when calling the play. He gets guys lined up right. Doing those things is what we look for more than anything. He's a good athlete. As long as we make smart decisions with him and he makes smart decisions with the ball, I think we will have a good year."
Sports
,
Schools
brhs