Holiday Train Show to return Nov. 29

Oct 18, 2013 07:31AM ● Published by Community News Service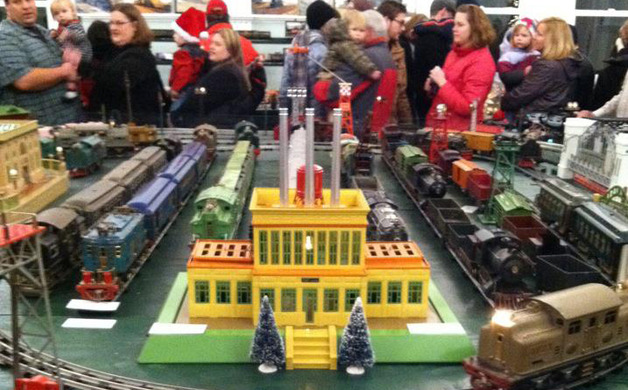 Families visit the Holiday Train Show at Old City Hall last year.
All aboard! The fourth annual Holiday Train Show is set to stop at Old City Hall.
The Old City Hall Restoration Project Committee of Bordentown City is set to kick off the train show Thanksgiving weekend.
The show is set to open 12 p.m. Nov. 29 - Dec. 1 at Old City Hall, 11 Crosswicks St. Bordentown, and remain open until crowds diminish in the evening.
Following the initial weekend, the show is scheduled to be open 3 to 8 p.m. every Friday, Saturday and Sunday in December.
The Holiday Train Show is presented by avid model train and railroad memorabilia collectors Mayor Joe Malone, Commissioner Zig Targonski, Nancy Targonski, Mikki Quinn and Bob Liberman.
Commissioner Zig Targonski and his wife, Nancy, plan to display various trains from their collection dating back to early 1900s. These include a large collection of Garden Rail ('G' Gauge), Standard Gauge, O-Gauge; On30 and traditional Lionel Trains.
This year the Targonski's display features a new boardwalk presentation and New England village.
Mayor Malone is set to display a large collection of HO trains with a Pennsylvania theme. Thomas the Tank Engine will play his usual part in bringing in the Holiday Season.
Bordentown resident Mikki Quinn, who exhibited at last year's train show, has expanded her display to include "Candy Land Express."
Harvey Crawford plans to show a special Christmas theme train set.
A local train club will be operating and displaying an HO switching layout.
Admission to the Holiday Train Show is free. Donations to the Old City Hall Restoration Project are appreciated and assist the committee's efforts to raise capital to offset costs to the city in continuing restoration projects of the historic landmark building.
Additionally, the Bordentown City Holiday Tree Lighting is scheduled for 5 p.m. Nov. 30 at 5:00 p.m.
The Restoration Project Committee is scheduled to meet on the third Thursday of every month.
For more information visit the Facebook page "Old City Hall Restoration Project."
Community
,
News
train