BRHS cross county hope to build on last year's success

Oct 22, 2013 09:05AM ● Published by Community News Service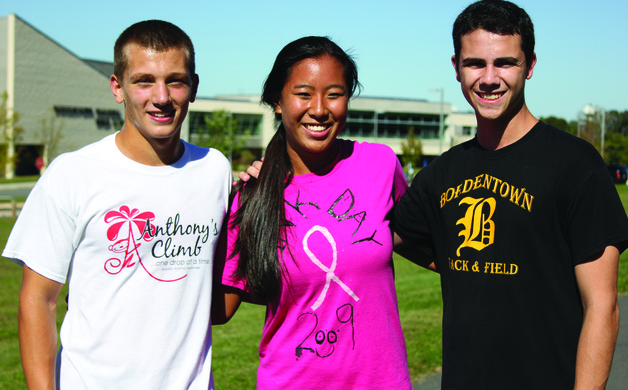 Captains Grant Tamutus, Leighanna Ritter, and JT Rupp hope to ride the momentum of last year's cross country success. (Photo by Samantha Sciarrotta.)
By Brandon Gould
Last year, both the Bordentown boys and girls cross country teams had remarkable seasons, finishing second in the Burlington County Scholastic League Patriot Division led by seniors Devon Pepper and Larisa Pywowariw each placing first individually in their respective divisional races.
The best part?
Head coach Dave Misselhorn thinks that this year's squads have a chance to be even better.
"I feel better coming into this year than I did last year because I know we are going to be strong this year," Misselhorn said. "The other team may get the one or two runner in, but we'll get the three, four, five, six and seven in. We'll clog up the middle."
And that depth is exactly what the coach is preaching to the Scotties in 2013 as they look to move on from Pepper and Pywowariw, two great leaders who Misselhorn admits will be hard to replace individually.
"We don't have that No. 1 runner, the girls or the guys, but we have a strong core that could win," Misselhorn said. "Just because they don't have that No. 1 runner anymore doesn't mean that they can't do some things this year."
The girls' team is looking to build on last year's 9-6 season with seniors Leighanna Ritter and Allison Ge leading the way. The Scotties also will rely on juniors Aishah Dukes and Emily Vernon as well as sophomore Katelyn Anderson — all of whom were on last year's team with Pywowariw, who now runs for Rowan University.
Along with the luxury of having those veterans back, Misselhorn is excited about the addition of Shakara Siler, a senior, who made the move to cross country after a successful season as a 400-meter runner on the school's spring track team. Misselhorn admits that Siler may have some growing pains in her new sport, but he sees all the pieces that could make up a successful cross country runner.
"(Siler) is a good competitor and she is a very good 400 runner," Misselhorn said. "She has the speed, we just need to work on the endurance."
On the boys' side, the Scotties are preparing to improve even further on a season in which they finished 10-5 and placed second in the division and third in the sectional meet.
Everyone will be talking about the absence of Pepper, who now runs at York College. His impact on last season is still affecting the team's mentality and outlook on cross country in 2013, according to Misselhorn.
"We moved up and it was great to have a season like we did last year," Misselhorn said. "It really sparked their interest coming into this season." Returning for the Scotties this year will be seniors Grant Tamutus and J.T. Rupp, juniors Chris Chilelli and Matt Konhke and sophomores Jason Wooloff and Peter Bokma.
On top of that foundation, Bordentown will also be adding seniors T.J. Bamisile and Evan Bokma — Peter's older brother — two runners who could greatly help the Scotties.
"Why they didn't come out early, I don't know, but their success in track sparked their interest and we're glad to have them," Misselhorn said.
When it comes down to it, for both programs, Misselhorn believes that as long as health doesn't become a factor, he likes his team, despite the loss of Pepper and Pywowariw, because of how strong they are top to bottom.
"When we have all our kids, I think we win the division," Misselhorn said. "We may not have that top runner, but we have that very strong core."
Sports
,
Schools
brhs
cross country