BRHS student to present 'The Miracle Worker'

Nov 08, 2013 06:57AM ● Published by Community News Service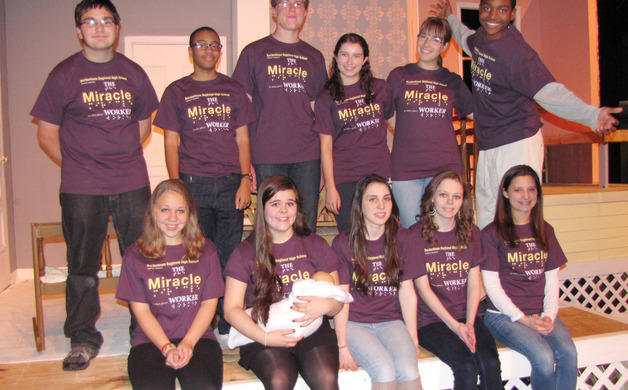 Pictured are 'The Miracle Worker' cast members. Front: Melanie Peterson, Elise LeMassena, Jackie Ortolano, Hannah Ayars and Michaela Mabin. Back: Liam McCormack, Jordan Browne, Nathan Scranton, Marisa Migliarino, Leah Tassef and Nicomah Faiz.
Bordentown Regional High School students are set to present The Miracle Worker Nov. 14-16.
William Gibson's The Miracle Worker tells the true story of Annie Sullivan and her student Helen Keller, who is deaf, blind and mute. Trapped in a secret, silent world, unable to communicate, Helen is violent, spoiled, almost sub-human and treated by her family as such. Only Annie realizes that there is a mind and spirit waiting to be rescued from the dark, tortured silence.
Seniors Hannah Ayars and Jackie Ortolano are set to play Annie Sullivan and Hellen Keller, respectively.
The cast also features seniors Elise LeMassena, Matthew Dalton and Marissa Migliarino, juniors Leah Tasseff and Jordan Browne, sophomore Liam McCormack and freshmen Nathan Scranton, Michaela Mabin, Melanie Peterson and Nichomah Faiz. In addition Bordentown Regional Middle School seventh grader Brianna Moran and Peter Muschal Elementary School first graders Paige Kerr and Casey Knipe are set to perform.
Prior to the Friday evening performance, the BRHS Theatre Club Parent Boosters are set to sponsor a Dinner and a Show in the school cafeteria. Admission is $20 and includes salad, beverage, a pasta dinner and dessert, as well a ticket and reserved seating to that evening's performance.
Performances are scheduled for 7:30 p.m. Nov. 14, 15 and 16 at the Bordentown Performing Arts Center.
Tickets are $10 for adults and $8 for seniors and students. Tickets can be purchased in advance at seatyourself.biz/brhs or at the door.
More information is online at bordentown.k12.nj.us.
Arts+Entertainment
,
Schools
brhs
theater
acting