RAI eases patients' MRI anxieties

Nov 11, 2013 05:50AM ● Published by Community News Service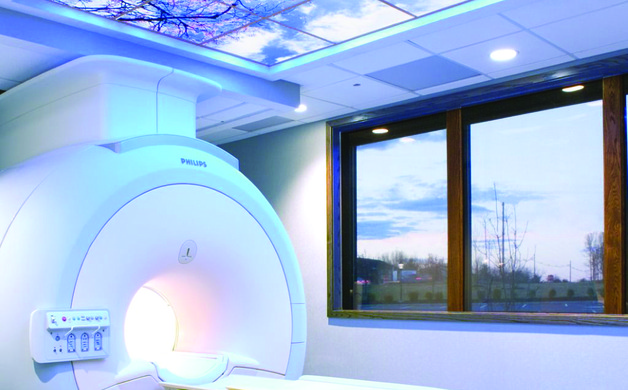 The MRI setup at Radiology Affiliates Imaging forgoes the claustrophobia and ramps up imaging quality.
By Scott Morgan
Here's a truism even seasoned radiologists do not deny: no one gets an MRI for fun.
MRIs may be painless, they may be noninvasive, and they may even be somewhat futuristic, but they only happen when doctors need to find out what is going on inside your body.
Worse, the popular image of a magnetic resonance imaging machine is a claustrophobe's nightmare: a long tunnel that encases your body head to toe. Plus, these tunnels are loud and shallow and once you're in one, you're not allowed to move.
Radiology Affiliates Imaging is aware of all this, which is why it takes so many steps to ease patients' anxiety. At RAI's Hamilton Medical Arts facility on Kuser Road is a state-of-the-art MRI setup that forgoes the claustrophobia and ramps up the imaging quality.
RAI's machine is known in the radiology field as a flared, short-bore design, which means it looks and feels roomier than the traditional long tunnel style. But this design allows radiology patients a measure of comfort closer to the experience of more open MRIs, which use the same magnetic resonance technology, of the high field closed systems.
The trade-off with open MRIs is that image quality suffers greatly. The walls, you see, help the magnetic resonance zero in on the body and record sharper images. This is also aided by the strength of the magnets, which is measured in Tesla units, or Ts. A 2T magnet is stronger and records sharper images than a 1T magnet.
RAI's short bore/flare design machine is a 3T magnet—double the strength of conventional MRI machines—that operates in a smaller closed field, meaning it returns superior image quality without the nightmares. And high-level image quality is a big deal when it comes to MRIs. Many studies benefit from imaging on the 3T magnet, yet other body parts image better on the 1.5 T magnet located at RAI's Lawrenceville office.
"If your insurance company is only going to pay for one MRI," said Ruth Hawthorne, director of digital strategy and communications at RAI, "it had better be a good one."
Considering that RAI performs about 650,000 procedures a year, many of them at Hamilton Medical Arts, it seems a good bet that patients and healthcare systems agree that its services are top of the line. RAI was founded 40 years ago, and today offers three outpatient centers and is affiliated with five area hospital systems, from Trenton to Delaware.
It has 35 sub-specialist radiologists working in such fields as musculoskeletal or neurological, meaning that whatever you need MRI'd, someone connected to RAI specializes in it. Many of these technicians have been with RAI for 20 or 30 years.
The RAI Kuser Road location is a Joint Venture with Capital Health; this allows for the CHS radiologists to bring their specialties to the office.
While the technology is important to RAI, Hawthorne said that a key element to the practice's success in such a competitive market as Central New Jersey is its attention to reducing anxiety. In addition to the more open MRI machine, RAI provides children's services that give parents the results before they leave, thus eliminating the dread of waiting. RAI also provides same-day results for procedures such as mammography.
"Early knowledge is so much better," Hawthorne said.
Radiology Affiliates Imaging Medical Arts is located at 2501 Kuser Road, Hamilton. Phone: (609) 585-8800. RAI Lawrenceville Executive Center is at 3120 Princeton Pike, Lawrence. Phone: (609) 219-1000. Online: 4rai.com.
Community
wellness
health