Scotties cheer way to competition

Nov 21, 2013 05:57AM ● Published by Community News Service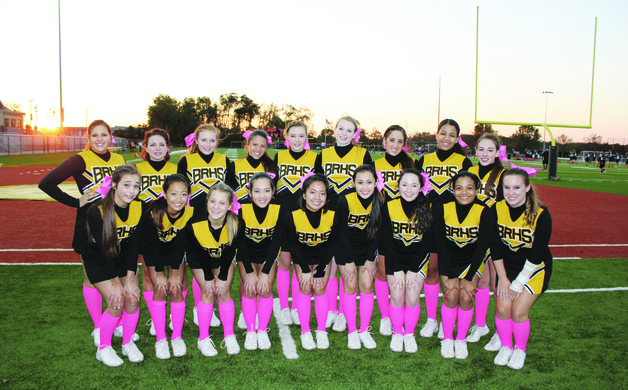 The Bordentown Regional High School cheer team. Back row: Liana Troiano, Alicia Saranin, Carlee Scott, Gina Capone, Lexie Berish, Alexa Santora, Jordan Pintinalli, Cierra Edwards, and Jessica Stanford. Front row: Emily LeMassena, Anngie Licarte, Katelyn Connelly, Caroline Tams, AJ Licarte, Steffi Agbulos, Breanna Anderson, Rebecca Gardner and Kiley Mabin. (Staff photo by Samantha Sciarrotta.)
By Samantha Sciarrotta
This year's Bordentown Regional High School varsity cheerleading team has been begging head coach Beth Bokop to take the squad to a competition for each of its last four seasons together.
The Scotties will get their first-ever chance Nov. 2 when they'll compete in Gotta Cheer's Turkey Tumble at Gloucester County College.
"They have wanted to for awhile," Bokop said. "This is the first year that I think they're ready. We have the talent. We have the dedication, the motivation. I think they're ready."
The girls said they wanted to compete to prove their capability not only to themselves, but to their peers, as well.
"It's kind of exciting going to a competition, because at the high school, we want to be known more as athletes," co-captain Jessica Stanford said. "Everyone will kind of see that we're up to that level."
Co-captain Cierra Edwards agreed.
"It's a different experience," she said. "It actually kind of brings us together because we want to win and do well."
Their last major test, their "dress rehearsal," came at the pep rally before the homecoming game on Oct. 18. It went off without a hitch.
"All of our schoolmates said we did well," Stanford said. "They really reassured us. It really raised our confidence."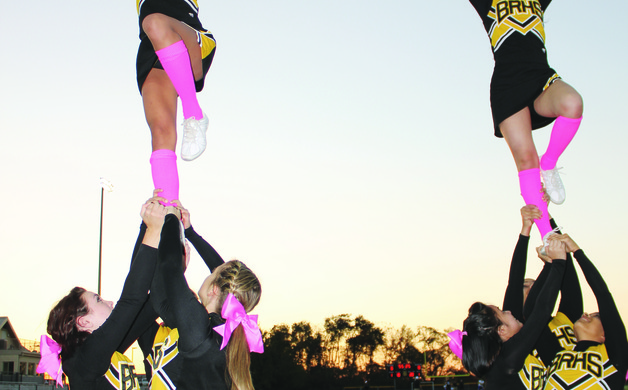 Bokop said the sqaud will perform what is essentially the same routine, just with a few more technically difficult stunts and tumbles added into the mix. Assistant coach Maggie Anderson said competitions are similar to events like pep rallies in terms of the girls' mentality.
"I think they're excited and nervous all at once," she said. "It's kind of like what the pep rally was. They're so excited to actually go and do it and show off what they can do, but at the same time you're horrified and nervous that you're not going to do well or something's not going to stick."
Those nerves, though, fuel this team.
"We're all on our toes," Stanford said. "It's a little nerve-wracking. I think our team really runs on the pressure."
The competition will definitely provide that. Anderson said it will be much more high-octane than what the girls are used to at football games, but that can only add to their "excitement level and probably their performance."
"It's a little different because the crowd is actually a little more involved than at games or at the pep rally," she said. "They know when they're supposed to call and respond. Cheer parents know those things. There's a lot more energy than we're used to having."
Another difference? The scrutiny. Bokop said even the smallest error can result in a loss of points.
"It's different because there's so many little things that we need to be aware of," she said. "There's just a list of things that we can get deductions for, so they just have to be on the ball 100 percent the entire time. It's similar in the sense that we still need to have the crowd involved and the excitement and the energy, but it's different because at a game, no one's going to notice if one little thing happens, whereas there, everything's going to be picked out."
Some of the girls have competed before, but their only experience came either at the middle school or recreational levels. Bokop said the team isn't sure exactly how to approach its upcoming competition just yet, but the team members are anxious to get there.
"It's a whole different world, rather than just coming to games and cheering at games," Bokop said. "The competition world is totally different. I think it's something that they all wanted to experience. I think they're going to enjoy it. I think they're going to be nervous going in, but seeing how excited they were after the pep rally routine went so well, we're just keeping our fingers crossed that the same thing's going to happen then."
Sports
,
Schools
brhs
cheerleading